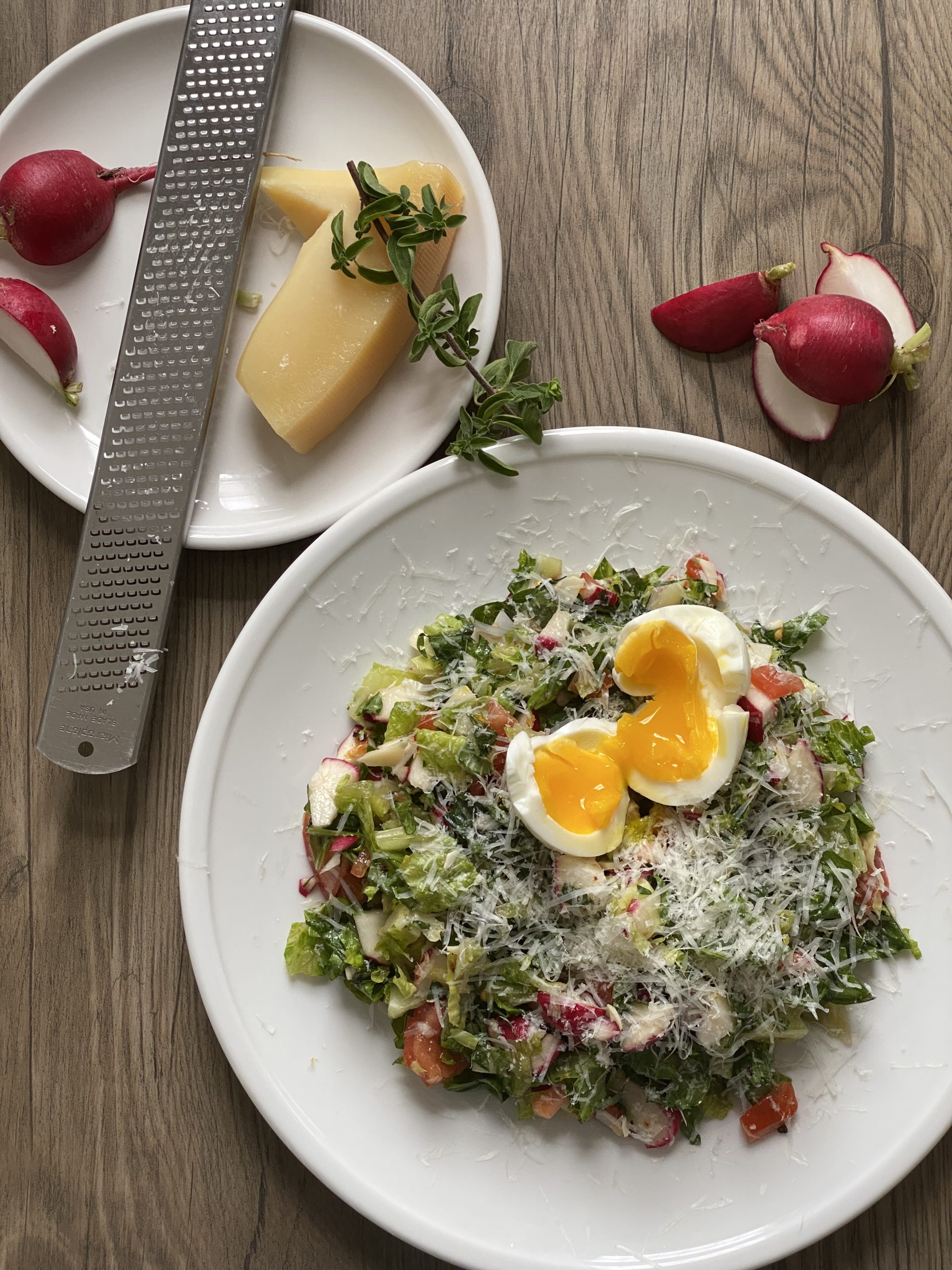 Chopped salad is often associated with #sad-desk-lunch. However, this Italian version is simple and delicious; Parmesan, fresh herbs and tomatoes deliver an authentic Italian flavor. Top off the salad with a soft boiled egg to make it substantial.


For the latest New Lifestyle Cooking Series:
Italian Chopped Salad with Soft Boiled Egg
Serve: 1 person
Prep Time: 5 minutes
Total Time 15 minutes
Ingredients:
1 head Romaine hearts/lettuce, leaves separated, rinsed and dried
6 radishes
1/4 cup shaved Parmesan cheese
2 Roma Tomatoes
1/4 cup basil leaves
1 lemon, zested and juiced
3 tablespoon EVOO
1 + 1/2 teaspoon salt, more to taste
1/2 teaspoon dried chilies
1 teaspoon crushed black peppercorn
2 tablespoons fresh oregano leaves
1 egg, soft boiled
2 tablespoons grated Parmesan, to finish
Bring a pot of water to a boil to cook the egg. Cook the egg for 6 minutes and chill it in ice or cold water immediately. Peel and set aside. (taking the egg out of the fridge 30 minutes before cooking for the best result)
Cut the cleaned Romaine lettuce into 1-inch chunks
Quarter radishes and shave Parmesan cheese with a peeler.
Cut Roma tomatoes into 1-inch chunks
Place chopped Romaine lettuce, radishes, Parmesan, tomatoes and basil on a cutting board and use a sharp knife to chop all the ingredients together until bite-size (about 1/2 to 1/4 inch big)
Put the chopped salad in a mixing bowl, add lemon zest, 2 tablespoons lemon juice, EVOO, salt, dried chilies, and crushed black pepper to taste. 
Place the salad on a plate and sprinkle on the fresh oregano leaves. Place the soft-boiled egg on top and cut it open to let the yolk ooze out. 
Grate more Parmesan on top to finish, bon appétit!