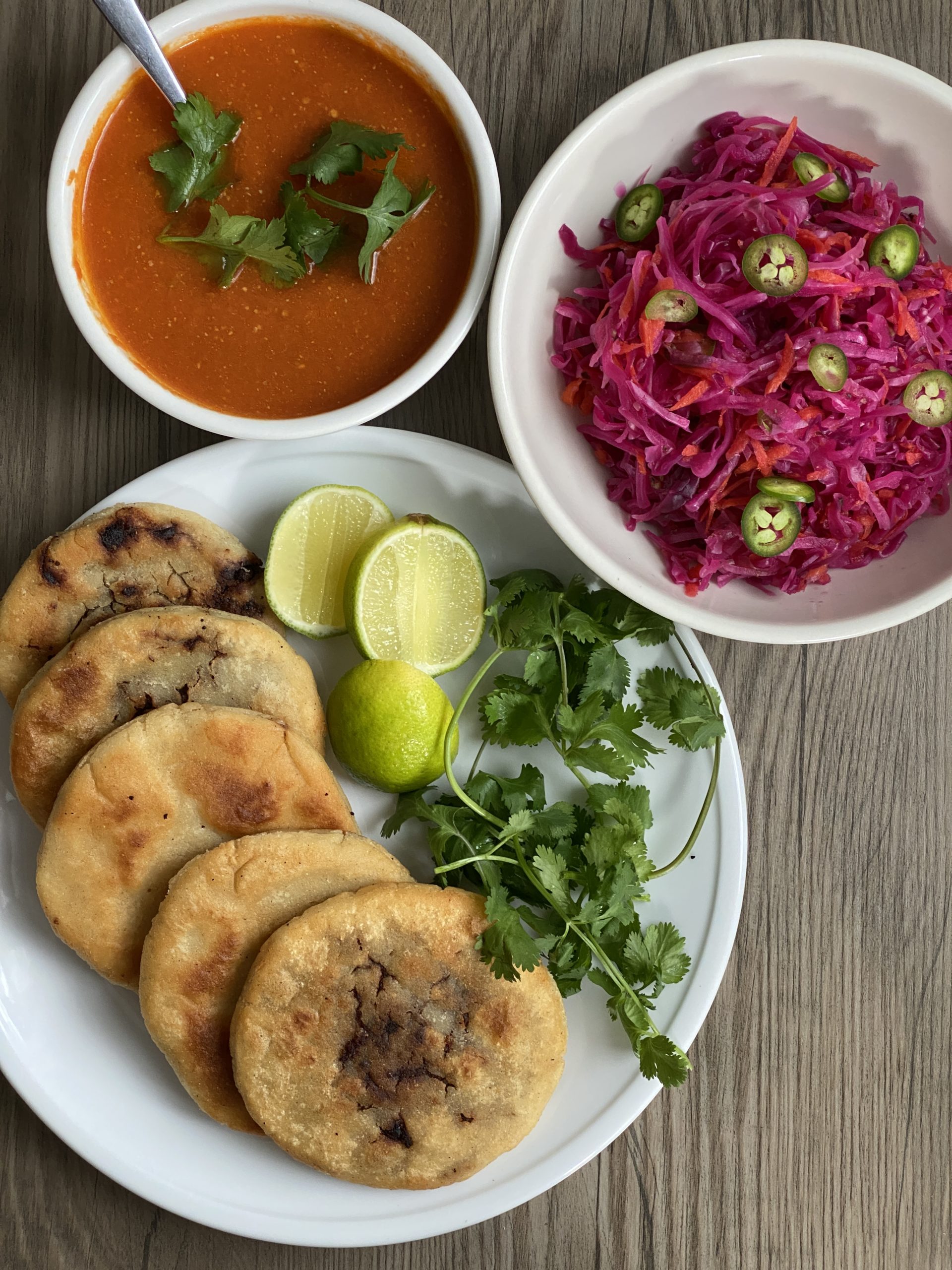 Pupusa is an El Salvadorian pancake made with masa and stuffed with refried beans or braised meat. When biting into a pupusa, it is crunchy and crumbly. Eat pupusa with the hand, and serve it with curtido, a Latin slaw, and tomato salsa placed on top.
For the latest New Lifestyle Cooking Series:
Pupusas, Curtido, and Tomato Salsa
Serves: make 15 pancakes
Prep Time: 30 minutes
Total Time: 1 hour 30 minutes
Ingredients:
For Pupusas:
3 cups (400g) masa
2 + 1/3 cup (530g) water
1 teaspoon salt
For Curtido:
1/2 head red cabbage, shaved
1 carrot, grated
4 cups boiling water
1/2 cup chopped scallions
1 cup chopped white onions
1 jalapeño, thinly sliced into rings
2 teaspoons salt
2 tablespoons dried oregano
1 cup distilled white vinegar
1 cup water
For the Fillings:
2 tablespoons oil
1/2 onion, chopped
1 Tablespoon ground cumin
1 teaspoon onion powder
1 teaspoon garlic powder
2 teaspoons chili powder
1 can (15.5 oz) canned black beans 
1 teaspoon salt
1 cup shredded Mozzarella
For Tomato Salsa:
4 Roma tomatoes
1/2 yellow or white onion
5 cloves garlic
1 tablespoon cumin
1 teaspoon sugar
1 teaspoon salt
2 tablespoon EVOO
To make pupusa dough, add water gradually to masa flour while mixing it with a hand. The dough should be soft like play-doh, but not sticking to the hands. Let dough rest for all least 30 minutes at room temperature. 
Prepare curtido, refried beans, and tomato salsa while masa dough is resting.
Make curtido by bringing the water to a boil and then pour over red cabbages and carrots. Soak the cabbages and carrots for 5 minutes, and then strain and squeeze out as much water as possible.
Add the rest of the ingredients from the curtido recipe with cabbages and carrots in a mixing bowl and mix to combine. Curtido could be eaten right away or could sit at room temperature for 4 to 6 hours for the flavor to mature. 
Meanwhile, make refried beans. Heat up a non-stick skillet on medium heat, add oil and wait until it shimmers, and then add onions. Caramelize onions, and then add ground cumin, onion powder, garlic powder, and chili powder. Cook until the spices are fragrant.
While the onions and spices are cooking, blitz up canned black beans until nice and smooth, and then add to the onions mixture. Add some water to loosen up the beans and season with salt. Refried beans should be creamy.
To make the tomato salsa, blend Roma tomatoes, onion, garlic, cumin, sugar, and salt in a blender until smooth. Separately, heat up a pot with EVOO on medium-high heat, when EVOO starts to shimmer, add the tomato purée and let it cook for 5 minutes or so until thickened and the raw onion and garlic flavors are gone. 
Go back to making pupusas. Portion pupusa dough into 4 oz. or size of a tennis ball. Flatten the ball into a 1/8-inch thick disk, and then add 1 tablespoon of refried beans and 1 tablespoon of shredded mozzarella to the middle. Fold up the sides of the disk and pinch off the excess dough on the top while forming a ball in the palm of the other hand.
Flatten the ball carefully to a 1/4-inch disk. Dip the fingers in water to patch up the cracks on the edges. One side of the pupusas might show a little bit of fillings, but don't worry as long as the fillings are not falling out.
Pan fry pupusas on medium heat until both sides are golden brown. Serve pupusas with curtido and tomato salsa, bon appétit!