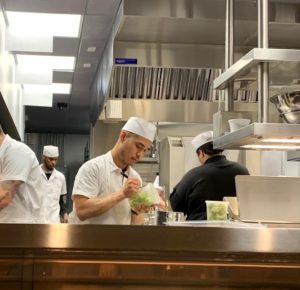 Hi, welcome! I am Reggie. I am a chef in NYC. I became a chef because I love cooking and bringing joy to people. I believe in the power of food because it bridges cultures and languages.
I've worked for some of the best chefs in New York and Australia. Among them:
These chefs have shaped the way I cook, the way I think, and the way I write about food. Food is personal, food is a form of solution, and food supports a community.
I am an avid cookbook reader and recipe writer. I am hoping to share tons of cooking tips and knowledge on this website. Being able to help with confidence and bring comfort to home cooking is my ultimate goal.
I also spend a lot of time thinking about my next meal. Though I like the idea of pressing a button on microwave and have my meal ready within minutes, I love cooking from scratch. I relate cooking from scratch to a shorter version of playing a competitive sport; I prep and then I execute. If I fall short, I learn from my mistakes. Some of my favorite recipes, shared below, have gone through few exhausting experiments before I am satisfied with their results.
In addition, being a chef is a privilege to me; I am exposed to diverse cuisines and restaurant communities. Within our large, yet tightly knit, industry, I am given a platform to speak about my beliefs in social justices and raise questions about our responsibilities in education. Being a chef allows me to represent for the minorities, being a chef allows me to teach, being a chef allows me to blend into our fabric of communities.