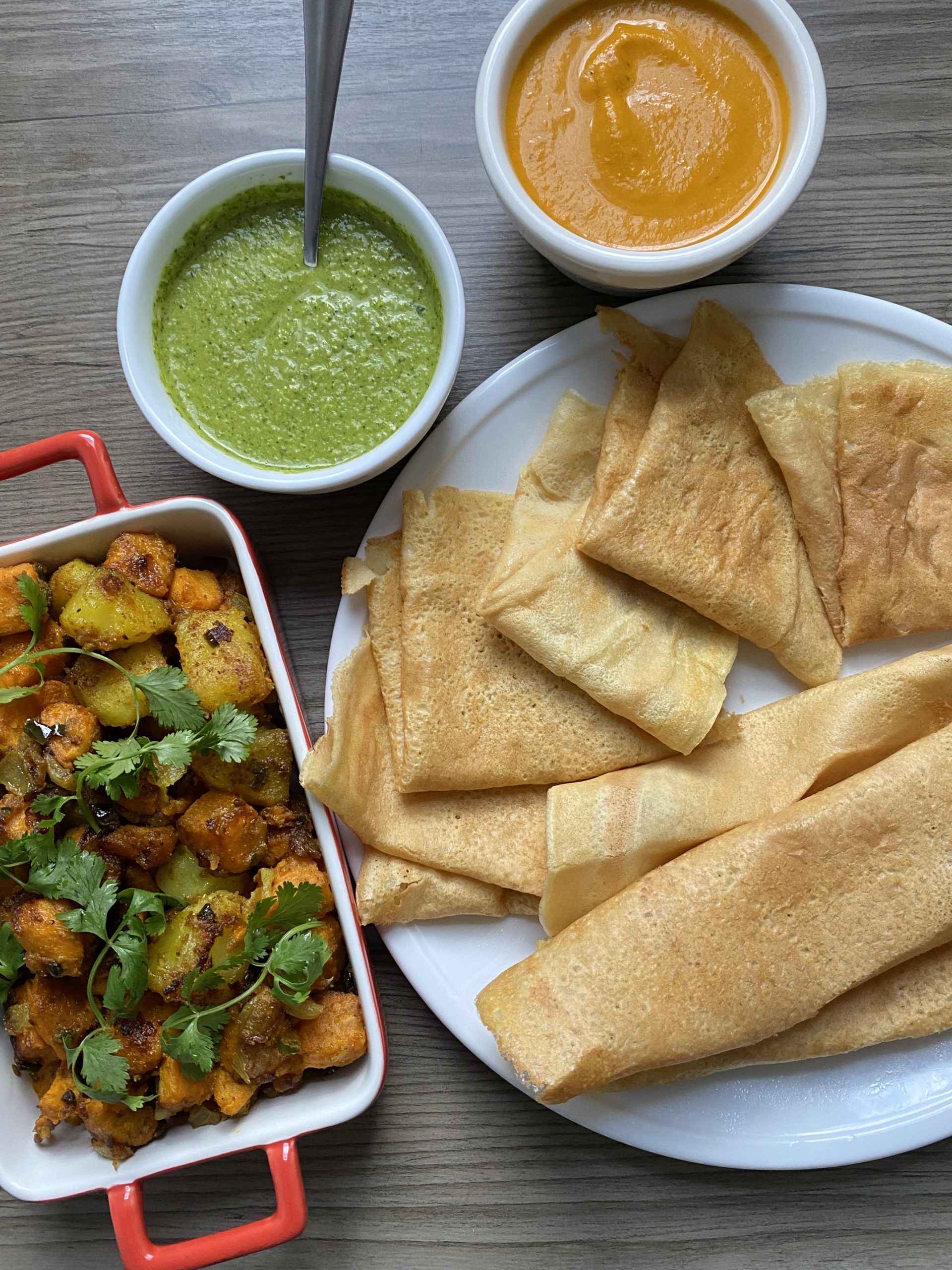 Dosa is similar to a European crêpe, in which pancake batter is spread to almost paper-thin and cook on moderate heat until it firms up, and then it is either rolled or folded into a parcel that has fillings or used as a scoop to dip into condiments. Dosa is also cooked until the outside is crispy, which is pleasant in every bite. Dosa is usually made with rice flour and dal. I substitute chickpea flour for dal; chickpea flour brings a pronounced nutty flavor to the pancake and complements the potato masala perfectly. While it takes a bit of practice to learn the technique of making dosa, once the repertoire is mastered, it is useful in making other types of Asian pancakes.
For the latest New Lifestyle Home Cooking Series:

Chickpea Dosa with Potato Masala
Portions: 2 portions
Prep Time: 30 minutes (not including inactive time)
Total Time: 1 hour
Ingredients:
For Chickpea batter:
1 + 1/3 cup (150g) chickpea flour
1 cup (230g) water
1 teaspoon salt
For Rice batter:
1 cup long grain rice (I used Carolina, but basmati is the best)
Water, to wash and soak the rice 
3/4 cup water, for blending the soaked rice
For Chickpea Dosa Batter:
1 cup chickpea batter, from the above recipe
4 tablespoons rice batter, from above recipe
Water, for adjusting consistency, about 1 to 3 tablespoons
pinch of salt
For Potato Masala:
1/4 cup cooking oil, divided in half
1 Idaho potato, cut into bite-size (1-inch chunks)
2 sweet potatoes, cut into bite-size (1-inch chunks)
1 onion, cut into bite-size (1-inch chunks)
1 green bell pepper, cut into bite-size (1-inch chunks)
2 tablespoons chopped ginger (1-inch nub)
2 teaspoons ground cumin
2 teaspoons Madras curry powder
1/2 teaspoon dried chili flakes
1/4 teaspoon turmeric powder
Cilantro to garnish
Optional condiments:
Cilantro Chutney
Tomato Chutney
Rinse rice until water runs semi-clear, and then soak the rice for 4 to 6 hours. Drain the rice and blend it with 3/4 cup of water until a loose pancake batter consistency. Add more water if necessary. Rest the batter for 3 to 4 hours before using. The rice flour needs time to fully hydrate the water. (Leaving the rice batter on the counter overnight gives the best results for flavor and cooking)
Mix chickpea flour with water and salt, and let the chickpea flour hydrate for 1 to 2 hours. (Leaving the chickpea batter on the counter overnight gives the best results for flavor and cooking)
Meanwhile, make potato masala by prepping the veggies. Cook potatoes and sweet potatoes in salted water until tender but not falling apart. Drain and set aside.
In a separate skillet, sauté onions and green bell peppers first until caramelized, and then add garlic and ginger. Cook until fragrant and then add the spices and cook the spices until aromatic.
Add both potatoes into the skillet and cook them on medium heat until the edges pick up some color. Toss both potatoes a couple of times and keep cooking them without too much stirring. Once most of the potatoes are nicely caramelized on the outside, set them aside, and then go back to making dosa. 
Mix the ready chickpea batter and rice batter together accordingly. The consistency should be similar to a tempura batter – thick, yet fluid and drippy. 
Heat up a 9-inch non-stick skillet on medium heat. Test out the heat of the skillet by dripping a few drops of water and it should sizzle and evaporate quite quickly. 
Ladle about 1/3 of cup of the batter into the skillet and using the back of a ladle to spread out the batter in a circular motion until the batter is almost paper-thin. Drizzle a few drops of oil around the edge to help the dosa get crispy (optional step). Slowly peel off the edge of the dosa and roll it into a big cigar or fold it in half. Serve dosa with potato masala and chutney. Bon appétit!