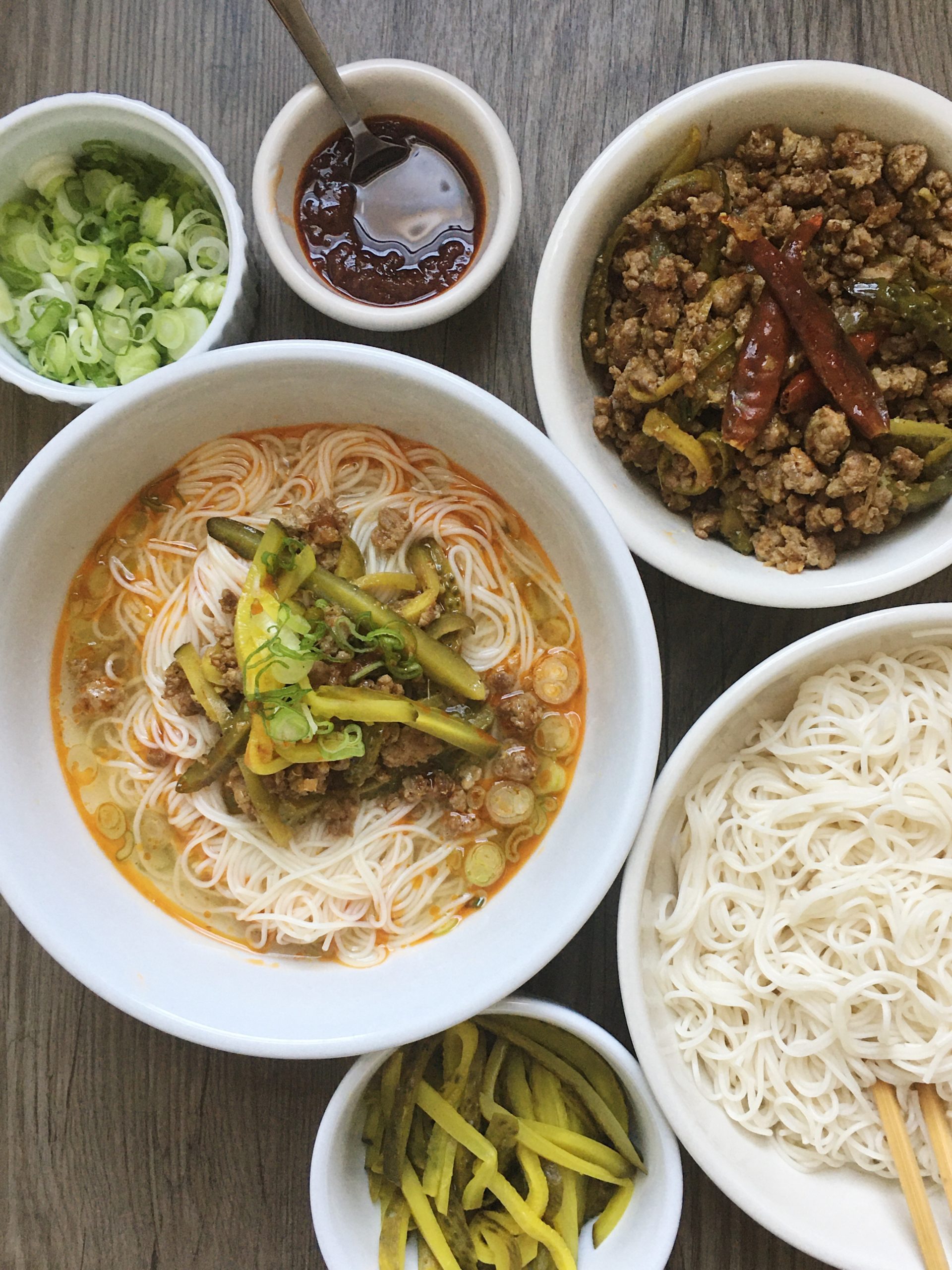 Spicy Pickle Pork Noodles is a popular dish from Yunnan, China, where pickles and spices are used abundantly to make the food delicious. Pickles give dishes a nice crunch in the texture and a pleasant sourness to balance out the flavors. A great bowl of noodles from Yunnan is salty, sweet, vinegary, and spicy. Chinese pickled mustard greens and stems are the most popular pickles used in cooking; they are first salted heavily and fermented in a ceramic container until sour, and chili powder is added sometimes in the process. In this version of Yunnan noodles, I chose to use NY-style deli pickles to mimic the texture and sourness. To add depth to the flavor, I added ground cumin, Szechuan peppercorn, and dried chilies. Last but not least, adding soy sauce, mirin, and MSG gives the dish the addicting savoriness.
For the latest New Lifestyle Cooking Series:
Spicy Pickle Pork Noodles
Serves: makes 4 bowls
Prep Time: 10 Minutes
Total Time: 30 Minutes
Ingredients:
Dried Asian wheat noodles
For the Broth:
4 + 1/2 cup water
1 chicken bouillon cube, Knorr brand
3 pieces whole dried chilies
2 pieces of sliced ginger, 1/8-inch thick
1 stalk scallion, cut into 2-inch pieces
5 pieces whole white peppercorn
For the Spicy Pickled Pork Sauce
3 tablespoons cooking oil
2 cups ground pork, roughly 1 pound
1/2 teaspoon salt
3 tablespoons (about 7 cloves) finely chopped garlic
1 tablespoon finely chopped ginger, about a thumb-sized piece
2 teaspoon ground cumin
1 teaspoon ground Szechuan peppercorn
1 teaspoon dried Thai chilies flakes (regular chilies flakes would work)
2 tablespoons chopped scallions
1/4 teaspoon MSG
1 tablespoon soy sauce
1 teaspoon mirin, or 1 teaspoon of sugar for a substitute
1/2 cup sliced NY-style deli pickles, cut into thin strips
3 tablespoons water
3 tablespoons both, from the recipe above

For setting up a bowl for the noodles (makes 1 bowl):
1 teaspoon chili oil (click on the link for chili oil recipe)
1 teaspoon sesame oil
2 tablespoons chopped scallions
small bundle of sliced NY-style deli pickles, not cooked
To make the broth, heat up everything in a medium-sized pot to a boil, and turn down to simmer for 5 minutes to infuse the broth with scallions and ginger. Turn off the heat, and leave it to infuse for 30 more minutes.
When the broth is ready, strain the ginger, scallions, dried chilies, and white peppercorn out. Set the broth aside. 
To make the pork sauce, heat up a non-stick skillet on medium-high heat for a couple of minutes. Add oil and wait until it shimmers, and then add the ground pork. Season the pork with salt and cook until the pork is no longer pink.
Add ginger and garlic, and sauté them with pork until fragrant. Add cumin, Szechuan peppercorn, dried Thai chilies, and scallions, and cook until fragrant. 
Add MSG, soy sauce, mirin, pickles, water, and noodle broth, and stir to combine with the pork. Bring the sauce up to a boil and reduce for a minute until slightly thickened. Set aside the pork sauce.
Set up a bowl for the noodles. Put chili oil, sesame oil, chopped scallions at the bottom of the bowl, and ladle 1 cup of broth into the bowl.
Cook the noodles in boiling hot water according to the package's instructions. Once noodles are done, rinse them in cold water to stop the cooking process. Add the noodles to the bowl prepared in the previous step. 
To serve, put a few tablespoons of pork sauce on top of the noodles and garnish the bowl with more pickles, scallions, and chili oil. Pour more fresh hot broth, about 1/2 cup, onto the noodles to warm them back up. Bon appétit!