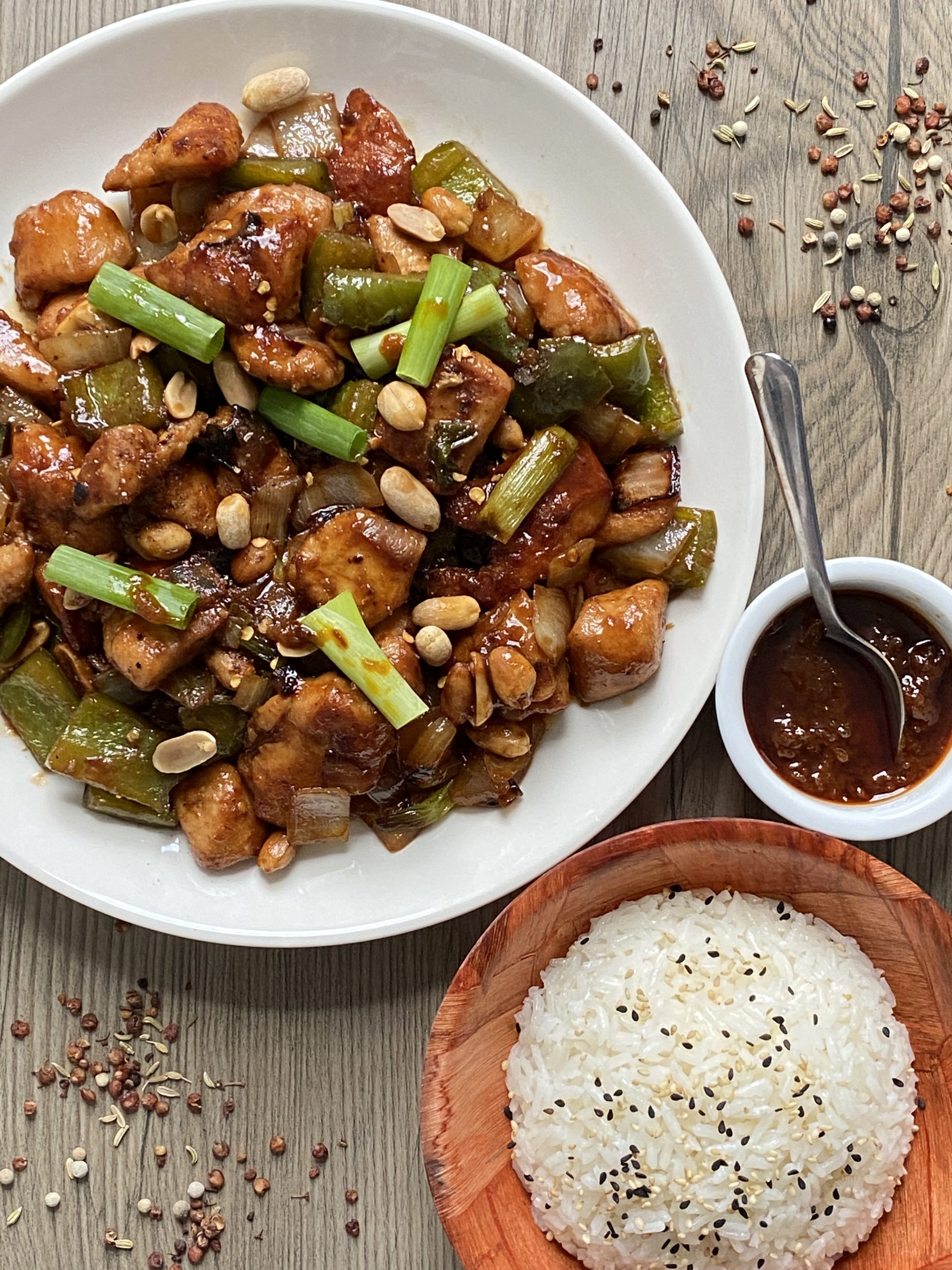 Kung Pao Chicken is a widely popular Chinese dish; the color is vibrant and the flavor is well balanced. A great Kung Pao chicken is salty, sweet, a little vinegary, and not too spicy; the dried and fiery looking chilies provide smokiness and a hint of heat that is pleasant and delightful. Last but not least, toasted cashews or peanuts are added for crunch and also give the dish a nice nutty complement. A bowl of steamed rice is the perfect sidekick to Kung Pao Chicken since it is flavorful and almost on the verge of being too salty…but there's is no such a thing in Chinese cuisine!
For the latest New Lifestyle Cooking Series:
Kung Pao Chicken
Serves: 4 portions
Prep Time: 20 minutes
Total Time: 30 minutes
Ingredients:
For Marinating Chicken:
2 chicken breasts, cubed
1 tablespoon soy sauce
1 teaspoon sesame oil
1 teaspoon sugar
pinch of Chinese five-spice
1/2 tablespoons corn starch
For the Kung Pao Sauce:
2 teaspoons sugar
1 tablespoon rice wine vinegar
1 + 1/2 tablespoon soy sauce
1 teaspoon tomato paste
1/4 cup of chicken stock*
1 tablespoon hoisin sauce
1/2 teaspoon mirin
1/8 teaspoon MSG
*If there is no chicken stock, water could be a substitute. And then add a bit more of everything else to make up the lost flavor.
For the stir fry:
5 tablespoons cooking oil, divided
1 + 1/2 cup (1/2 large sized onion) diced onions, medium dice
1 cup + 1/4 cup (1 pepper) diced green bell pepper, medium dice
1 tablespoon chopped garlic, finely chopped
1/4 cup sliced scallions, cut into 2-inch length
1/4 cup toasted peanuts
1 teaspoon ground Szechuan peppercorn
1 teaspoon Chinese 5-spice
1 teaspoon dried chili flakes
To serve with:
White rice, steamed
To marinate the chicken, add soy sauce, sesame oil, sugar, and Chinese five-spice to the chicken and mix to combine. And then add corn starch, mix to combine. The chicken will feel a little pasty.
To make Kung Pao sauce, add everything together in a mixing bowl and mix to combine. Set aside.
To make Kung Pao chicken, make sure to have everything prepped and ready to go in this order: onions and peppers, chicken, garlic and scallions, sauce, spices, and toasted peanuts.
Using a skillet or a wok, heat it up on high heat. Add 3 tablespoons of oil and wait until it starts to smoke, add onions and green peppers to sauté. Without moving onions and peppers too much, cook until the edges of the veggies are caramelized. If the skillet is big enough, add the rest of the oil and then add chicken. If not, set aside the onions and peppers, wipe down the skillet, and then cook the chicken in it.
When the chicken is nicely colored, add garlic and scallions. Sauté garlic and scallions until fragrant, and then add the veggies back into the skillet to reheat.
Pour the sauce over and coat everything evenly. Turn the heat off and keep tossing the ingredients until they look glossy and saucy. Add peanuts and toss to combine.
Place Kung Pao chicken on a plate and sprinkle raw scallions and toasted peanuts on top. Serve Kung Pao Chicken with steamed white rice. Bon appétit!