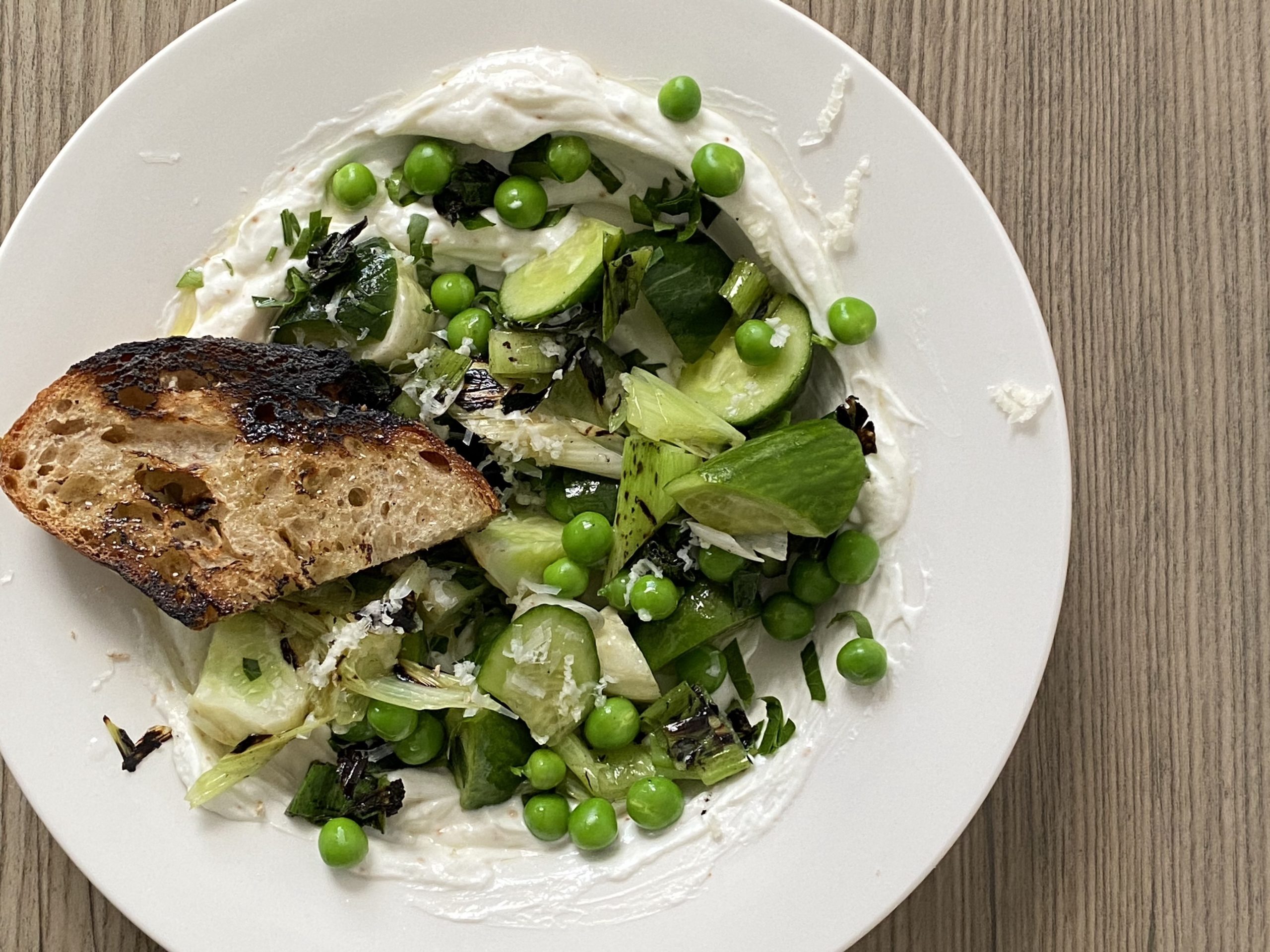 In-season cucumbers are sweet, juicy, and crunchy. Cucumbers and yogurt are delicious together; the tang from the yogurt complements the cucumbers' subtle sweetness. Charred spring onions give amazing depth of flavor. Serve this salad with a slice of grilled sourdough to mop up the yogurt and dressing at the bottom of the bowl!
For the latest Chef Reggie's Cooking Series:
Cucumber Yogurt Salad with Charred Spring Onions and Fresh Peas
Serving: 2 portion
Prep Time: 15 minutes
Total Time: 30 minutes (not including inactive time)
Ingredients:
3 cucumbers
1 teaspoon salt
2 teaspoons sugar
2 stalks spring onions
2 tablespoons fresh peas (use frozen ones if fresh ones aren't available)
1/2 cup yogurt
1/2 teaspoon salt
Pinch of dried chilies
1 tablespoon lime juice
2 tablespoons EVOO plus 4 more tablespoons
2 pieces of sourdough
1 clove fresh garlic
Cut cucumbers into bite-size and season with salt and sugar and toss them around. Set aside for 30 minutes.
Dress the spring onions with cooking oil and season them with salt. Place the scallions under the broiler and roast them until nicely charred. Cool the spring onions and cut them into 1/4-inch length.
To shell the fresh peas, clip off the tip on the side of the pea pod and pull the stringy part off across the top. Open the pea pod and release the peas individually.
Bring a pot of water to a boil and boil the peas for 10 seconds. Cool them down in cold or ice water immediately.
Set up a rack on the stovetop to make an indoor grill. Alternatively, turn on the broiler in the oven. Grill or toast the sourdough until nice and toasty, and rub raw garlic on both sides of the bread. Drizzle some olive oil on the sourdough and sprinkle a pinch of salt on top. (if using a broiler, put the bread under the broiler and toast them. Watch after the bread carefully.)
Place the yogurt in a bowl and add salt, dried chilies, lime juice, and 2 tablespoons of EVOO. Stir everything to combine.
Strain the cucumber and squeeze out excess liquid. Place the cucumbers on the yogurt and sprinkle charred spring onions and peas on top. Drizzle with more olive oil to finish. Serve the cucumber yogurt salad with the grilled sourdough. Bon appétit!