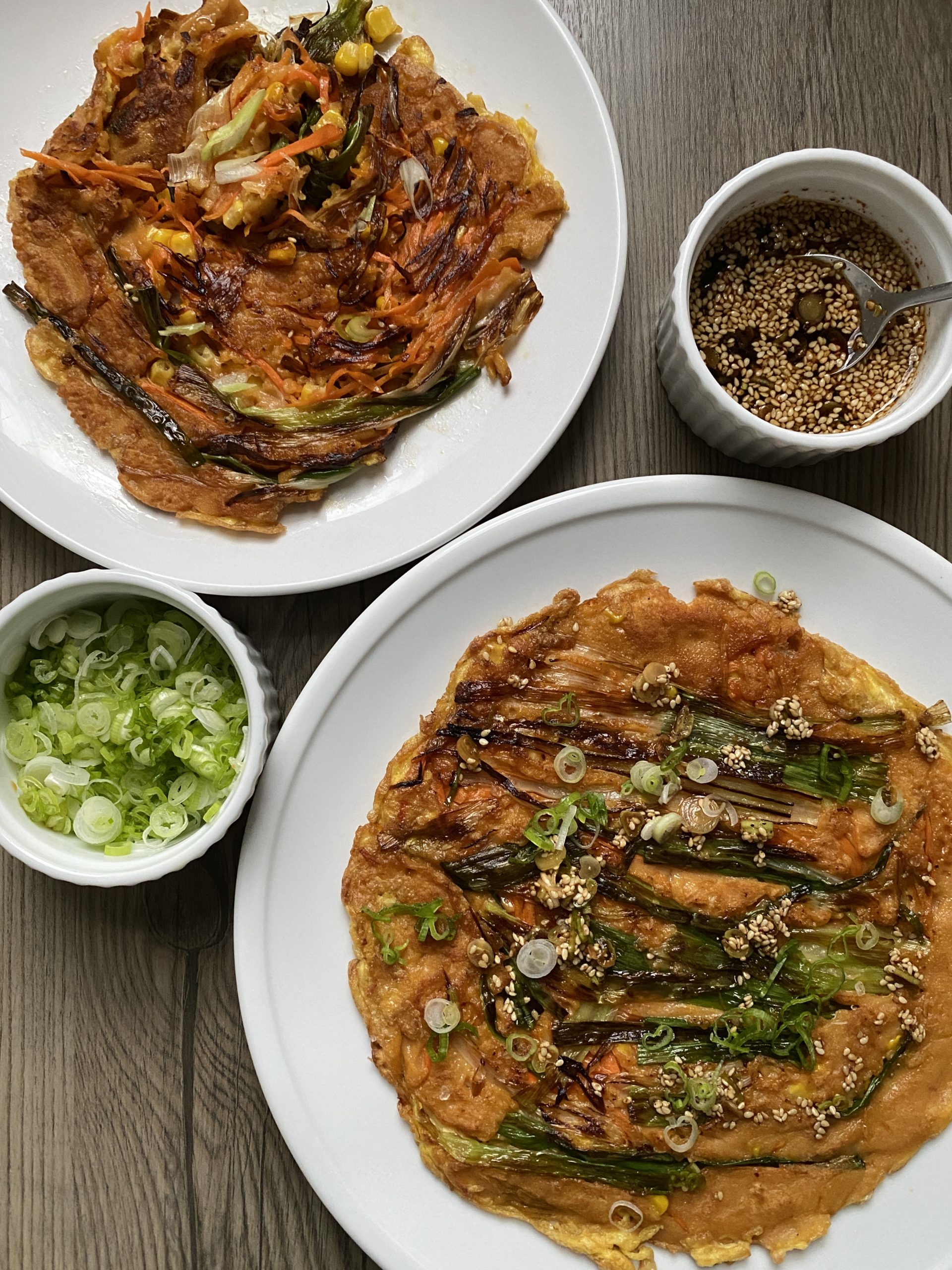 Pajeon is a Korean scallion pancake. I enjoy eating pajeon because of its similarity to the Chinese scallion pancake. Pajeon is crispy on the outside and chewy on the inside; the textural contrast is similar to the flaky and pillowy textures from Chinese scallion pancakes. Pajeon has more scallions, and they are cut bigger, which I prefer sometimes over Chinese scallions pancakes in which scallions are cut into thin coin shapes and used moderately. Pajeon can be enjoyed as a snack or a meal, and each piece must be dipped with a generous amount of the sauce.
For the latest New Lifestyle Cooking Series:

Pajeon – Korean Scallion Pancakes
Serves: make 3 9-inch pancakes
Prep Time: 30 Minutes
Total Time: 45 Minutes
Ingredients:
For the Pancake Batter:
2/3 cup + 1/2 cup (170g) AP Flour
3 + 1/2 tablespoon (32g) rice flour
1 tablespoon gochujang (Korean Chili Paste)
1 + 1/4 cup (290g) water
1 egg
For the Fillings:
3 tablespoons cooking oil
2 cups cut scallions, into 3 to 4 inches long
1 cup cut carrots, in thin strips
1/2 cup corn kernel, from a can
Egg wash, 1 egg mixed with 2 tablespoons of water
2 tablespoons thinly sliced scallions, for garnishes
For the Dipping Sauce:
1 tablespoon soy sauce
2 teaspoons rice wine vinegar 
1/4 teaspoon crushed black peppercorn
1/8 teaspoon dried chilies
1/2 teaspoon sugar
1/2 teaspoon sesame oil
1/2 teaspoon toasted sesame seeds
1 tablespoon chopped scallions, thinly sliced into coin shape
1 tablespoon water
Make the pajeon batter by whisking everything together, and let it rest for at least 30 minutes so the flour could be fully hydrated
Prep the veggies for the fillings accordingly, and make the egg wash by mixing 1 egg with 2 tablespoons of water.
Make the dipping sauce by whisking everything together until sugar is dissolved.
To make pajeon, heat up a 9-inch non-stick skillet on medium-high heat with oil. When the oil shimmers, add scallions (the ones cut into 3 to 4 inches long) and cook until the edges are getting some color and the scallions are wilted.
Add carrots and corn on the top of the scallions and pour 4 ounces of pancake batter over the veggies to cover completely. 
Once the batter is set around the edge, drizzle 2 tablespoons of egg wash around the pancake. Cook until the eggs are crispy on the edge. Flip the pancake over and cook until the other side of the pancake is browned and crispy. Flip the pancake over again to make sure the first side is browned and crispy as well.
Slide the pancake onto a plate and divide the pancake up for 6 wedges. Repeat with the rest of the batter and ingredients. Serve pajeon, Korean pancakes, with the dipping sauce. Bon appétit!