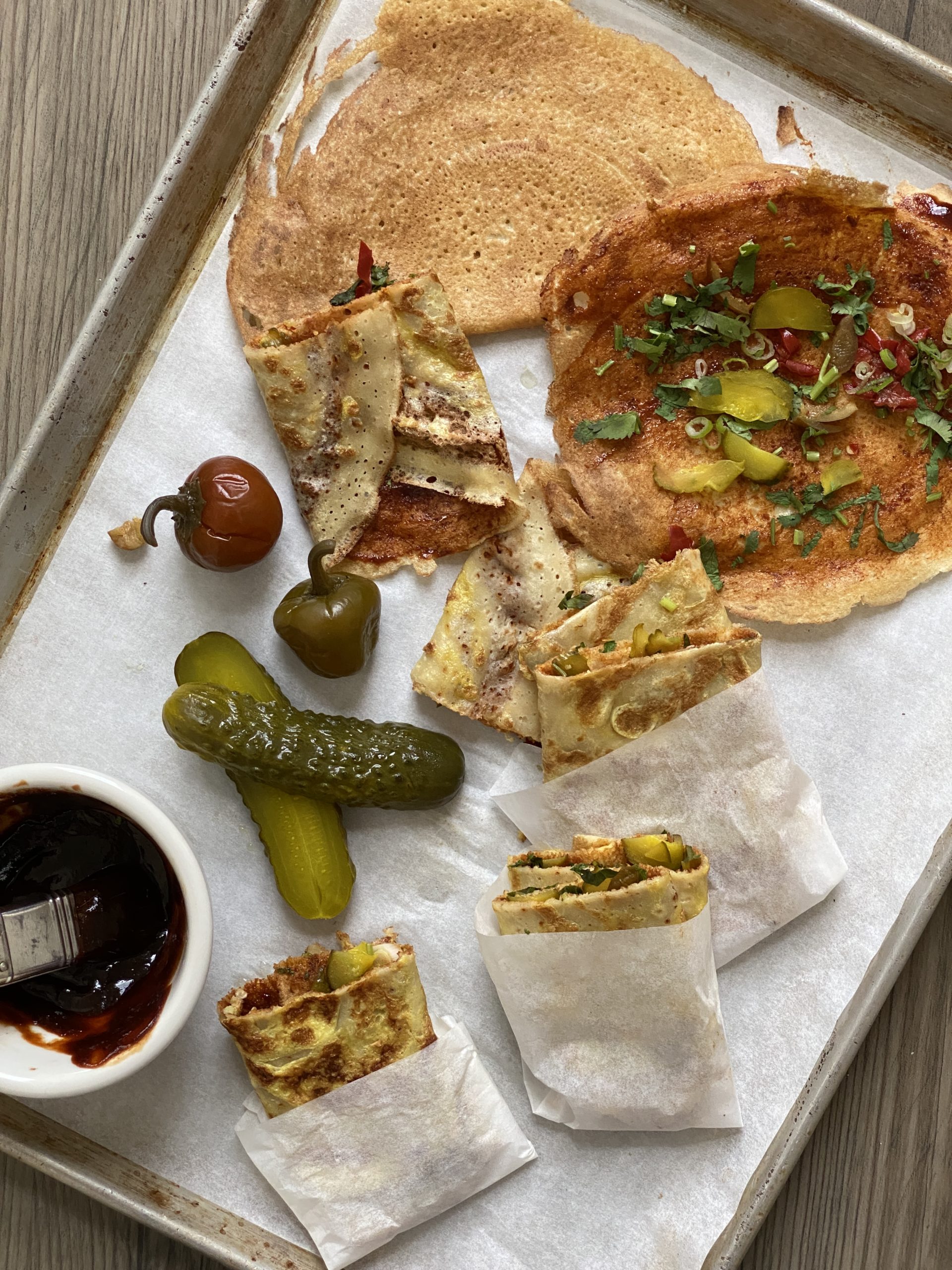 Jianbing is from China, and it has gained a fair share of popularity in the West and made it into the mainstream. Jianbing is a crêpe made out of millet flour, mung bean flour, and all-purpose flour. Quite frankly, the batter recipe is regional. I am using all-purpose flour and millet flour in this recipe; these two types of flour are more common and can be a substitute in a 1-to-1 ratio. Eggs, cilantro, scallions, crispy wonton, and hoisin sauce are essential fillings. For this version, I skipped the crispy wontons and added pickles. The crunch and flavors of the pickles make this dish just as joyful and pleasant to eat.
Ingredients:
For the Batter:
1/3 cup (60g) all-purpose flour
1/3 cup (60g) millet flour
1/2 teaspoon (3g) corn starch
1/2 teaspoon (1g) salt
3/4 cup (180g) water
For the Fillings (makes 1 pancake):
1 teaspoon spicy hoisin sauce (recipe below)
1 tablespoon chopped scallions
1 tablespoon chopped cilantro
1 tablespoon chopped NY-style deli pickles
1 teaspoon chopped pickled chilies
1/2 beaten egg
For the Spicy Hoisin Sauce:
2 tablespoons hoisin sauce
1/2 tablespoon gochujang (spicy Korean chili paste)
1 tablespoon water
To make the batter, mix everything together and let it rest for 30 minutes at least.
Prep the fillings accordingly; all the ingredients could be chopped roughly.
Make the sauce by mixing all the ingredients together; the sauce should be thick and spreadable.
Heat up a non-stick skillet on medium heat, and test out the skillet by adding few drops of water. Water should sizzle and evaporate quickly.
Ladle about 1/3 cup of batter into the skillet and spread it out with the back of the ladle until nice and thin.
Cook the batter until the sides start to peel off from the skillet. Spread the beaten egg on top and let it cook. Flip the pancake over when the egg is set.
Brush the top of the pancake generously with the sauce and sprinkle on the fillings.
To finish the pancake, fold one side to the middle and the other side over, like folding a letter. Serve as it is or cut it in half. Add more chili sauce if you dare! Bon appétit!