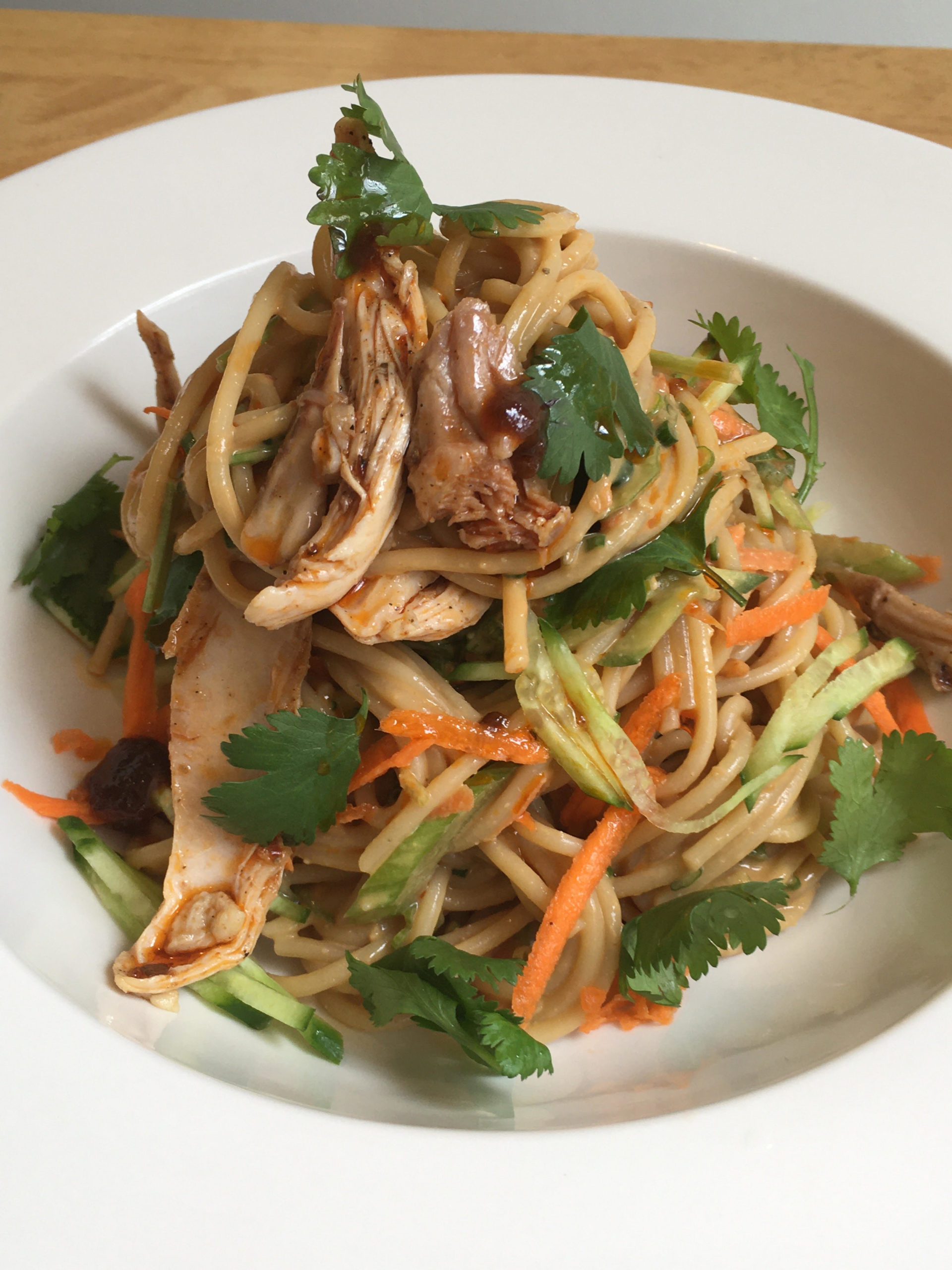 Making cold noodle salad with chicken and peanut sauce is one of my favorite ways to use leftovers. Peanut butter is a popular pantry item; therefore, this dish is accessible to everyone. Simply shred leftover cooked chicken or dice up to bite size and mix in with peanut sauce, and you'd have a delicious and healthy meal done very quickly. I like my cold noodle salad with cucumbers and raw shredded carrots; that's how my nanny served it to me. The choice of veggies is abundant; raw and crunchy veggies are the best for adding texture. Finally, you don't have to forgo this recipe for not having Asian noodles. You could substitute this recipe with spaghetti! But do make sure you cook your spaghetti a little further and not leave them al dente, firm to the bite.
For the latest COVID 19 Home Cooking Series:

Cold Noodle Salad with Chicken and Peanut Sauce
Serves: 2 adult & 2 children
Prep Time: 25 mins
Total Time: 40 mins 
Ingredients:
For Chili Oil (make 1 cup), optional
1/2 cup Canola Oil 
1/4 cup Sriracha 
1/4 cup Sambal Oelek
1/2 Tablespoon MSG
1 teaspoon Ground Cumin
1 teaspoon Sugar
1 Tablespoon Soy Sauce
For Peanut Sauce (make 2 cups)
1/2 cup Peanut Butter (prefer low sodium and sugar) 
2 tablespoon Soy Sauce
2 teaspoon Sesame Oil
2 tablespoon Rice Wine Vinegar
2 teaspoon salt
1 tablespoon Sugar
1/4 teaspoon MSG 
2 clove Fresh Garlic, grated
1/2 cup Cold Water
To Serve:
4 portion Spaghetti
4 stalk Celery, thinly sliced on bias
1 cup grated Carrot
1 cup sliced cucumbers, in sticks
4 piece scallions, sliced into thin coins
1/3 cup Cilantro stems, cut into batons
2 cup shredded chicken, seasoned with salt and chili oil
Extra tablespoon chili oil added at the end (optional)
1 + 1/4 cup tablespoon Peanut Sauce
1/3 cup Cilantro leaves
To make chili oil, put oil and chili sauces in a small pot and turn stove to medium-high heat. Fry the chili sauces in oil until jammy and fragrant. Also watch the bubbles on the surface; they should be tiny at the end. When the sauce is finished, turn off the heat, and add the spices and seasonings. Set aside.
To make peanut sauce, combine everything and whisk until smooth. Adjust consistency with cold water, and then re-season.
Cook spaghetti for 11 minutes. Drain and cool the noodles immediately. Cook the noodles beyond al dente (firm to the bite). Cold water will help stiffen and retain the texture of spaghetti.
Stir cold spaghetti with a little oil (could use sesame or chili oil) to prevent sticking. Toss in the veggies, chicken, and peanut sauce, stir to combine.
Plate everything in a bowl and garnish with cilantro leaves. Bon Appétit!