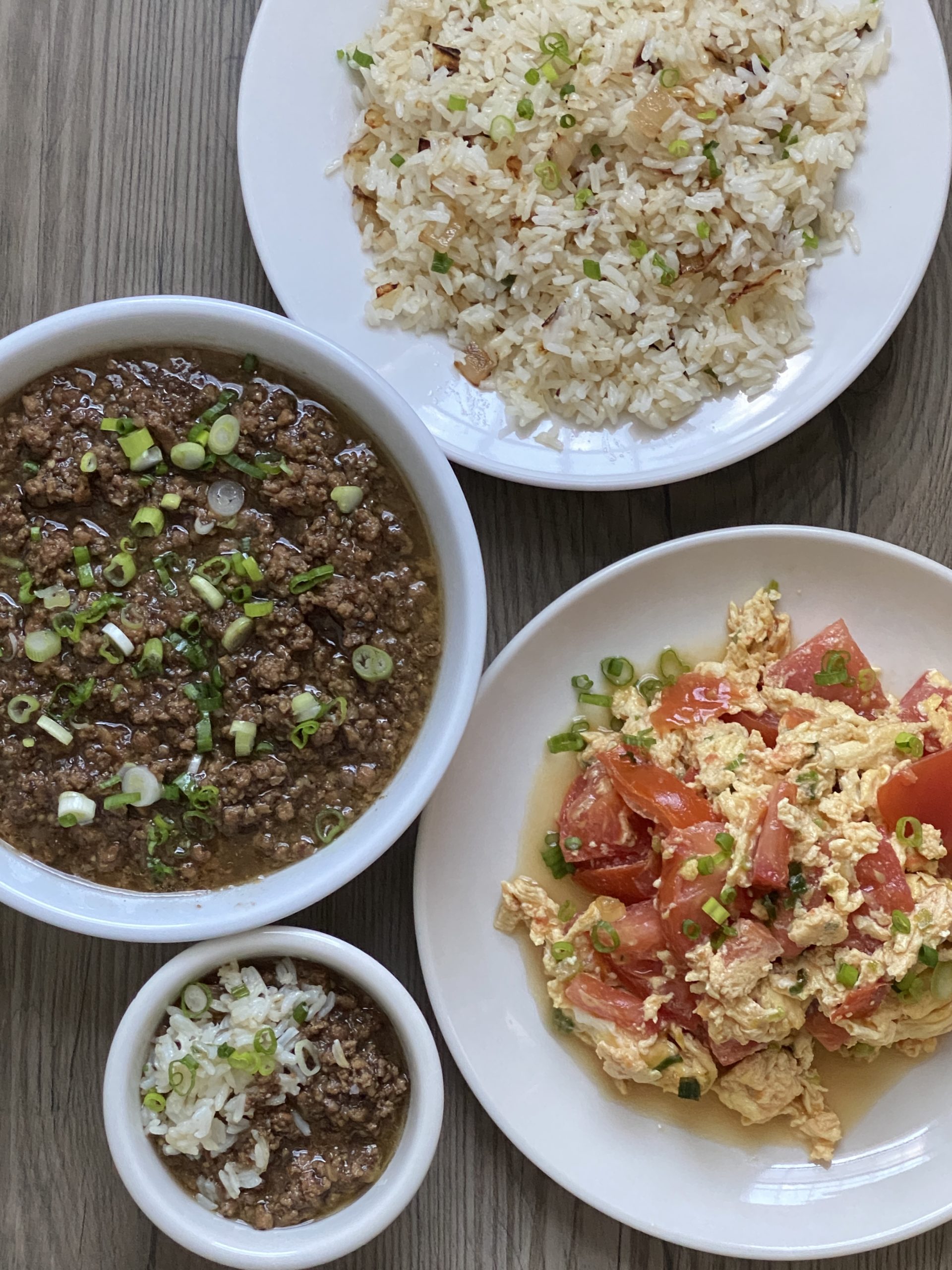 A homemade Taiwanese meal has rice, a soy sauce braised pork, and a vegetable dish. Taiwanese pork ragu is one of the most popular dishes, followed by the stir fry tomatoes and eggs. These two dishes are quintessential Taiwanese food and every family has its own version. Fried rice is often served because Taiwanese family cooks rice a few batches at a time; therefore, leftover rice is a "pantry stable". Taiwanese meal is simple and straightforward. Taiwanese food is about using the freshest ingredients and a variety of spices. Taiwanese food is delicious and wholesome.
For the latest New Lifestyle Cooking Series:
Homemade Taiwanese Meal: Pork Ragu, Tomato and Eggs, Fried Rice
Serve: 4 to 6 people
Prep Time: 15 minutes
Total Time: 45 minutes
Ingredients:
For the Taiwanese Ragu:
3 tablespoons cooking oil
1 +1/2 pound ground pork
1 cup diced onions, large dice
3 cups diced eggplant, large dice
10 cloves/1 head fresh garlic
6 button mushrooms
2 tablespoons Chinese five-spice*
1/4 cup soy sauce
2 tablespoons mirin
2 teaspoons sugar
400g chicken stock or water
More water for adjusting consistency
*Chinese five-spice bland:
2 teaspoons star anise
1 teaspoon fennel seeds
1 teaspoon cloves
1 teaspoon Szechuan peppercorn
1 stick cinnamon
Grind everything into powder form
For the Tomato Egg Stir Fry:
2 tablespoons cooking oil
1 large beefsteak tomato, diced to bite size
4 eggs, beaten
1/2 teaspoon salt
1/4 teaspoon MSG
1/2 teaspoon sugar
2 tablespoons chopped Scallions
For the Fried Rice:
2 tablespoons cooking oil
1/2 cup chopped onions
1/4 cup chopped scallions
4 cups leftover/day-old long-grain white rice
1 teaspoon salt
1/2 teaspoon MSG
Add chopped onions, eggplant, garlic, and mushroom to a food processor and blitz until fine, like the size of ground pork. Set aside.
To make the pork ragu, set up a medium-sized pot on high heat, add the oil. Once the oil starts to shimmer, add ground pork and break up the chunks. Cook the pork until it is no longer pink.
Add the veggie blend from step 1 and continuously cook the ingredients on high heat. Once the bottom of the pot picks up a little color and it is sizzling a little louder, add the spices and cook until fragrant.
Add soy sauce, mirin, chicken stock or water, and sugar, and bring the pot to a simmer. Add more water to adjust the consistency. The ragu will thicken but should still be fluid and juicy. Simmer the sauce for 30 minutes. Add more water if the ragu gets too thick and dry during the simmering.
Meanwhile, make tomato egg stir fry and fried rice.
Set a non-stick skillet on high heat and add oil. Once the oil shimmers, sauté tomatoes, and season with salt, sugar, and MSG. When the tomatoes start to wilt on the edge, add scallions and keep cooking on high heat until scallions are fragrant. Pour in the eggs and stir vigorously and turn off the heat. The eggs will continue to cook with the residual heat. The eggs should be barely done and soft. Set aside and make fried rice and check on the ragu; the ragu should be aromatic, sweet, and barely too salty ( the fried rice is going to balance out the flavor)
Wipe down the non-stick skillet, and put it back on high heat. Add the oil and when the oil shimmers, add onions and cook until the edges are picking up some color.
Add the rice and let the rice sizzle in the hot skillet for 10 seconds before tossing and flipping. Season the rice with salt and MSG. The fried rice should be a little bland because the pork ragu will add a lot of flavor to it.
Toss the fried rice a couple times and let it sizzle again for another 10 seconds. Do this procedure a few times until rice is hot and fluffy.
At this point, the ragu should be finished; it should be creamy, saucy, and fragrant.
To serve, put some rice in a bowl and ladle pork ragu to cover it. Serve tomato egg stir fry on the side with extra chopped scallions. Bon Appétit!