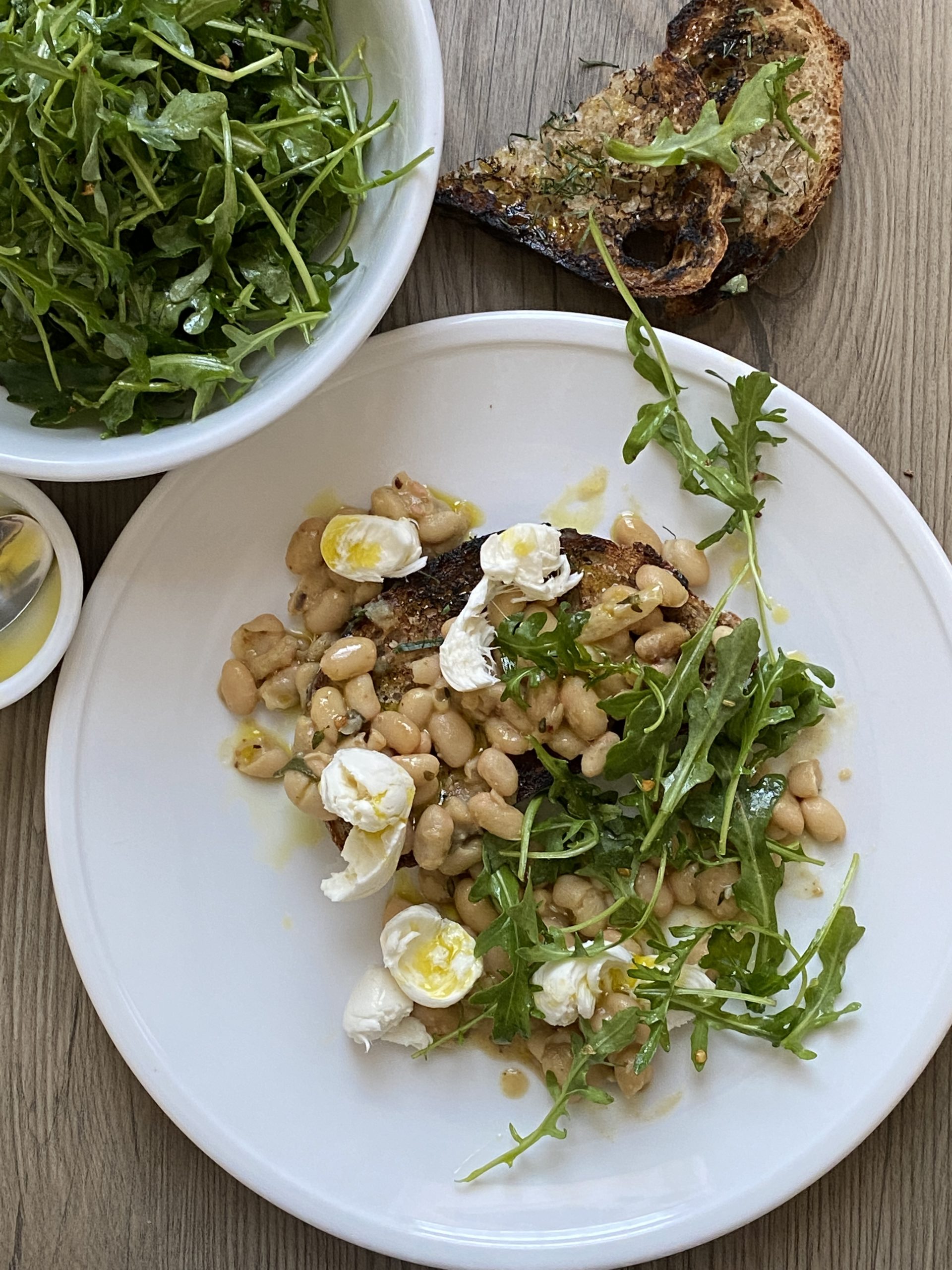 Bruschetta is grilled bread rubbed with garlic and topped with olive oil and salt. In this recipe, Italian white beans are cooked until creamy and silky and then placed on top of the grilled bread. Add a handful of peppery arugula and a few pieces of fresh mozzarella, this dish is simple and delicious, and a perfectly fine dish to go with a glass of chilled rosé. 
For the latest New Lifestyle Cooking Series:
Creamy Beans Bruschetta with Arugula and Mozzarella
Serve: 4 portions
Prep Time: 5 minutes
Total Time 30 minutes
Ingredients:
For the Creamy Beans:
1/4 cup EVOO, divided in half
4 cloves garlic, smashed
1 tablespoon ground fennel seeds
1 teaspoon dried chilies
A couple sprigs of fresh oregano
A couple sprigs of fresh thyme
1 can (15.5 oz.) great northern white beans (or soak dried beans overnight and cook them the next day)
1 lemon, juiced
To serve with (makes 1 portion):
Sourdough or any bread, sliced into 1/2-inch thick
1 clove garlic
Pinch of salt
1 tablespoon of EVOO
1 tablespoon chopped parsley 
1/2 cups arugula
1 teaspoons EVOO
Pinch of salt
Pinch of dried chili flakes
Pinch ground fennel seeds
Lemon juice, reserved from the beans
4 ciliegine, which is a fresh mozzarella that is the size of a grape
To make the creamy beans, set a non-stick skillet on medium heat and add 2 tablespoons of EVOO. Add smashed garlic and cook until fragrant and caramelized on the outside. And then add ground fennel seeds and dried chilies, and cook until fragrant.
Add fresh oregano and thyme and cook them until aromatic. Add the beans and water just to cover them. Bring the beans to a simmer and reduce the liquid by half. Season to taste.
To finish the creamy beans, use the back of a spoon to crush some beans to help release the starch. Add the rest of the EVOO and half of the lemon juice and stir to combine. The beans should be shiny, creamy, and delicious. 
Toast the sourdough and rub both sides of the bread with raw garlic, and then season with salt and drizzle some olive oil over it. Sprinkle on some chopped parsley. 
To make the arugula salad, drizzle EVOO, sprinkle salt, dried chili flakes, and fennel seeds into the greens, and then add the rest of the lemon juice and toss the arugula. 
To serve, place the toast on a plate and scoop some creamy beans on top. Tear up some fresh mozzarella and lay them on top of the creamy beans. Place a pile of arugula salad on the beans and drizzle more EVOO over the plate to finish. Bon appétit!