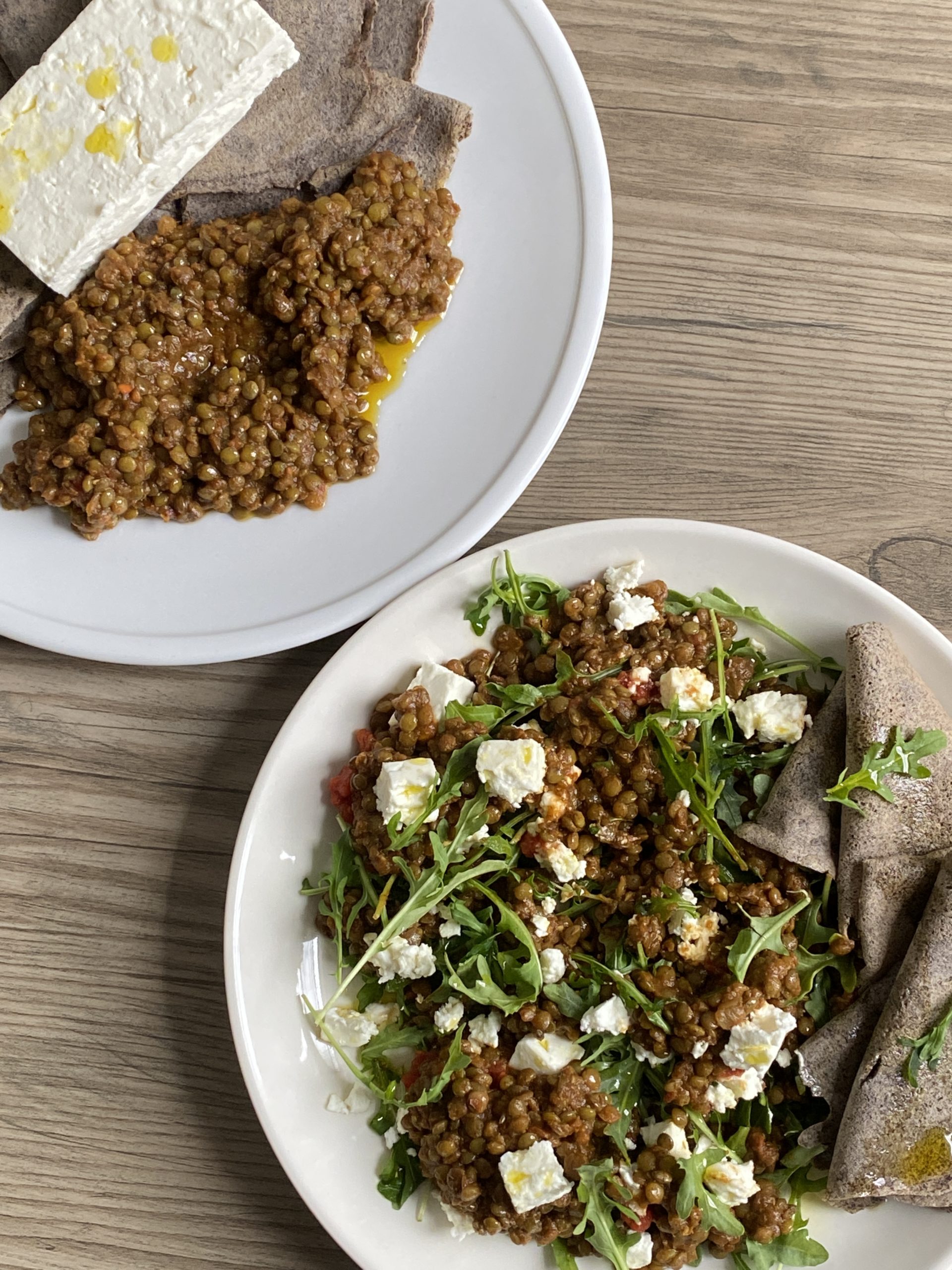 Spiced lentil salad brings comfort and joy. Lentil is stewed with cumin, coriander seeds, curry, and chili powder until creamy, and then scooped onto the arugula. The greens are gently wilted, yet still taste vibrant and peppery. Crumbled feta cheese adds some tang and a bold flavor. This salad is as good as it is on its own, but better with crêpes or a piece of grilled bread to mop up the sauce.
For the latest Chef Reggie Home Cooking Series:
Spiced Lentil Salad with Feta and Buckwheat Crêpes
Portions: 4
Prep Time: 10 minutes
Total Time: 40 minutes
Ingredients:
For Crépe Batter:
1 cup/120g buckwheat flour
3/4 teaspoon/3g salt
2 eggs
1cup/225g milk
1 Tablespoon butter, Melted
1/3~1/2 cup water, if thinner batter is desired
For the Lentil:
2 tablespoons cooking oil
1/2 cup diced onions, medium dice
5 cloves garlic, sliced to 1/8-inch thick
1/2 teaspoon salt
1 tablespoon ground cumin
1 tablespoon Madras curry powder
1/2 tablespoon ground coriander seeds
1/2 tablespoon chili powder
1 + 1/2 cups French lentils
5 cups water
4 tablespoons crushed tomatoes
1 teaspoon soy sauce
1 lemon zested 
1 tablespoon lemon juice, reserve the rest
1/4 cup EVOO
To serve with:
4 cups arugula
Reserved lemon juice from above
1 tablespoon EVOO
1 cup crumbled feta cheese
Make the crépe batter by coming everything into a mixing bowl and whisk together. Let the batter rest for at least 1 hour. Cook the lentil while waiting.
To cook the lentil, set up a medium-sized pot on medium heat, add the oil and cook onions and garlic until caramelized, season with salt.
Add ground cumin, curry powder, ground coriander seeds, and chili powder and cook until fragrant. Add the lentil and water, and then bring the water to a simmer. Simmer for 30 minutes or so until the lentil is soft and creamy. 
When the lentil is done, add crushed tomatoes, soy sauce, both lemon zests and juice, and EVOO, and then stir to combine.
Once the buckwheat crêpe batter is ready, pre-heat a non-stick skillet on medium-low heat for 4 minutes to make sure it is evenly heated. Pour 2 oz. or 1/4 cup of the batter into the center of the skillet and swirl it around to spread the batter out. Cook until the sides start to peel off and then flip it over and cook it for another 10 seconds. Fold the crêpe in half and keep it covered with a clean towel or paper towel until ready to serve. 
To plate the salad, spread out the arugula at the bottom of a plate, and then use a spoon to scoop lentil around the plate onto the arugula. Top off the lentil with feta cheese and serve buckwheat crêpes on the side. Bon appétit!