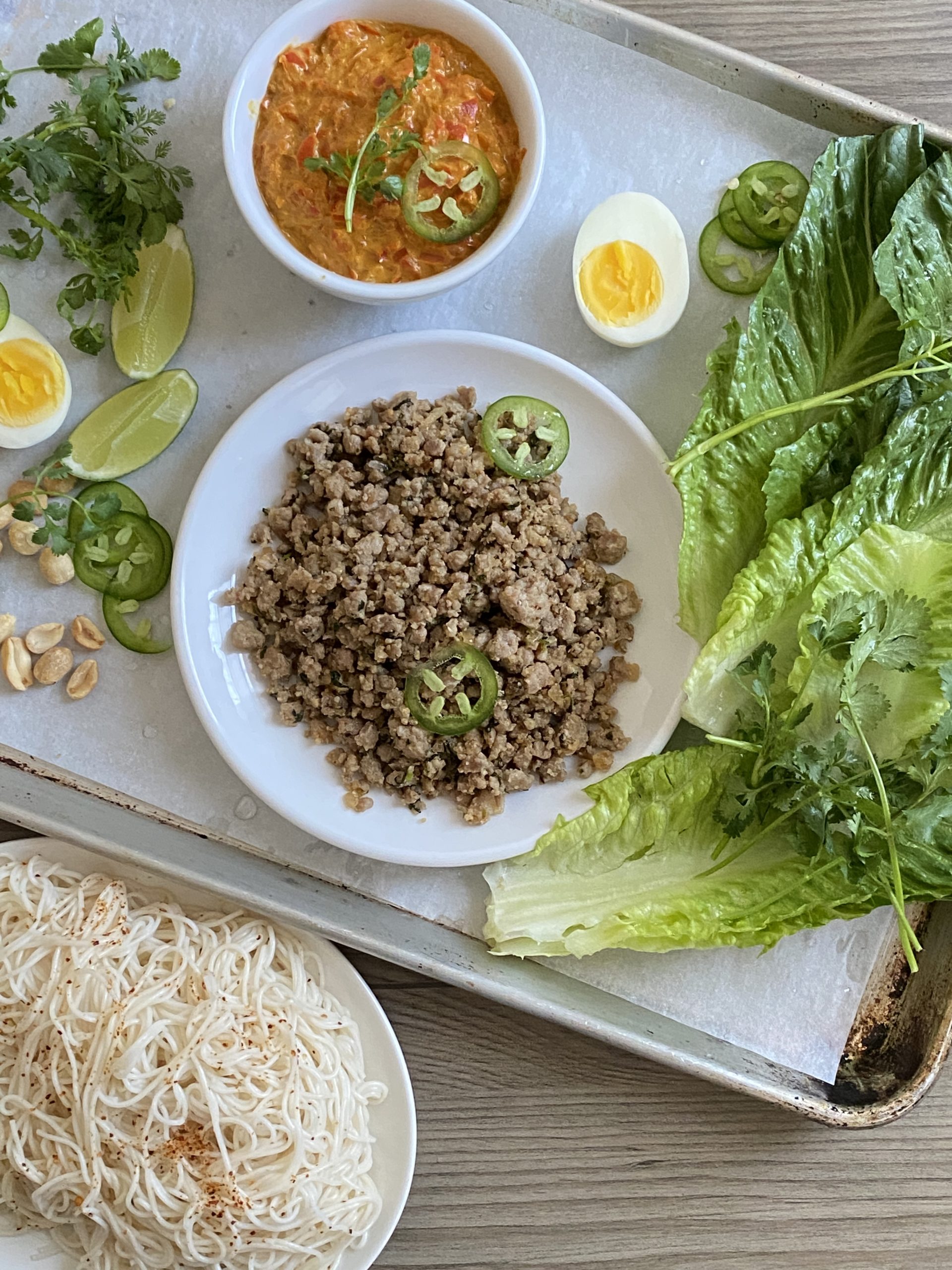 Larb is a Southeast Asian meat salad served in a lettuce cup. Larb originates from Laos and Isan region in Thailand. I learned how to make larb in my travels to Thailand. Larb is also a dish that is as regional or personal to the cook who prepares it; every person has his or her own take on this meat salad – larb is salty, bright, spicy, and herbaceous. I like my larb citrusy and herbaceous. Larb in lettuce cup also comes with other condiments; rice noodles, chili sauce, herbs, hard-boiled eggs, long beans, and peanuts are just a few that you'd see on the streets. Larb brings joy and comfort to the table; using lettuce and hands to cup the foods is just one of the few ways that make dining intimate and memorable.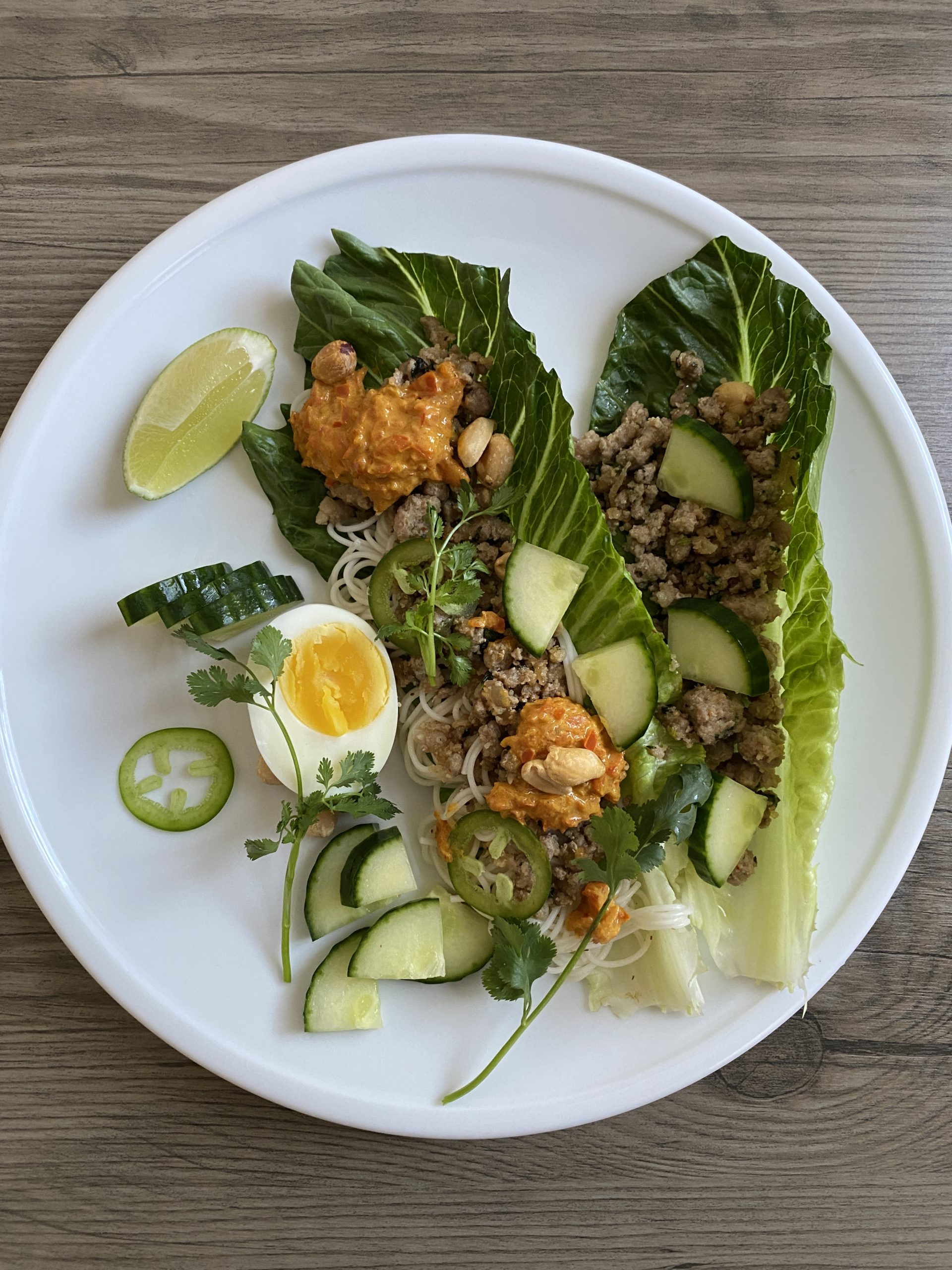 For the least Chef Reggie Cooking Series:
Larb with Lettuce Cup and Coconut Pepper Relish
Serves: 4 portions
Prep Time: 30minutes
Total Time: 1 hour 15 minutes
Ingredients:
For Larb:
2 tablespoons cooking oil
1 pound ground pork
1/2 teaspoon salt
1 cup finely chopped red onions
5 cloves fresh garlic, grated
1 teaspoon dried chili flakes (or dried Thai chilies)
1 + 1/2 tablespoon fish sauce
2 tablespoons lime juice
1 + 1/2 teaspoon soy sauce
1/3 cup chopped cilantro
2 tablespoons toasted ground rice (optional)**
**to make toasted ground rice: soak long-grain (Jasmine or Carolina) rice overnight. Drain the rice and air-dry for 30 minutes, and then toast the rice on medium heat in a skillet until golden brown. Cool the rice down and then turn it into powder.
For Coconut Red Pepper Relish:
1 tablespoon cooking oil
1 red bell pepper, minced
1/2 teaspoon salt
1 tablespoon Madras curry powder
1/2 cup coconut milk
1 teaspoon water
To serve with:
Rice noodles
Romaine Lettuce
Cilantro
Sliced cucumbers
Toasted Peanuts
Hard-boiled eggs
Jalapeño
Lime wedges
To make the larb, sauté ground pork on medium heat until it is cooked, season with salt. 
Add red onions and garlic and cook until they are fragrant. Add chili flakes, fish sauce, lime juice, soy sauce, and chopped cilantro, and stir to combine. Season to taste. Larb should be salty, herbaceous, and spicy (but you may adjust the heat according to your tolerance).
Toast the rice according to the above instructions and add it to the larb before serving the meal.
Make coconut red pepper relish by blitzing red peppers into small chunks, and then sauté red peppers until they are thick and pasty. Add salt and curry powder and cook until fragrant, and then add coconut milk. Cook the relish until thickened, and then add water to adjust the consistency. The relish should be thick, yet not cloying or clumpy. 
To prepare the sides and the condiments:
Make toasted rice and blend it into a powder
Cook dried noodles and then rinse them in cold water and drain. Stir in a little bit of cooking oil to keep them lubricated, and season them with dried chilies and a dash of fish sauce
 Wash romaine lettuce and cilantro and dry them thoroughly
 Slice cucumbers into thin pieces
Toast peanuts or purchase them
 Make hard-boiled eggs by bringing the water up to a boil with eggs in it, and then let them sit in the hot water for 10 minutes with the heat off. Cool the eggs down in ice water, and then peel and cut them into wedges.
 Sliced jalapeño into desire thickness
 Cut lime into wedges
6. To serve, put the noodles in romaine lettuce, add the larb and tiny scoops of coconut red pepper relish on top. Sprinkle toasted rice powder on larb, and then add cilantro, cucumbers, peanuts, hard-boiled eggs, and jalapeño. Squeeze some fresh lime juice on top to finish. Bon appétit!