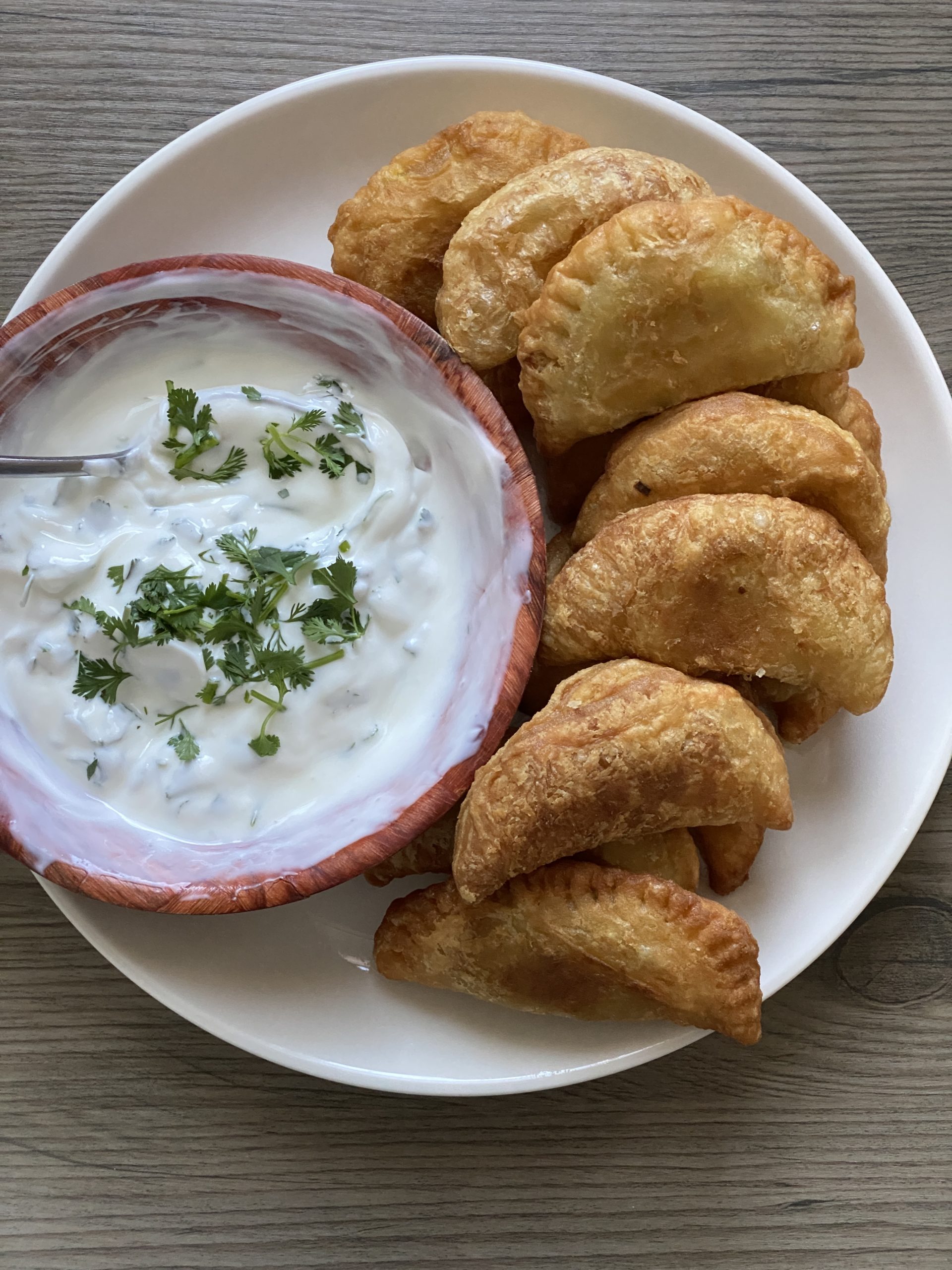 Curry puffs are the Asian version of an empanada, and they are popular street foods in southeast Asia. To make these at home and keep it simple, use store-bought puff pastry and fill it with potato masala. Either fry or bake them until golden brown and crispy on the outside. Serve hot with a side of lemony yogurt with chopped cilantro.
Chef Reggie's Cooking Series:
Crispy Curry Puffs with Yogurt Sauce
Serves: 2~3

Prep Time: 20 minutes
Total Time: 1 hour (not including inactive time)
Ingredients:
1 potato, finely diced
1 sweet potato, finely diced
3 tablespoons cooking oil
1 medium-sized onion, medium dice
1 head garlic, grated
3 tablespoons finely chopped ginger
1 tablespoon Madras curry powder
1 tablespoon garam masala
1/2 teaspoon dried chilies
1 teaspoon turmeric
1/4 teaspoon chopped cilantro
1/2 cup coconut milk
1 box Puff Pastry, Pepperidge Farm Brand, defrosted
For the yogurt sauce:
1/2 cup Greek yogurt
1/2 cup buttermilk
2 tablespoons chopped cilantro
pinch of salt
1 tablespoon lemon juice
2 tablespoons EVOO
To Cook with:
Cooking oil
Make potato masala by cooking potatoes and sweet potatoes in a pot of water first. Cover potatoes and sweet potatoes with cold water and bring the water to a boil. Drain the potatoes and set aside.
cooking onions until nice and tender, and then add garlic and ginger and cook until fragrant. Add the spices and a bit more oil to help cooking them until fragrant.
Add the potatoes and sweet potatoes into the skillet and use a spatula to pack down on them gently. Cook undisturbed until the bottom is crispy and golden brown, and then lift the bottom to the top and gently pack down the potatoes again. Do this step a few times until most of the potatoes are browned. To finish, stir in chopped cilantro and coconut milk. Chill the potato masala in the fridge until completely cold.
When the filling is ready, roll out the puff pastry to 1/16-inch thick. Using a 4-in ring cutter to cut out circles and fill the center of each with a heaping spoon of the filling. Brush the side of the circles with water and seal the edges to form a moon-shape pouch. Use a fork to push down on the edge to create pleats. (Alternatively, cut the puff pastry into squares and fill the center with the fillings and then form triangles by folding one corner to the other. Seal the edges.)
To make the yogurt sauce, mix everything together and set it aside.
Set up a shallow fryer by pouring enough oil halfway up in a skillet. Fry each curry puffs in 350 Fahrenheit oil. To get the oil to the right temperature, put a piece of bread into the fryer and wait until it turns golden brown, an indication of proper frying temperature.
Fry the curry puffs on each side for 1 minute or until they are golden brown. Drain off the fat and set them on a rack. Serve curry puffs hot with yogurt sauce. Bon appétit!