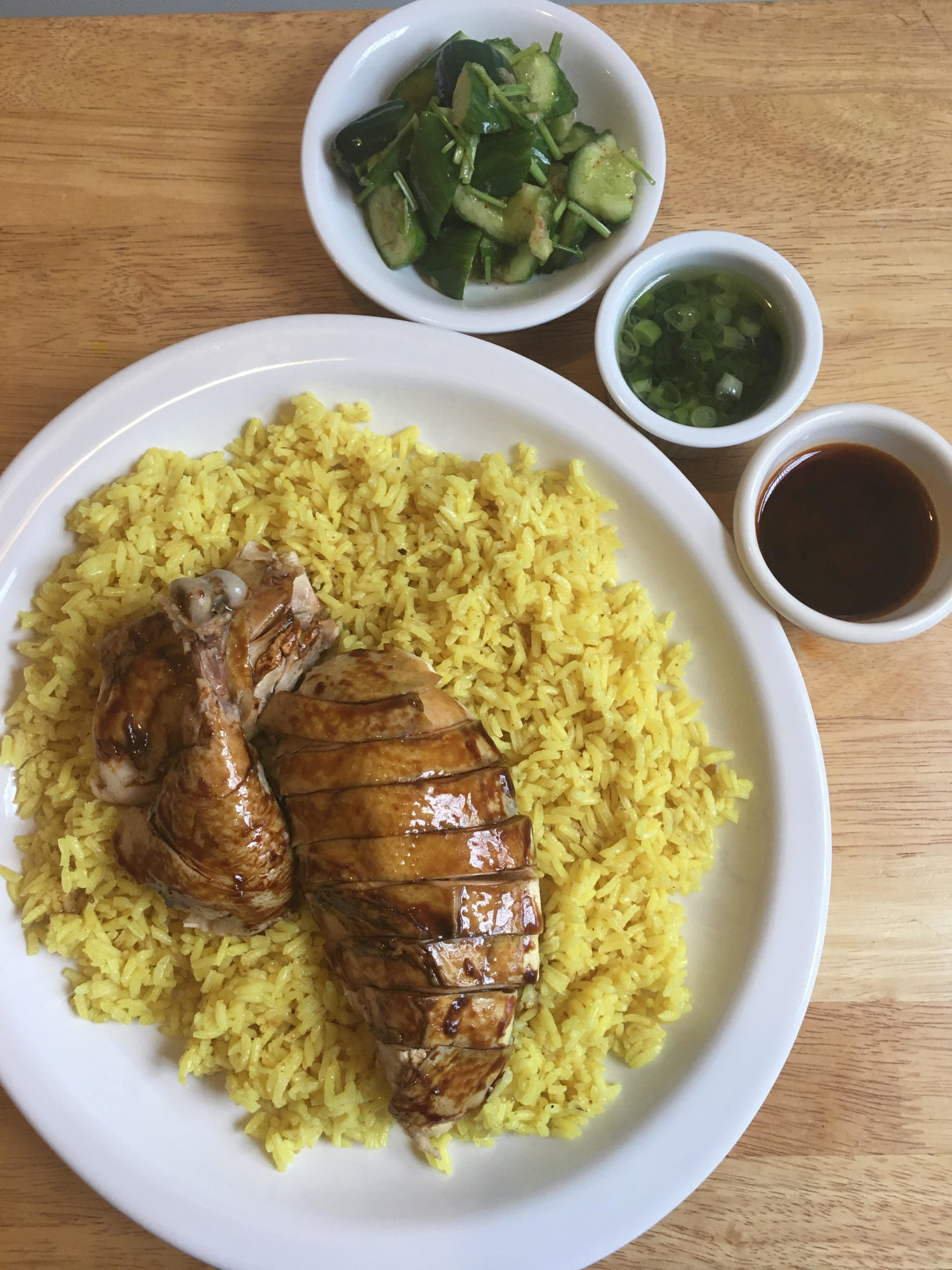 I always seek out a "chicken over rice" dish when I travel. I believe there is a form of "chicken over rice" in most of the cuisines in the world. I love the concept of "chicken over rice" because of its simplicity. I'd argue that rice is the star of this dish because the best version of it uses chicken fat and stock made from the trims. The rice is the backbone of this humble dish.

For the latest COVID 19 Cooking Series:

Southeast Asian Chicken Over Rice
Serves: 2 adults & 2 children
Prep Time: 20 Minutes
Total Time: 45 Minutes
Ingredients:
For Chicken
1 Breast
1 Drumstick
1 Thigh
2 tablespoon Soy Sauce
1/8 teaspoon ground White or Black Pepper

For Rice
450g (2 + 1/4 Cup) Long Grain Rice (Jasmine or Basmati)
45g (4 Tablespoon) Canola Oil
5 cloves fresh Garlic, minced
700g (approximately 3 cups) chicken stock or water
1/2 teaspoon Turmeric Powder
1/2 teaspoon Ground White Pepper
1 teaspoon Salt
For Cucumber Salad
2 cups bite size cut cucumber (English cucumber is the best)
8g (2 +1/2 teaspoon) Salt
8g (2 teaspoon) Sugar
1/4 teaspoon dried chilies (optional)
2 Tablespoon Lemon Juice
1 teaspoon Sesame Oil
2 Tablespoon Cilantro Stems, cut into batons (optional)
To Serve With:
Scallion Oil
Chili Oil
In a medium pot, gently cook garlic with canola oil until fragrant on medium heat, and add rice to coat. Toast rice until fragrant. Be careful not to let garlic get too toasty or black.
Add the spices and salt, stir to combine, and add liquid immediately.
Bring the pot to a boil and turn down to simmer. Cover with a lid. Once the liquid has been absorbed, turn off heat and leave the lid on for additional 10 minutes.
Meanwhile, make the cucumber salad. Bash cucumber gently with the side of your knife and cut it into bite size. Season cucumber with salt and sugar and let sit in the fridge for 30 minutes.
After 30 minutes, drain cucumber and season with dried chili, lemon juice, and sesame oil. Add herbs to enhance the flavor if you wish
You could microwave your chicken until hot. If you don't have a microwave, you could bring a small amount of water to a boil and place your chicken in and turn the heat down to simmer until the chicken is heated through. Re-season chicken with soy sauce and white or black pepper
To Serve, put a generous amount of rice on a plate, level the rice and place your chicken in the middle, and drizzle more soy sauce if necessary. Serve cucumber salad, scallion oil, and chili oil on the side. Bon Appétit!