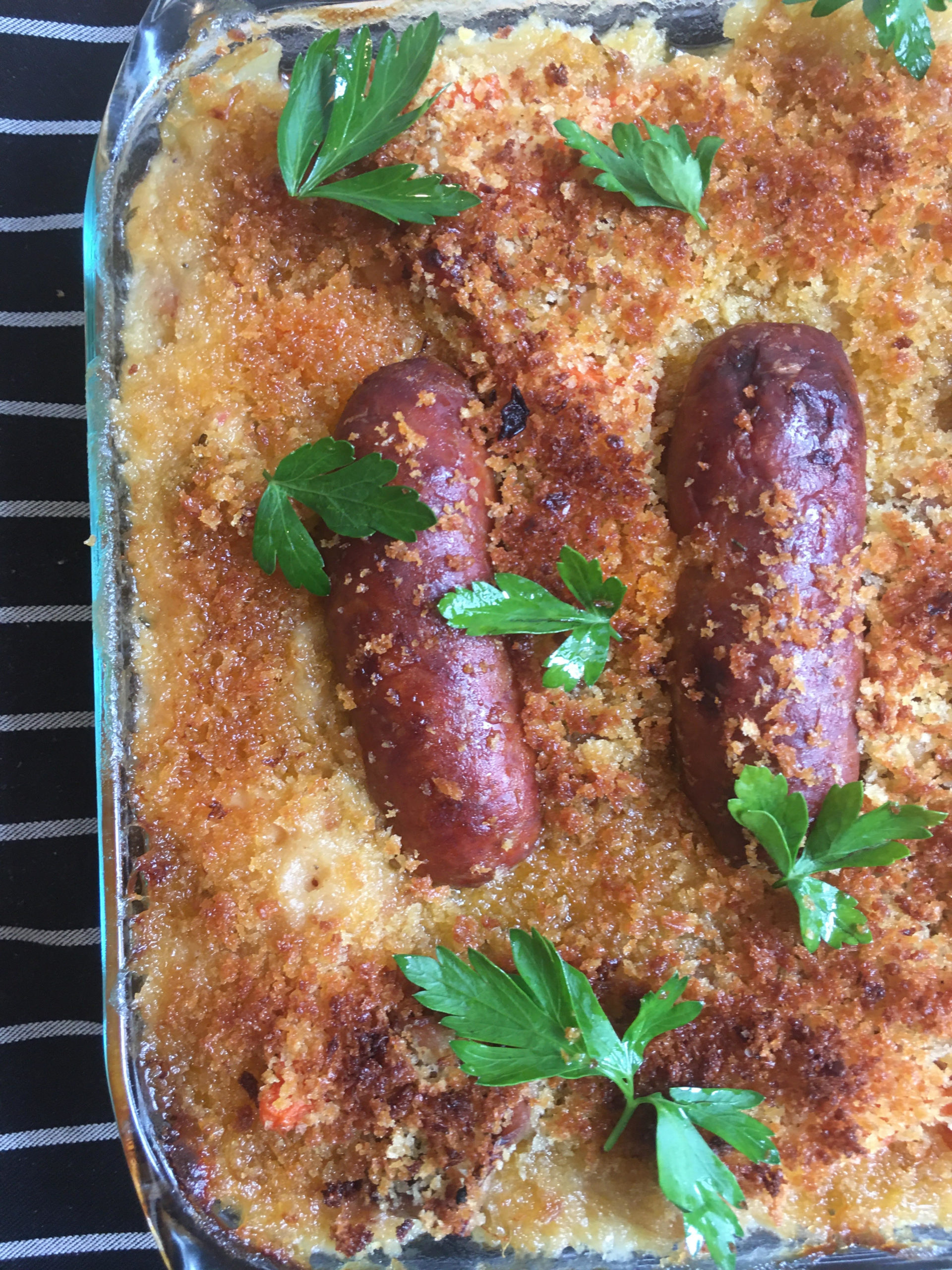 Cassoulet is a great dish for using up all the leftovers. The main ingredients of a cassoulet are: bacon or some form of cured meat, sausage, a type of poultry or game, and beans, and you could build so much flavors into this dish by introducing root vegetables and herbs.
For the latest COVID 19 Home Cooking Series:
Cassoulet à la Leftover Chicken
Serves: 2 adults & 2 children
Prep Time: 20 minutes
Cook Time: 40 minutes
Total time: 1 Hr.
Ingredients:
1 tablespoon Canola Oil
1 + 1/2 cup Diced Bacon
3 piece Italian Hot Sausage
1 + 1/2 Medium Size Onions, medium dice
10 cloves Garlic, smashed
3 piece Medium Size Carrots, slice 1-in on bias
3 sprigs Thyme
1 quart of water or chicken stock
5 cup Diced Chicken (about 2 drumsticks and 2 thighs)
1 can (28 oz.) Cannellini Beans
1 + 1/2 cup Breadcrumbs
2 tablespoon olive oil
1 tablespoon softened butter
1 lemon, zested
In a medium size stock pot, heat up canola oil on medium high heat, sauté bacon and sausages at the same time. Once sausages are nicely colored, take them out and keep rendering the bacon
Add onions, carrots, garlic, and thyme when bacon starts to take on some brown color. Cook veggies and bacon together until veggies are moist and soft. Put sausages back in the pot and add enough water or chicken stock until it covers two-thirds of the way. Turn the stove down to simmer and cook until carrots are soft and sausages are done
Meanwhile, make breadcrumb crust by mixing in olive oil, softened butter, and lemon zest
Pre-heat your oven at 400F
Once carrots and sausages are done, mix in chicken and cannellini beans. Bring the stew up to a boil and turn off the heat
Scoop the stew into a casserole and top off the casserole with breadcrumb (you will only need half the amount, refrigerate the other half for the next time)
Bake the casserole for approximately 20 minutes, oruntil the top gets golden brown. You could use broiler to help you with the color towards the end. Enjoy Cassoulet as it is, or eat it with rice. Bon Appétit!