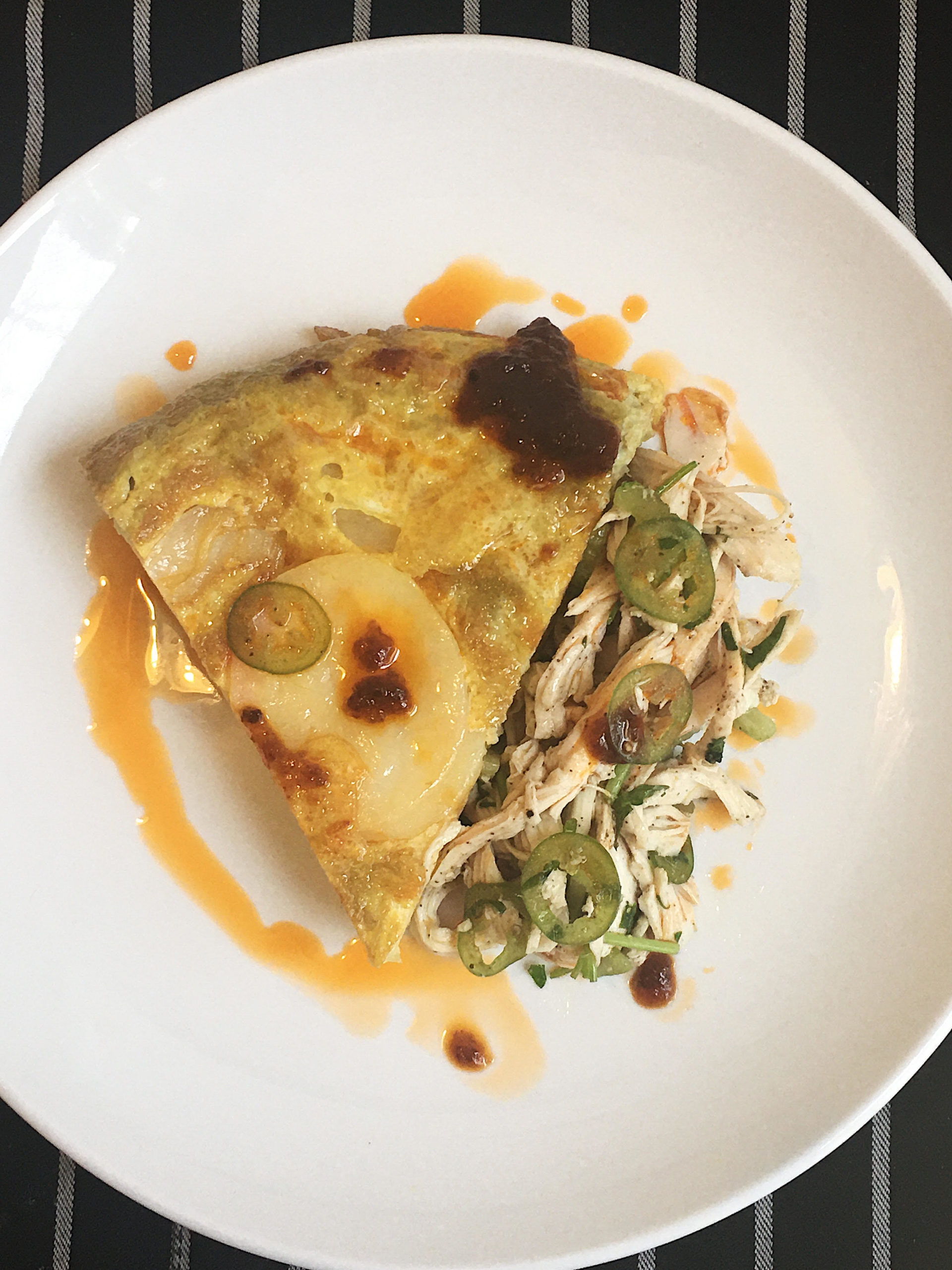 Spanish Tortilla is a simple egg dish that could be breakfast, lunch, or dinner. I love making Spanish tortilla when I have excess of onions and potatoes that are about to go bad. Serve it with a side of shredded chicken salad, you'd have yourself a delicious meal made of entirely with cheap and leftover goods! 
For the latest COVID 19 Home Cooking Series:
Spanish Tortilla w/ Shredding Chicken Salad
Servers: 2 adults and 2 children

Prep Time: 20 minutes
Total Time: 40 minutes
Ingredients:
For Spanish Tortilla
8 Eggs, beaten
1 pound ( about 4 medium size)Yukon Potatoes, peeled and sliced 1/16-inch thick
1 medium size onions, sliced thin
1/3 cup + 2 tablespoon EVOO
1/2 teaspoon Salt
For Chicken Salad
1 piece Chicken Breast, shredded
1 stalk celery, cut into 1/8-inch thick moon shape
1/8 cup chopped parsley
2 tablespoon sliced Jalapeño, ring shape
1 teaspoon Salt
1/2 teaspoon ground Black Pepper
3 tablespoon EVOO
Pre-heat oven at 350F
Slice potatoes using a mandolin into 1/16-inch thickness and rinse in cold water to rid of excess starch
Peel and cut an onion in half and using a mandolin to slice it into strips; start from the side and tilt the onion in 45 degrees. Go down the mandolin swiftly
Cook the potatoes first. Using a medium pot, add cold water to potatoes and cover. Bring it up to simmer and cook until soft but not falling apart. Drain and set aside.
Meanwhile, make chicken salad. Using a pairing knife or a peeler, peel celery to get rid of the stringy part; clip a little piece of celery off from the top and pull your knife down. You'd see strings of celery come off. Using a mandolin, slice celery into moon shapes
Slice jalapeño thinly into ring shape with a mandolin as well. 
Adding all the shredded chicken salad ingredients together in a mixing ball and stir to combine. Adjust seasoning if necessary.
Once the potatoes are done, cook the onions. Heat up EVOO in a 9-inch non-stick skillet on medium heat and gently cook onions until translucent and soft. Season with a pinch of salt. Add cooked potatoes when onions are done and stir both to combine.
Turn the heat up to medium high and pour in beaten eggs. Move the eggs around to ensure they reach the bottom. Once the sides are set, put the skillet in the oven and set timer for 15 minutes. The tortilla are done when the middle is solid. Let rest for couple minutes.
Flip the tortilla onto a flat surface (a lid or a cutting board) and slide it back into the skillet to warm up the other side. Using a rubber spatula to press in the sides and form a circular disc. Tip out the tortilla onto a cutting board and slice it into wedges like pizza.
To serve, place a wedge of tortilla off the center on a plate and place a small handful of chicken salad next to the tortilla. Drizzle couple teaspoons of chili oil and dig in. Bon Appétit!