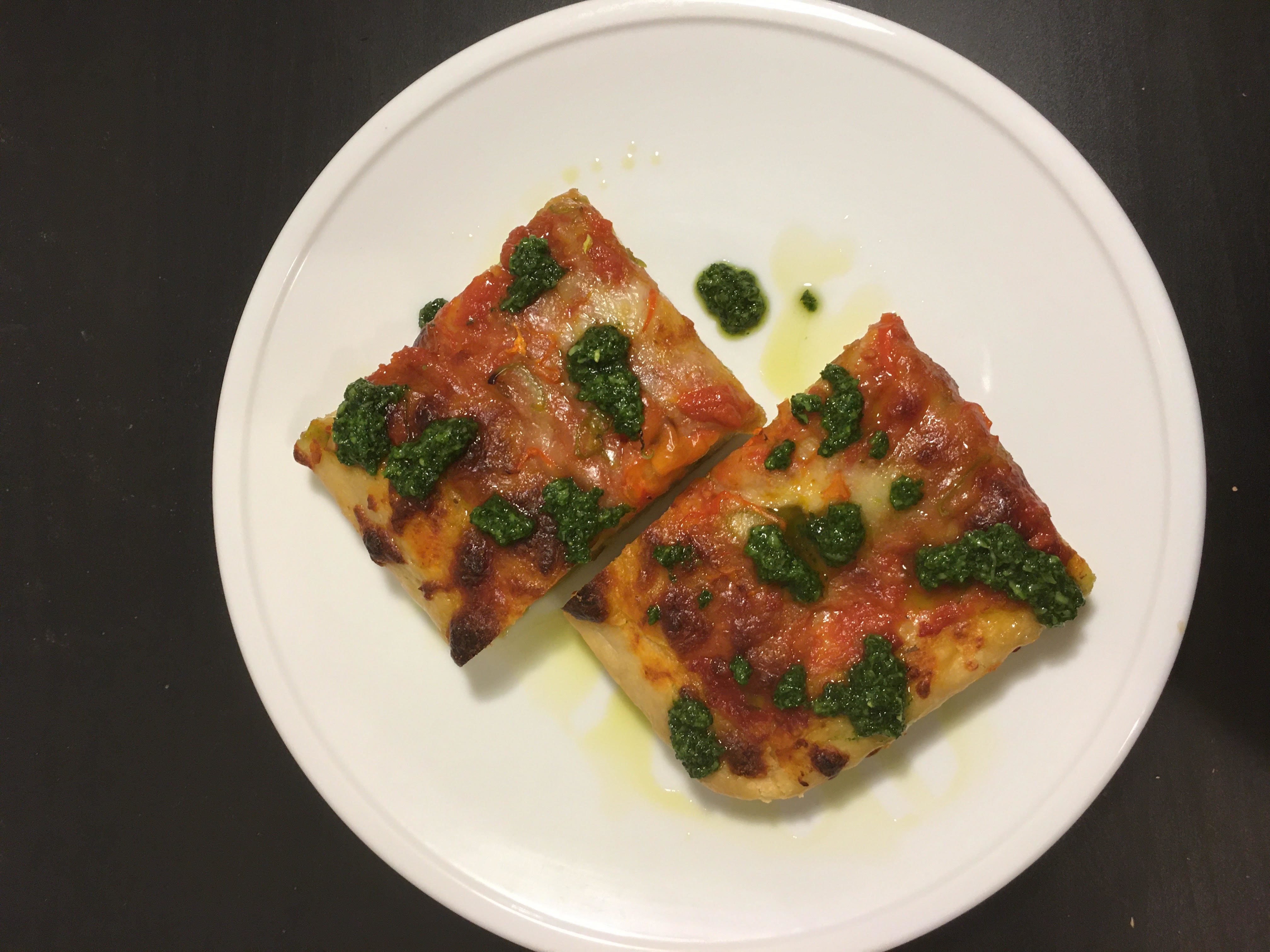 (Pizza, with Habanero Peppers, and Kale Pesto, by Reggie Soang)
We worked hard over the weekend cooking! We've made tomato sauce, kale pesto, and learned how to bake…now let's put it all together!
For the latest COVID – 19 Home Cooking Series, I present you:
Pizza
Ingredients:
For the Pizza Dough
500g AP Flour
10g Salt
5g Yeast
2 Tablespoon EVOO
350g water
More EVOO for Greasing the Baking Pan
For the Toppings:
Shredded Mozzarella, as much as you like to put on
2 pcs Habanero Peppers ( or Scotch Bonnet), thinly sliced
1 Cups/8 oz. Tomato Sauce
Kale Pesto, as much as you like to put on
*Give yourself at least 4 to 6 hours for the dough to proof.
Mix AP Flour, salt, and yeast. Add Water and 2 Tablespoon EVOO to the dry goods. Mix to combine. You don't have to knead the dough at all! Just leave it on the counter at room temp, and then it will proof nicely.
After 4 to 6 hours, turn your oven to 450F.
Grease up your baking vessel with generous amount of EVOO to cover. The oil will help creating a crust.
Once the dough is proofed, gently fold it over few times to smooth out surface. Lay the dough into the baking pan (deep dish cast iron, or any dish that conducts and holds the heat well) and let rest for another 45 minutes.
Use your fingers (WASH YOUR HANDS FIRST) to stretch the dough to the edge, and then add your toppings.
I started with tomato sauce, and then followed by adding cheese, and sprinkled on thinly sliced habanero peppers.
Bake your pizza in the oven for 20 minutes at 450F oven. Let rest and cut into slices.
Spoon on some of the kale pesto that we made over the weekend…Bon Appetit!