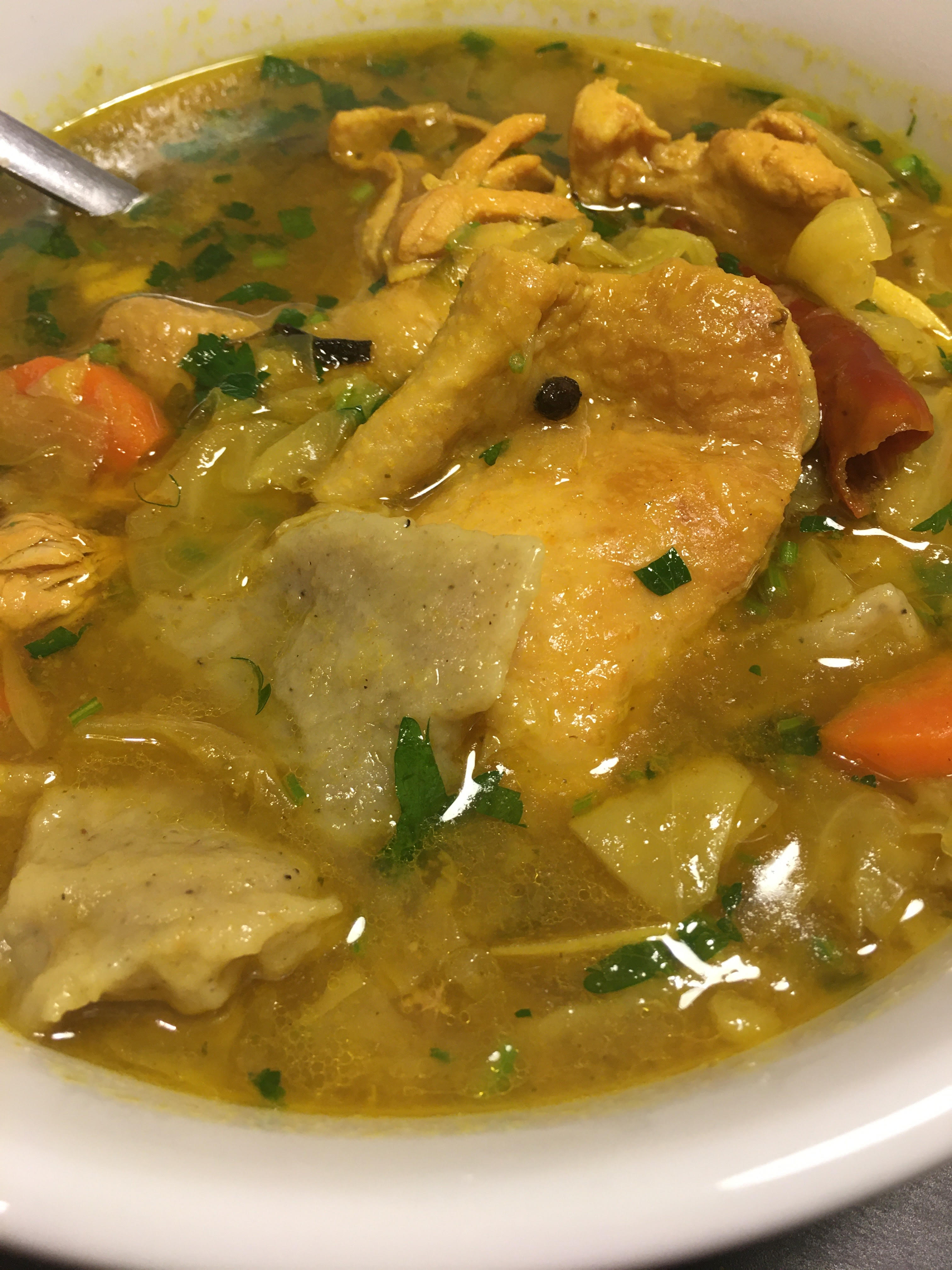 (Chicken 'n Dumplings, by Reggie Soang)
One of my go-to dishes to make for staff meal when I worked in WD~50 was Chicken 'n Dumplings. It's one of the best comfort foods to serve in fall and winter. The dumpling recipe was given to me by my Chef, Sam Henderson. I'd thought it'd be the perfect dish to make since my smart phone is telling me rainy days ahead. Soup it is!
For the latest COVID – 19 Home Cooking Series, I present you:
Chicken 'n Dumplings
Serves: Multiple Meals or a Family with 5 Kids
Ingredients:
For the soup:
1 & 1/2 Medium Size Yellow Onion, medium dice
2 Medium Size Carrots, sliced into moon shape
16 cloves Fresh Garlic, sliced
1/2 piece Cabbage, medium dice
3 pieces Habanero Pepper, (or any fresh chili) roughly chopped
1/2 Cup Oil
5 pieces Star Anise (optional)
6 pieces Bay Leaves
1 small bunch Fresh Oregano
1 Tablespoon Szechuan Peppercorn (optional)
1 Tablespoon White Peppercorn (optional)
1 Tablespoon Black Peppercorn (optional)
1 Tablespoon Garlic Powder (optional)
1 Tablespoon Onion Powder (optional)
1 Tablespoon Madras Curry Powder (optional)
1 Tablespoon Turmeric Powder (optional)
5 pieces Dried Chili (optional)
2 Chicken Drumsticks
2 Chicken Thighs
Extra Chicken Bones if You Have Them Around
12 oz. Hominy, canned (optional), drained and rinsed
3 pieces secret chicken bouillon cubes, from Knorr (optional…but buy some!)*
Water…just to cover everything
1/4 Cup Parsley, chopped
For dumpling:
240g (just under 2 Cups) AP Flour
1/2 Tablespoon Black Pepper, ground
3 Tablespoon Shortening (butter or animal fats work just as well)
2.5g (pinch) Salt
3/4 Cup Water
Cut your vegetables to bite size, and gently saute them on medium heat in a pot with oil
Once your veggies are fragrant and soft, add the following spices: Star Anise, Szechuan peppercorn, White Peppercorn, Black Peppercorn, Curry Powder, Turmeric, and Dried Chili, Toast until fragrant
Add onion powder, garlic powder, fresh oregano and. Further toasting the spices and herbs until bottom has a thin layer of brown bits. Now quickly add your chicken and water to deglaze, and then add hominy if you'd like.
Add enough water just to cover the entire pot and bring to a boil. Turn the heat down to simmer and cook the soup for 1 to 1 and 1/2 hours.
Add the secret bouillon cubes…taste for seasoning. (you will need to add salt if you don't use bouillon cubes)
To make Dumplings, rub fats into flour until it feels a little moist in a mixing bowl.
Make a well in the mixing bowl and add water. Use two fingers to bring flour together to form a dough. The dough should be moist but not sticky. Cover, and let rest in the fridge until your chicken soup is ready.
To cook the dumplings, bring a pot of water to boil. Rip off a piece of dough and stretch it thin before it breaks, and then drop it into boiling water. When the dough floats to the top, let it boil for another 2 minutes. Transfer dumpling to a cold water bath to stop cooking or you could add it right into the soup. Do the same procedure for the entire dough (You may also drop your dumplings right into the chicken soup to cook)
Mix your dumplings and soup, bring them back to a boil, add chopped parsley. Serve hot.
Bon Appetit
*I love Knorr Chicken Bouillon cubes. I don't always have chicken in my fridge to make chicken soup or stock. I'd also bulk up the flavor of any soup that I make with Knorr's bouillon cubes. In addition, not only do bouillon cubes take up a lot less space than chicken (bones), but they also cost a lot less. Knorr's bouillon cubes are the perfect solution to bring flavors and satisfaction to your meal at this time! (and in the future).