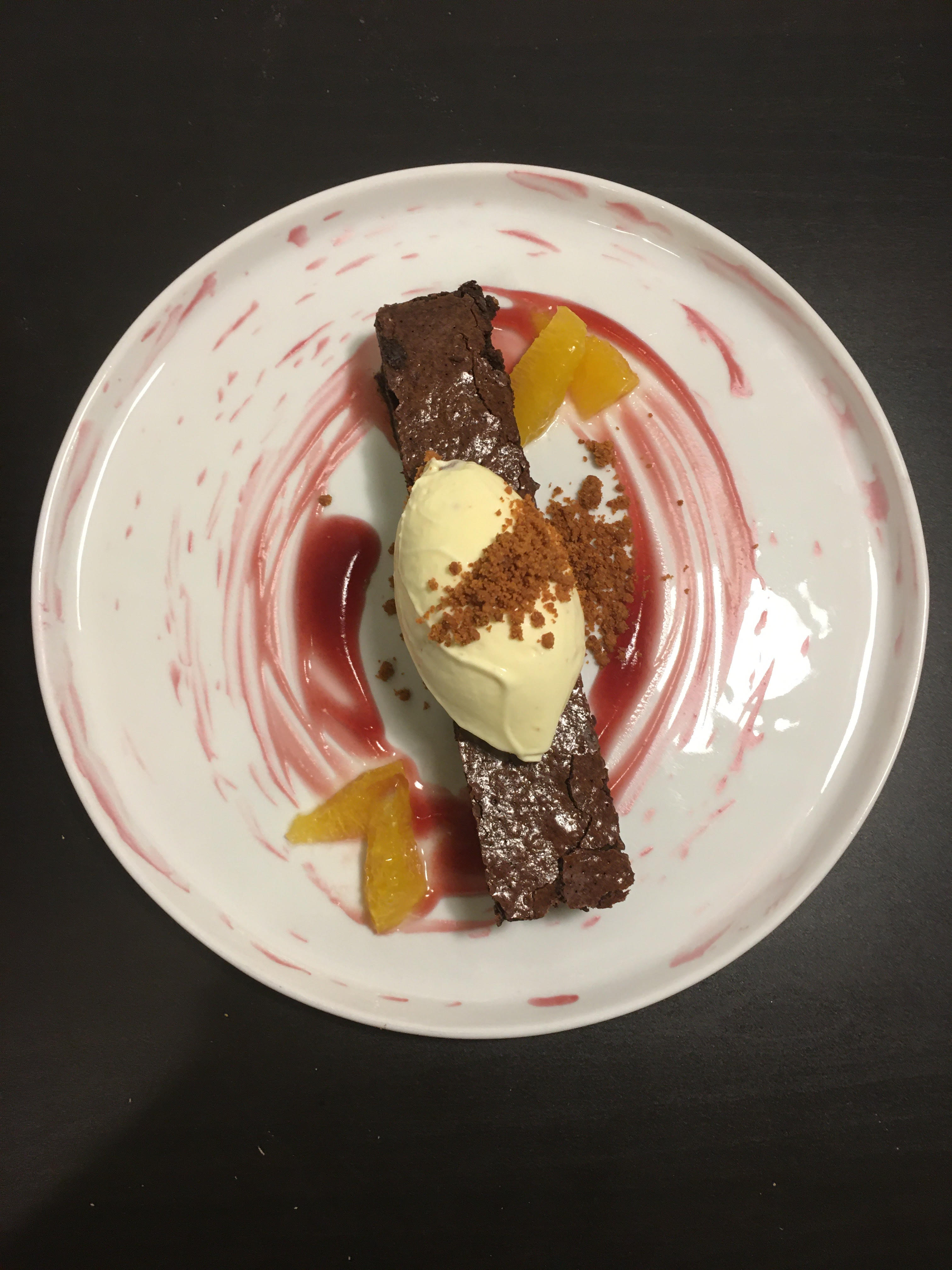 (Orange Flourless Chocolate Cake, Pomegranate, White Chocolate Ice Cream, and Brown Butter Solids, by Reggie Soang)
I need my chocolate…and to prolong my indulgence in Chocolate, I made it into a cake without flour, how about that gluten free diet? This one is for you!
For the latest on COVID – 19 Home Cooking Series, I present you:
Orange Flourless Chocolate Cake
Serves your family
Ingredients:
170g (1 & 1/2 Stick) Unsalted Butter
170g Semi-Sweet Chocolate Chips
220g (1 Cup + 2 Tablespoons) Sugar
Zest of 1 Orange
4 Eggs
2 Yolks (save the whites for Macarons!)
55g (1/2 cup)Cocoa Powder
Preheat your oven at 350F and get out your 10-inch cake pan. (You could absolutely use other baking pan, mine was 13″ by 9″, so I doubled the recipe)
Butter your baking pan, and lay a piece of parchment paper on it. Butter and flour your parchment paper.
Set up a double boiler, and melt chocolate and butter in it. Whisk to combine.
Once the chocolate and butter are melted, add sugar and orange zest. Whisk to combine. Take it off the heat.
Combine your eggs and whisk. Now…carefully adding 1 ladle at a time (about 2 oz.) of warm chocolate to your eggs and whisk to combine. Do this few times until your eggs are lukewarm. You will use about half of the chocolate mixture. We call this technique TEMPERING, which is to bring up the temperature of the eggs so they won't scramble when combined with hotter liquid.
Once your eggs are warmed up, add them back to the chocolate mixture. Whisk to combine.
Sift cocoa powder into the chocolate and stir to combine with a rubber spatula.
Pour your batter into the cake pan and place your cake inside a water bath. To set up a water bath, use a pan large enough to fit your cake pan and pour hot water until water level reaches half way to the cake pan. Bake for 45 to 50 minutes, and check for doneness.
To check for doneness, insert a skewer. You should hear a crack at the surface, and there will be some chocolate clinging to your skewer…THIS IS NOT THE USUAL CLEAN-SKEWER TEST.
Let cool, and use your knife to run around the pan to release the cake. Put a tray that is big enough to cover the cake pan and flip the cake over. Do this again with a cutting board. Now you are ready to slice.
Run your knife under hot water to help you slice through the fudge-like flourless chocolate cake.
Now…sky is the limit on how you'd like to serve it!