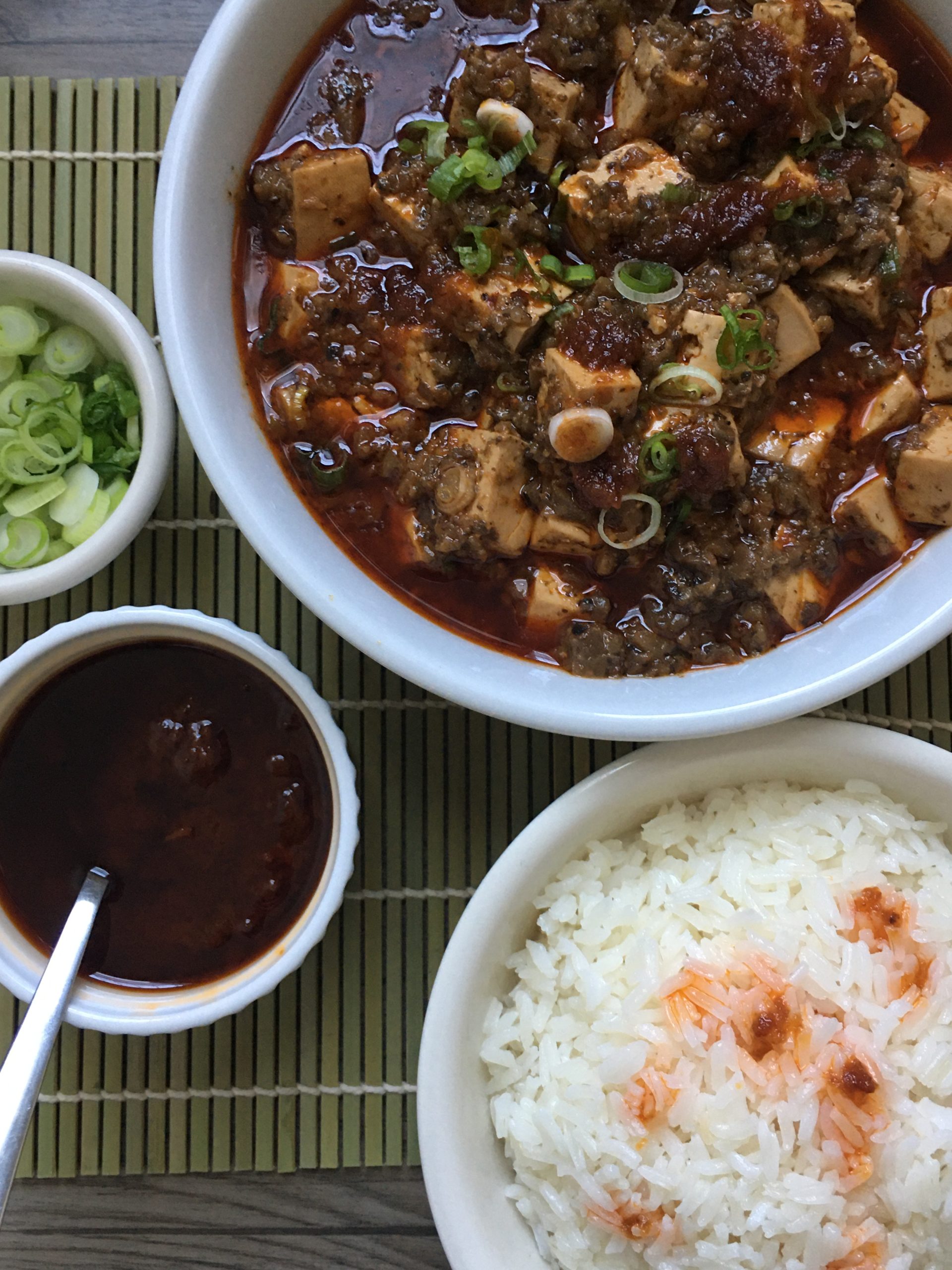 Mapo tofu is a spicy Chinese stew. Mapo tofu is salty, vinegary, spicy, and a little sweet. Also, one of the most important spices in Chinese cuisine, Szechuan peppercorn, gives a nice tingly sensation in the mouth that is somewhat addicting. This dish is best eaten with rice; each grain of rice gives a nice texture contrast to the tofu. Adding raw and fresh herbs such as scallions, cilantro, or even Thai basil makes this dish even more floral, fragrant, and flavorful.
For the latest New Lifestyle Cooking Series:
Mapo Tofu with Chili Oil
Serves: 4 portions
Prep Time: 10 Minutes
Total Time: 40 Minutes
Ingredients:
4 tablespoons cooking oil
4 cups diced eggplant, medium dice
8 pieces button mushroom
2 tablespoons finely chopped ginger
3 tablespoons finely chopped garlic
1 tablespoon ground Szechuan peppercorn
1 teaspoon ground cumin
1 teaspoon chili flakes
2 tablespoons Hoisin
1 tablespoon sambal oelek (or any Asian hot sauce)
1/4 cup white miso
1 tablespoon + 1 teaspoon soy sauce
1/2 teaspoon MSG
2 cups water
1 package medium-firm tofu, cubed to 1-cm by 1-cm
3 teaspoons water and 1 teaspoon corn starch, mixed together
2 tablespoons sliced scallions, thinly sliced into coin shape
For the Chili Oil (make 1 cup):
1/2 cup canola oil
1/4 cup Sriracha
1/4 cup Sambal Oelek
1/2 tablespoon MSG
1 teaspoon ground cumin
1 teaspoon sugar
1 tablespoon soy sauce
For the Rice:
3 tablespoons cooking oil
1 cup + 1/2 cup long-grain rice
1/2 teaspoon salt
2  cup + 1/3 cup water
Served with:
Chili Oil
Chopped Scallions
Cooked white rice
Using a food processor or a sharp knife, chop eggplant and button mushrooms into fine pieces.
Using a food processor or a sharp knife, chop ginger and garlic into fine pieces.
Put a skillet on medium heat, add oil and once oil shimmers, add ginger and garlic. Cook until fragrant.  And then add the eggplant and mushrooms, and cook them until aromatic and taking on a little bit of color.
Add Szechuan peppercorn, cumin, and chili flakes, cook them until fragrant.
Stir in hoisin sauce, sambal oelek (or your choice of Asian hot sauce), and miso, and then add water. Bring everything up to a simmer and add soy sauce and MSG.
Add tofu and simmer for 10 minutes until tofu picks up some flavor. 
Meanwhile, prepare chili oil and white rice.
To make chili oil, fry Sriracha and Sambal Oelek in oil until they become jammy and thick. Turn off the heat and add the spices and seasonings. Set aside. 
To make rice, toast rice in oil until smelling nutty and add water. Cover the pot and bring the water up to a boil and turn down to simmer. Simmer until water has been completely absorbed. Leave the lid on for another 10 minutes before fluffing the rice.
When mapo tofu is done simmering, stir in the corn starch mixture and bring the stew up to a boil and wait until the liquid has thickened. And then turn off the heat.
To finish, stir in 2 tablespoons of chopped scallions and some chili oil with the chili solids. Adjust the seasoning if necessary.
To serve, add some white rice to a bowl, ladle mapo tofu on top, and garnish with chili oil and more chopped scallions. Bon Appétit!