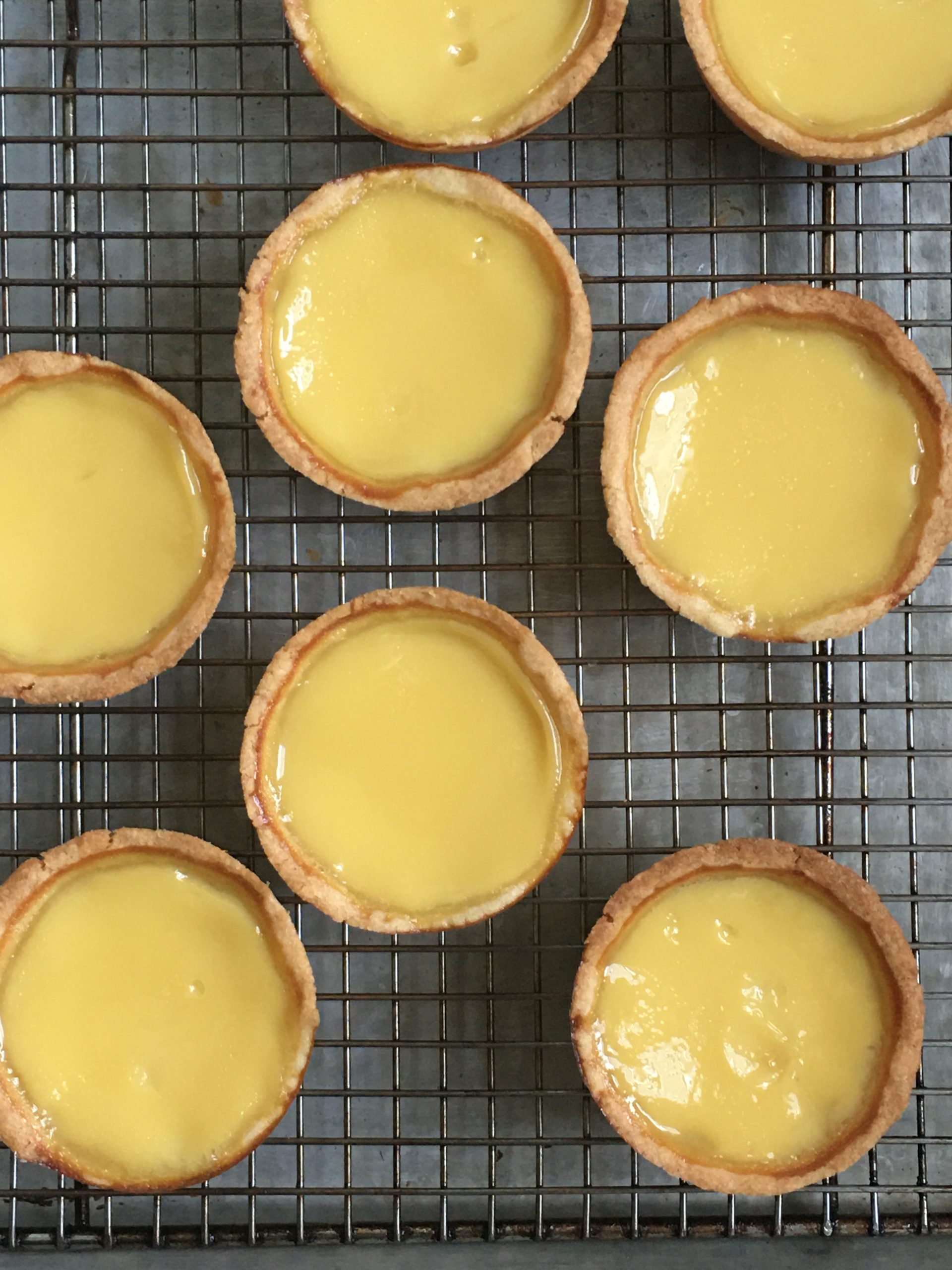 Hong Kong Style Egg Tarts
Serves: makes 10 tarts
Prep Time: 20 minutes (not including inactive time)
Total Time: 1 Hour (not including inactive time)
Ingredients:
For the Dough:
11 tablespoons/5.5 oz butter, softened
1/2 cup/4 oz. sugar
1/2 teaspoon salt
1 egg
1 + 1/2 cup/8 oz. all-purpose flour
For the Filling:
1/2 cup/4 oz. sugar
1 cup/8 oz. water
3 eggs, beaten
1/2 cup/4 oz. evaporated milk
1 teaspoon vanilla extract
To make the dough, use a food processor to blitz butter, sugar, salt, and eggs together until spreadable. Add Flour into the butter mix and form a dough. Cover with plastic and chill the dough until firm, but not hard, about 40 to 50 minutes.
Divide the dough into 30g sized portion. Roll each portion into a ball and chill the balls until firm. Fit each ball into a muffin tin and use a thumb to spread out the dough inside each cavity until all sides are covered. Chill the muffin tin for another 15 minutes until the dough is firmed. Pre-heat oven at 400F.
Meanwhile, make the filling by dissolving sugar in water, set aside. Combine eggs, evaporated milk, and vanilla extract and strain the liquid through a fine sieve. When sugar mixture is cool, combine with egg mixture. Strain again.
Pour the egg filling into the chilled tart shells almost all the way up, leaving about 5% of the space on top. Bake in the oven at 400F for 15 minutes, and then turn the oven down to 350F, and bake for 12 more minutes.
Let the egg tarts cool down for 5 minutes and transfer them out of the muffin tins and let rest for another 5 minutes on a rack before serving them. Bon appétit!