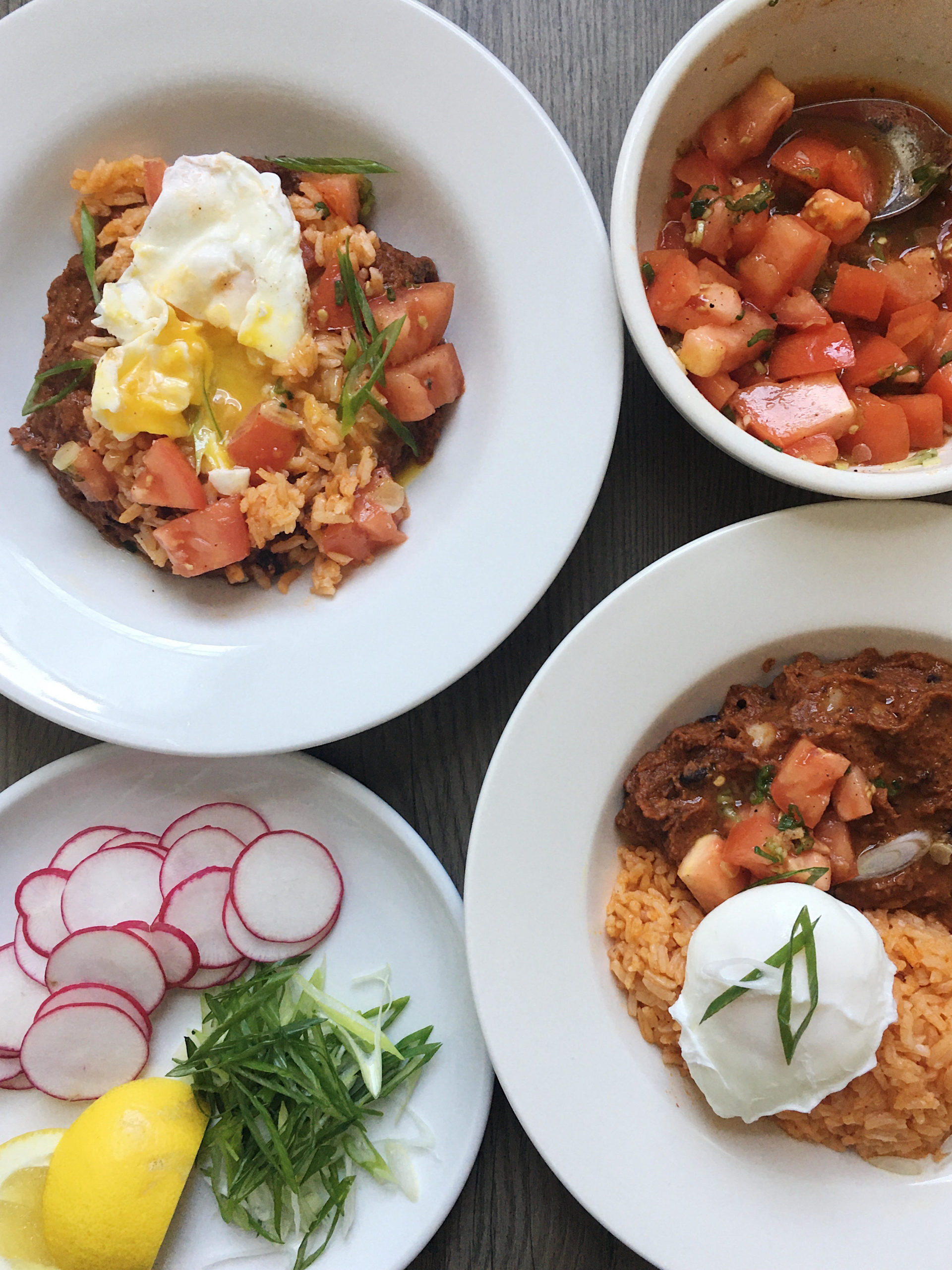 Beans and rice is a widely popular dish; the combination can often be seen in Latin American, American, and Asian cuisines. Beans and rice is hearty and delicious, and for health benefit, eating them together form a complete protein, which is vital to our health. Bean and rice could be done in many ways. This recipe is inspired by my fondness for Louisiana beans and rice; the beans are pureed until almost smooth and served with steamed Carolina long grain rice. Leftover chili and baked beans work brilliantly with this recipe. I topped off this dish with an egg and tomato salsa, and garnished with scallions for fresh oniony flavor.
For the latest New Lifestyle Cooking Series:
Beans 'n Rice with Poached Eggs
Serves: 2 to 3 portions
Prep Time: 5 Minutes
Total Time: 20 Minutes
Ingredients:
For the Beans:
1/4 cup cooking oil
1 teaspoon ground cumin
2 cups Mexican baked beans (click on the link for the recipe)
1/4 cup cooked pinto beans
1/4 cup cooked black beans
3 poached eggs
1 stalk scallions, sliced on a bias
1/4 cup thinly sliced radishes
For the Tomato Salsa:
2 Roma tomatoes, medium diced
1 tablespoon EVOO
1 clove fresh garlic, grated
1 stalk scallions, thinly sliced to coin shape
1 teaspoon Valentina hot sauce, or any other types of hot sauce
2 teaspoons lemon juice
1/2 teaspoon salt
1/2 teaspoon ground black pepper
pinch of MSG
For the Rice:
3 tablespoons oil
2 tablespoons tomato paste
1 + 1/2 cup long grain rice
2 + 1/3 cup water
1/2 teaspoon salt
Heat up a skillet on medium heat and add oil. Meanwhile, puree baked beans in a food processor until smooth. Once the oil is warm, add ground cumin to toast until fragrant.
Turn the heat up to medium-high and add bean puree immediately to avoid burning the ground cumin. The bean puree should also be sizzling in the skillet.
Cook the bean puree until aromatic and add the pinto beans and black beans. Stir to combine. Season the beans to taste. Turn off the heat and set aside
To poach eggs, maintain a pot of water at simmer (in between 80 to 90 Celsius if you have a thermometer). Add a splash of vinegar (vinegar helps egg whites coagulate better) and use a whisk to create a gentle tornado in the center of the water and drop the eggs in. Set a timer for 3 minutes.
To check doneness of poached eggs, gently poke around the edge of the yolks; if the whites are a little bouncy, then the eggs are done. (3 to 3 minutes and 15 seconds cooking time is usually the sweet spot)
To make the tomato salsa, prepare tomatoes accordingly and mix them with the rest of the ingredients. Set aside
To make aromatic rice, toast the rice until fragrant. Add tomato paste and water and stir to combine. Cover and bring the pot to a boil, and then turn down to simmer. Once the water is completely absorbed, leave the cover on for another 10 minutes and then fluff the rice with a fork.
To serve, put the beans at the bottom of a bowl, top off the beans with rice and tomato salsa. Put a poached egg on top of everything and garnish with scallions and radishes, bon appétit!