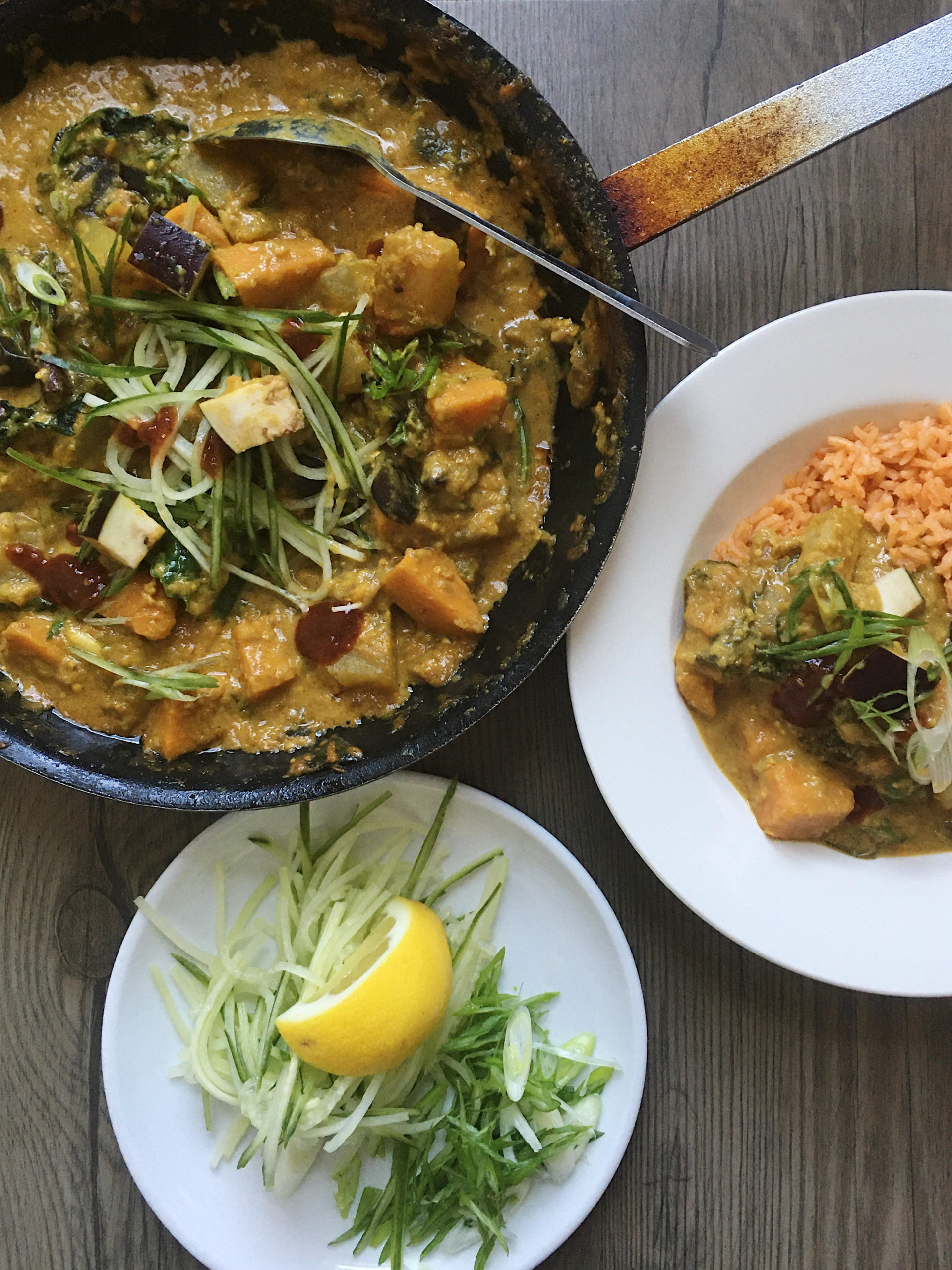 Malaysian curry is a delicious and crowd-pleasing dish. Fresh curry paste is easy and simple to prepare; using a food processor to blend onions, garlic, ginger, and curry powder together, and it serves as a base to any type of curry. For traditional Malaysian curry, add lemongrass and kaffir lime leaves when making the curry paste. If those two ingredients are difficult to source, simply grate some lime zest and add some lime juice to the curry along with coconut milk. A great Malaysian curry should be vibrant, rich, sweet, and salty. The main seasonings for Malaysian curry are soy sauce, fish sauce, sweet soy sauce, and coconut sugar, which could be substituted with brown sugar. Though Malaysian curry is usually made with chicken, the stew is wonderful for vegetarian by supplementing eggplant for chicken and adding root vegetables for substance.
Ingredients:
For the Curry Paste:
1/2 white or red onion, large diced
5 cloves garlic
1-inch size ginger, sliced thin
1 teaspoon turmeric
2 tablespoons Madras Curry
2 tablespoons cooking oil
For the Curry:
1/4 cup cooking oil
1 medium size eggplant, medium diced
2 cup curry paste, from above
1 tablespoon Madras curry powder
2 tablespoons tomato paste
1 medium size Idaho potato, medium dice
1 medium size sweet potato, medium dice
1 cinnamon stick
3 star anise
2 cloves
1 cup water
1 cup coconut milk
2 tablespoons soy sauce
2 tablespoons fish sauce
1/4 teaspoon salt
1 teaspoon sugar
2 cups chopped kale
1 stalk scallions, cut on a bias for garnish
1 cup sliced cucumbers, cut into thin strips
Make the curry paste by blending all the ingredients in a food processor to a paste.
To prepare the curry, put a skillet on high heat and add oil. Once the oil shimmers, add eggplant and sauté until tender and colored. Add curry paste and sauté until fragrant. Add curry powder and toast until aromatic.
Stir in tomato paste, and add the rest of the ingredients, except kale, scallions, and cucumbers. Bring the curry to a boil and turn down to simmer. Meanwhile, make rice.
When the curry is almost done, add kale and cook until tender and wilted.
The curry is done when the potatoes are tender. If the curry gets too thick, add water to adjust the consistency and readjust seasoning.
Serve Malaysian curry with rice, and garnish with scallions and cucumbers. Bon Appétit!