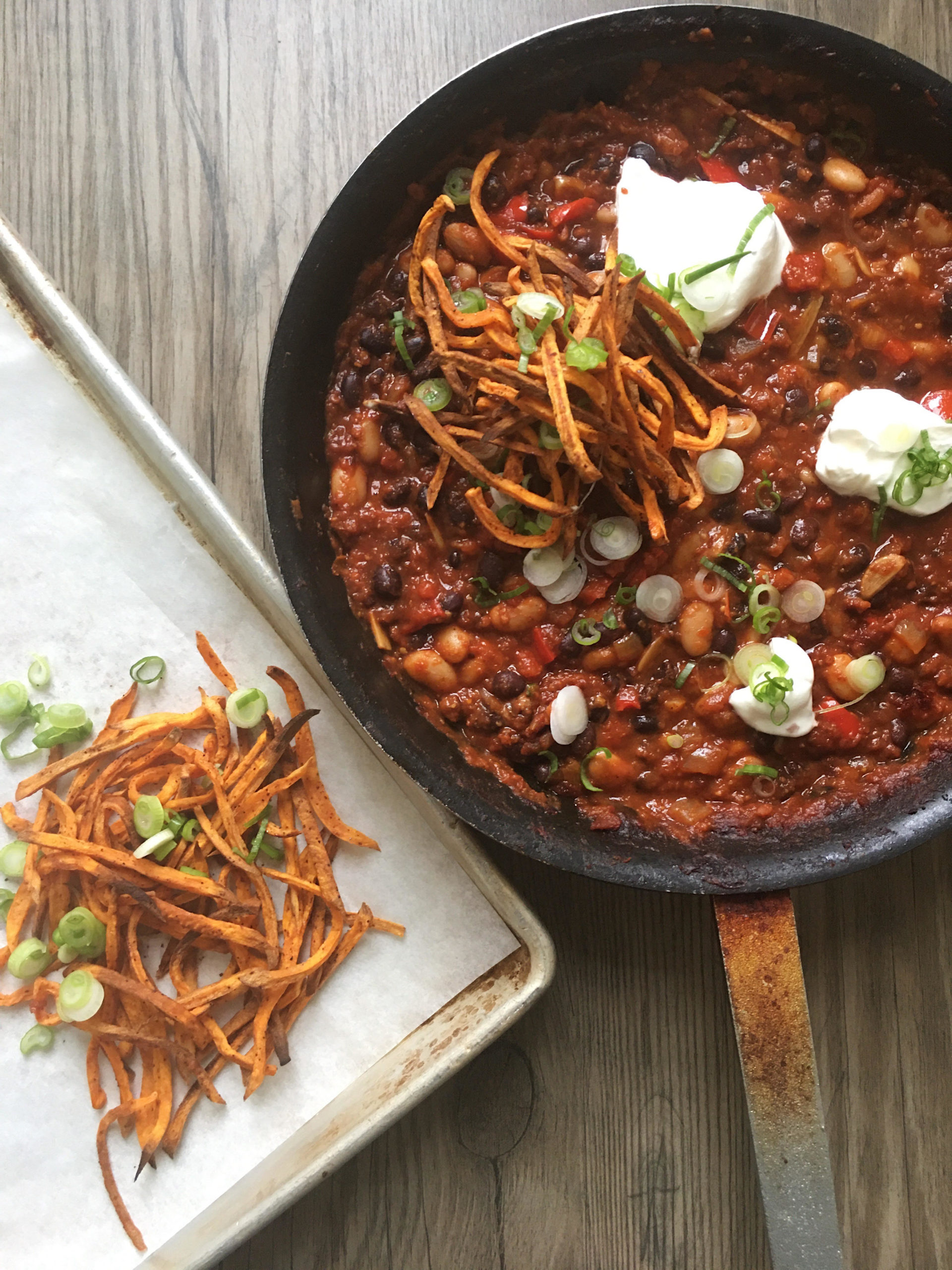 Sweet potatoes go very well with beans; both are delicious and nutritious. Sweet potato fries are cut into shoestring size, 1/8-inch by 1/8-inch, and they are baked until crunchy. Sweet potatoes can also be baked whole and they would be just as delicious! Cumin, fennel seeds, and chili powder give the beans the depth of flavor. Crushed tomatoes add bright acidity to the dish. To keep it vegan, skip the sour cream, otherwise, a few dollops of sour cream make this dish more unresistible!
For the latest New Lifestyle:
Mexican Baked Beans and Sweet Potato Fries
Serves: 4
Prep Time: 10 Minutes
Total Time: 40 Minutes
Ingredients:
4 tablespoons cooking oil
1/2 cup diced red bell peppers, medium dice
1/2 cup diced onions, medium dice
1/4 cup slivered garlic
3 teaspoon ground cumin
2 teaspoon ground fennel seeds
2 teaspoon chili powder
1/2 teaspoon garlic powder
1/2 teaspoon onion powder
2 tablespoons tomato paste
1 cup cooked pinto beans
1 + 1/2 cup cooked black beans
1 cup crushed tomatoes
3 cups water
2 Pound sweet potatoes, cut into thin strips
3 tablespoons cooking oil
2 teaspoon chili powder
1/2 teaspoon salt
Pre-heat oven to 400F
In a skillet, cook red bell peppers, onions, and garlic until tender. Add spices and toast until fragrant
Add tomato paste, beans, crushed tomatoes, and water to combine. Bring to a boil and put the skillet into the oven and bake until the beans and sauce are nice and sticky.
Meanwhile, put a roasting tray into the oven to get it hot for cooking sweet potato fries
Slice sweet potatoes to 1/8-inch thick planks, and then cut the planks into thin strips, about 1/8-inch wide.
Toss the sweet potatoes with cooking oil and season with salt and chili powder.
Once the roasting tray is hot, lay the sweet potatoes on it and spread them out into a single layer. Bake for 20 minutes until nice and crispy. Move the fries around occasionally to prevent burning.
Serve the baked beans with a couple dollops of sour cream and sprinkle scallions and sweet potato fries on top. Bon Appétit!