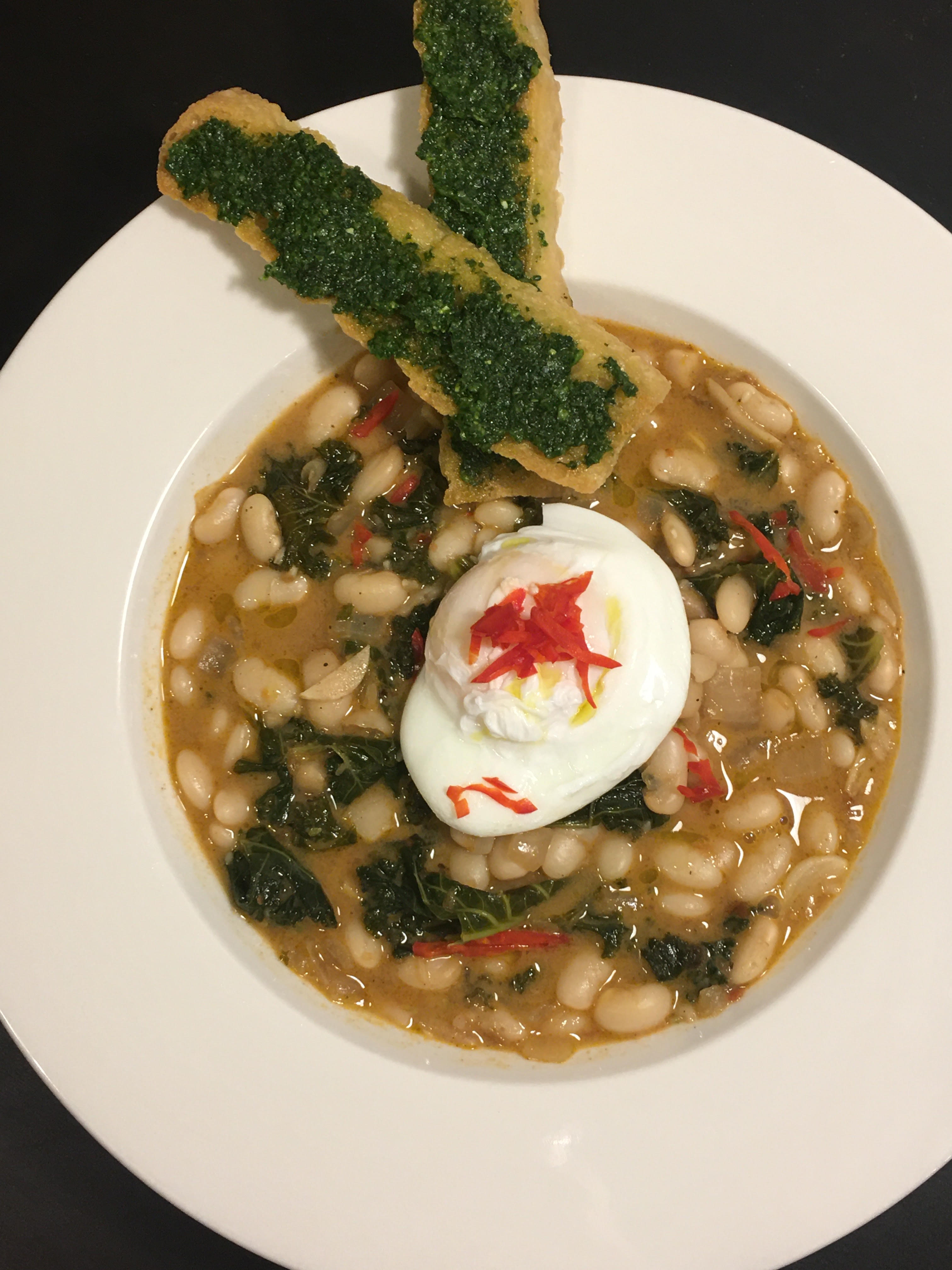 (White Bean Soup with Kale and Poached Egg, by Reggie Soang)
Whites beans and kale are great combo when you need to make something healthy, hearty, and easy. Do soak the beans overnight if you are using dried ones, or you'd be spending all day looking over your pot and waiting impatiently for them to get cooked. I love poached eggs over a stew or soup…velvety yolk comforts me, and it's also very sexy to look at. Go on and try this recipe!
For the latest COVID – 19 Home Cooking Series, I present you:
White Bean Soup with Kale and Poached Egg
Serves: 2 adults and 2 kids
Ingredients:
1 pound Dried White Beans
1 tsp Black Peppercorn, whole
1/2 cup + 2 Tbsp EVOO
3 pieces Bay Leaves
Water
1 piece Yellow Onion, medium dice
15 cloves Garlic, thinly sliced
2 Tablespoon Za'atar Spice
2 teaspoon Black Pepper, ground
1 Tablespoon Dried Chili Flakes
1/2 Cup Tomato Sauce
1/3 Cup Coconut Milk
Salt to Taste
1 Tablespoon fresh chili, sliced thin
Soak beans overnight. Cover dried beans with four times amount of water to beans in ratio (eg. 4 cups of water to 1 cup of dried beans)
Drain beans the next day, cover the beans with water to 2-inch above the surface, add bay leaves, whole black peppercorn, 2 tablespoon EVOO, and a pinch of salt.
Bring water to a boil and turn down to simmer. The beans will take about 15 to 20 minutes to cook. Beans should be nice and soft. Reserve liquid
In a separate pot, heat up the rest of the EVOO. Once oil shimmers, add onions, garlic, and kale to sauté, season with salt.
Once the veggies are soft and fragrant, add your spices and dried chilies. Toast spices and chilies until fragrant, and then add tomato sauce to deglaze
Add reserved bean cooking liquid and coconut milk. Bring to a boil and season to taste.
Poach an egg, and toast 2 pieces of bread. Smear toasts with kale pesto. Place your poached egg in the middle and garnish with fresh chilies and drizzles of EVOO. Bon Appétit!