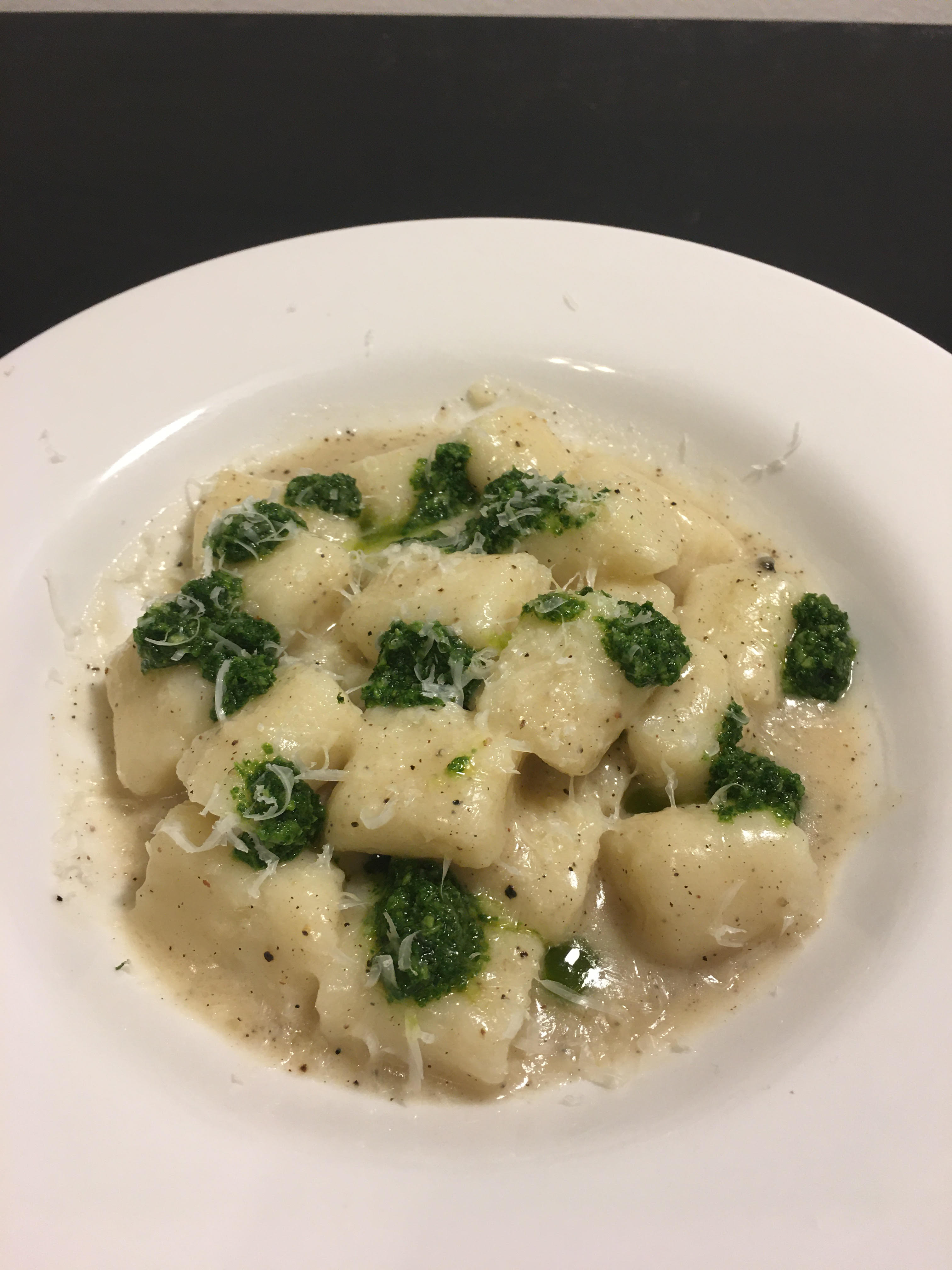 (Caci e Pepi with Gnocchi, by Reggie Soang)
Potatoes and flour are probably the cheapest and best ingredients to buy and store (though don't let your potatoes sprout!). Making gnocchi is one of the few ways to combine those two humble ingredients and make something delicious and crowd pleasing. I learned this recipe at my first job as a line cook in a wine bar. This recipe is a true grandma-recipe, which could change depending on the feel of the gnocchi dough. One could taste the love of this gnocchi dish when the cook pays attention to the details.
For the latest COVID 19 Home Cooking Series, I present you:
Cacio e Pepi a la Gnocchi
Serves: you,  your partner, and your children
Ingredients:
300g Potatoes, cooked and passed through a food mill
70g AP Flour
1 Tablespoon Butter
1 teaspoon Black Pepper, ground
Parmesan
Kale Pesto…yes! the same one we made last weekend, still good!
Roast you potatoes in 375F oven for 1 hour and 15 minutes. Test out doneness by inserting a small knife, and it should go through the potatoes without any resistance
Scoop out your potatoes and pass them through a ricer or food mill
Spread out your mashed potatoes on the counter and chill them quickly by fanning and cutting the potatoes with a dough or bench scraper
Sprinkle flour over potatoes. Use your bench scraper to cut the flour into potatoes. Trust me…it works! Do this in 3 stages.
Once potatoes can form a dough without sticking to your fingers, then the dough is ready to be worked into a log and portioned into 3 pieces.
Roll each dough to strips 1/2-in thick, and cut the strips to 1-inch pieces.
Boil a pot of water, set up your butter sauce, and cook your gnocchi in boiling water until they float to the top.
Add your gnocchi to butter sauce and toss. Add a big pinch of black pepper and toss. When gnocchi are coated with butter sauce, slide them into your bowl.
Garnish with kale pesto and grated parm. Bon Appetit!