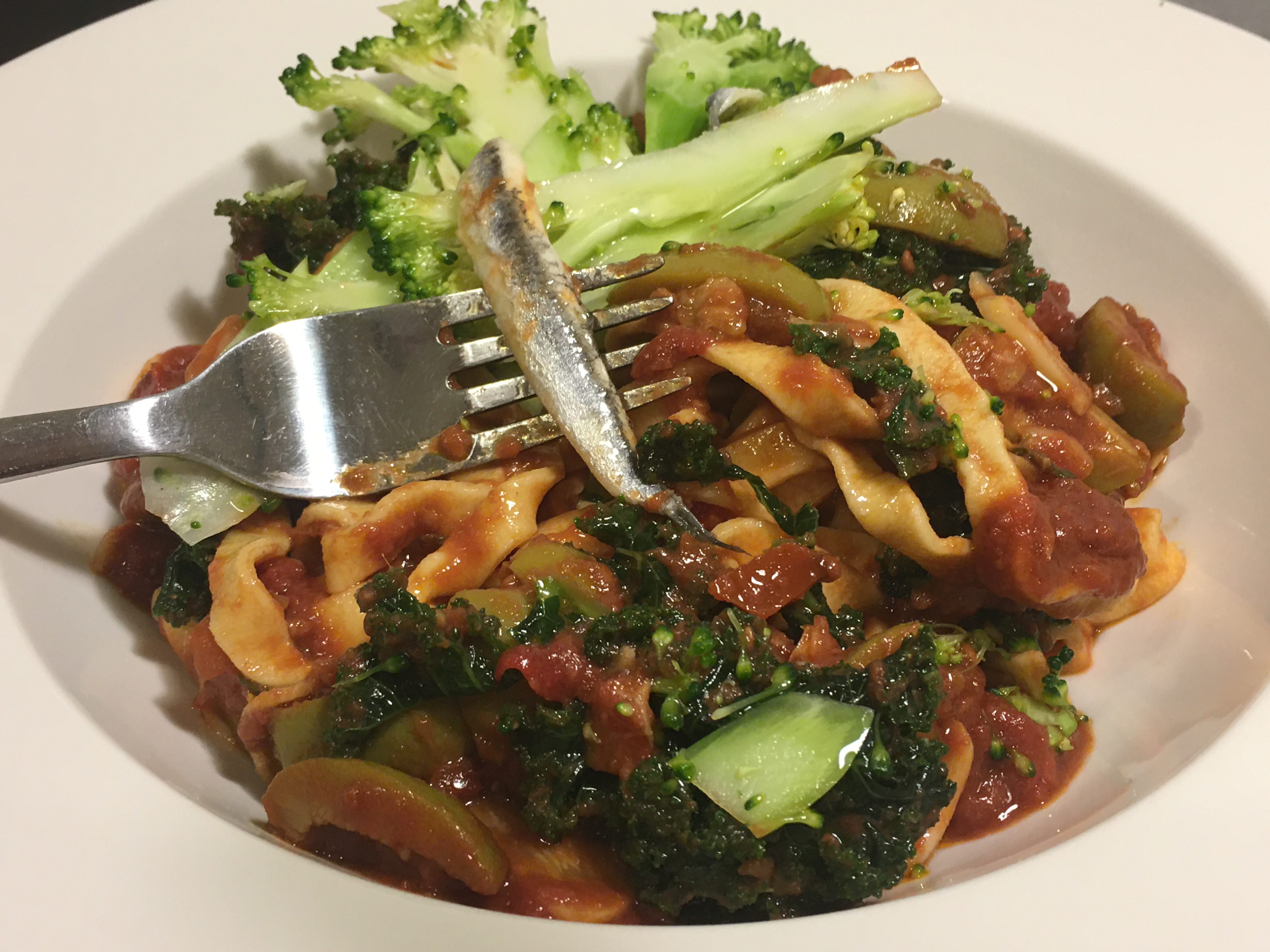 (Puttanesca w/ Shaved Broccoli, Kale, and Boquerones, by Reggie Soang)
Isn't there an "olive theory" going on in romance? Well…let's put that to rest…make puttanesca with it. Just kidding…but for real, olives and anchovies, sounds like a winner!
For the latest on COVID – 19 Homecooking Series, I present you:
Puttanesaca with Shave Broccoli, Kale, and Boquerones
Serves: 2
Ingredients:
200 g AP Flour ( about 1 and 1/2 Cup)
* You could absolutely use dried pasta. As matter of fact, the more traditional dish is made with spaghetti. 
2 Eggs
1/8 Cup EVOO
10 pcs Fresh Garlic Cloves
1 can Anchovies (comes in 2 oz. usually)
1 can (14 oz) Tomato Sauce
1 & 1/2 Cup Chopped Olives (I used cocktail olives)
4 pcs B&G Pickled Hot Cherry Peppers (buy one jar now! incredibly useful!)
1 good handful of fresh oregano (you could substitute with basil, parsley, or tarragon)
1/4 Cup red wine (optional)
1/2 Cup Kale, chopped
1/4 Cup Broccoli, shaved
2 pcs Boquerones (white anchovies)
To make fresh pasta, make a well with flour on your kitchen table and put two eggs in the middle. Slowly bring together the flour and eggs with your forefinger and middle finger, whichever hand you prefer. 

When the flour and eggs are combined, start kneading the dough in north-south direction. Fold, and knead…fold and knead. Once you have a smooth pasta dough, let rest for 30 minutes.

Slice your garlic thin. Cut olives into halves or quarters. Seed and mince cherry peppers.

Turn the stove to medium high and set up a medium pot. Add olive oil and wait until oil starts to shimmer. Add your garlic and turn your heat down to medium. Once garlic gets a little brown, add your anchovies. 

Cook your anchovies until dissolved. Add oregano and cook until fragrant. Deglaze your pot with red wine, optional.

Add the rest of the ingredients and bring everything to a boil, and then simmer until the sauce thickens. The sauce should be able to cling to your noodles. 

To dress kale, sprinkle 1/8  teaspoon of salt and drizzle 1 Tablespoon of olive oil over kale. Wash your hands, and then crush kale with your hands until softened.

Use your knife, cut broccoli into thin slices. Don't throw away the crumbs, they could be mixed in with the noodles. Toss shaved broccoli with drizzles of olive oil.

To finish the dish, roll your pasta out to second to last setting (my preference) and cut it into the width that you prefer. Cook your pasta until nice and chewy, drain, and mix in kale and puttanesca sauce. 

Garnish your pasta with shaved broccoli and couple pieces of white anchovies if you fancy. (white anchovies, also called Boquerones, usually come in a plastic container rather than in a can. These anchovies are not salted, but marinated in flavored olive oil. They could be found in most of the supermarket near charcuterie section).