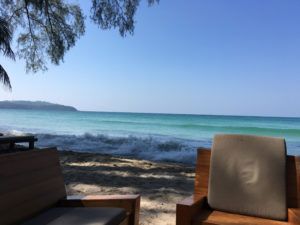 Mother Nature is a true rock star; it never ceases to inspire and teaches humility
With prominent leaders and chefs accused of sexual harassment, our restaurant industry is confronted with harsh reality of sexism and discrimination. To the chefs who have committed and condoned such wrongful behaviors (to that extent, what were you thinking?), you guys have got it all wrong when you became rock stars; a rock star's got perspective, a rock star's got respect for his craft and would do anything to protect it, last but not least, a rock star's got to inspire the future generation, and you guys have failed in each of the category.
I worked in The Spotted Pig at the very early stage of my career. My culinary path was rather unusual in the beginning; I am a self-taught cook and I was trained in English and Italian cuisine, a somewhat overlooked style of schooling compared to the more popular French haute cuisine training. I consider myself to be fortunate to have worked with Chef April Bloomfield; she held high standard and her work ethic inspired me to work relentlessly; she was one of the rare celebrities who devoted herself to the restaurant entirely even after reaching stardom status. Unfortunately, The Spotted Pig has become a brewing ground for male industry leaders to harass female workers, as was told by several news articles.
Chef April's apology for wrongful behaviors occurred in her restaurant have received wide range of responses; some accused her lack compassion and insincere in her statement, and some stood by her and showed sympathy for the unwanted attention that came with Ken Friendman's negligence and abusive behaviors. As I took a hard look at myself in the mirror and reflected on being on the receiving end of scolding and humiliation in the kitchen, I realized that Chef April might have been blindsided and desensitized by the supposed rock star chef culture when she was cooking her way to the top. The culture of rock star chef stemmed from the 80's when Marco Pierre White, arguably the very first celebrity chef, stormed the culinary scene as the youngest British chef to achieve 3-Michelin Stars. Marco's style of leadership was often the center of the controversy because he was brutal and ruthless towards his cooks. His abrasive style of leadership was adapted throughout the industry. However, most of the chefs have failed to interpret and reflect on his legacy; Marco Pierre White did not condone sexism. Marco's militaristic style of coaching was to push to refine dining experiences, and his trailblazing kitchen had no room for amateur bullying culture. Marco paved the way for future chefs to get inspired and work hard, and we have failed as a group to preserve his legacy of a rock star chef.
After working at The Spotted Pig, I got a job at the renown WD~50, where great female leadership further shaped my way of becoming a chef. Great leader shows courage. Great leader is responsible and accountable. Great leader also shows great humility. Great leader is as focused as a rock star to further refine his or her craft. Samantha Henderson, our Chef de Cuisine, was a WD~50 rock star. Sam's food was an extension of herself, the perfect marriage of wit and grace. With a string of wrongful behaviors brought to the eyes of public, we chefs, as a group, have failed to inspire others as Chef Sam had inspired me. Working towards becoming a chef is no longer frowned upon as it was few decades ago. Number of people working in hospitality soared and businesses flourished because of the rise of mainstream rock star chef culture. However, with the money and fame, chefs often lose sight of what is truly important in becoming a rock star chef – nurturing young talents, pushing to be innovative, and continuously create jobs and opportunities for the next generations. To abuse stardom status and suppress others, rock star chefs have only become a bunch of narcissists and not leaders, and lastly, those rock stars have betrayed mother nature, who has been blindly faithful in giving us the resource to be creative.
From working under female chefs, I have witnessed resilience, compassion, and great intelligence. We should embrace our differences in gender, and to also mutually understand our strengths to support each other. Being a chef is a privilege; we often start our journey because of our love for food, and through the long and winding journey of grind and tear, we often meet incredible people and develop long lasting friendship. We are resilient, compassionate, and smart as a group, or how else could we have justified the time and energy spent on refining our craft. We are also rock stars; we enjoy entertaining our customers. But let's not forget rock stars need to inspire and have perspective, and most importantly, real rock stars have humility and respect humanity.