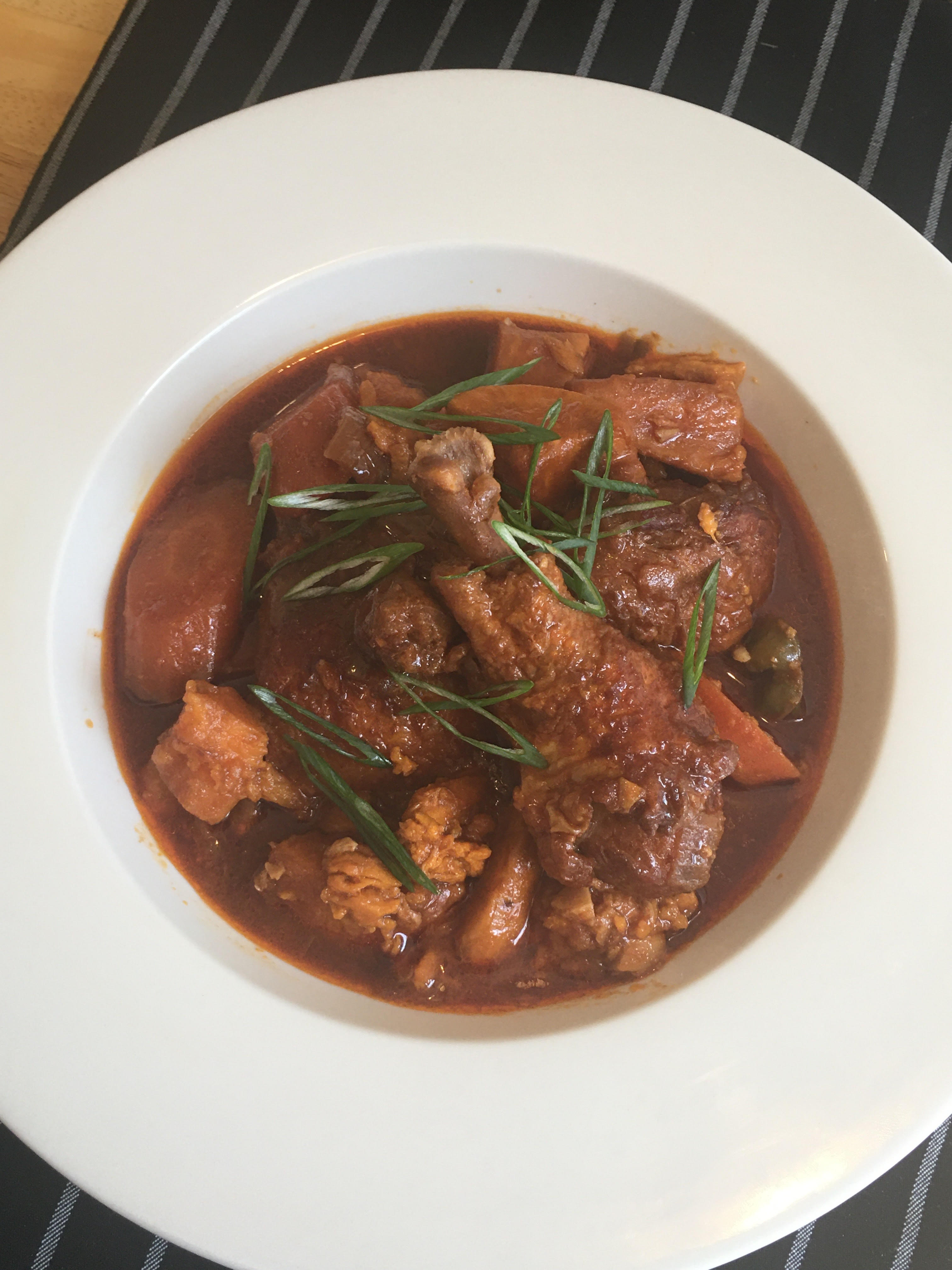 (Korean Spicy Chicken Stew, by Reggie Soang)
My friend, who's been very busy with work lately, has requested some ideas for 1-pot meal. I've decided to make Korean Spicy Chicken Stew today because it is one of my favorite dishes from 2019. During the cooking, the stew has to bubble aggressively the entire time, which makes it unique contrary to many stew recipes. Aggressive cooking, in this case, makes the stew rich and velvety.
For the latest COVID – 19 Home Cooking Series, I present you:
Korean Spicy Chicken Stew
Serves: 2 adults & 2 kids
Ingredients:
1 Yellow Onion, large dice
1 and 1/2 head garlic, cut into chunks
1 bunch scallions, cut into batons
4 pcs Habanero Peppers, halved and seeded*
8 pcs dried Chilies (bird's eye, guajillo, or anything that adds some heat)*
3 pcs medium size (3/4 pound) carrots, cut into 1-inch chunks
2 pounds Sweet Potatoes, cut into 1-inch chunks
3 pcs chicken drumsticks
3 pcs chicken thighs
1/2 cup (160g) Korean Chili Paste**
1/4 cup (50g) Soy Sauce
*The amount of chilies is up to you
** If you don't have korean chili paste, you could use brown sugar and dried chilies to make up for the lost flavors
For Rice:
2 cups (370g) Long Grain Carolina Rice
740g Water
Use a soup pot, turn heat up to high and cover the bottom with a thin layer of oil. Season chicken with salt and sear them in the pot on both sides until golden brown
Once chicken is seared, turn heat down to medium and add garlic, onions, and dried chilies. Sauté the aromatics until fragrant and scrape off any brown bits at the bottom of the pot; these brown bits have a lot of flavors
Add everything, except soy sauce, to the pot and cover everything with water up to 1 inch above the surface. Bring the pot up to a boil and let it boil it away. The boiling technique will help you thicken and enrich your stew
As you boil the stew, check on it every 10 minutes to ensure the bottom is not scorched. You will have to lower the heat as the stew gets thicker and liquid has reduced so the bottom of the pot won't burn. The stew will take about 50 minutes or less to cook, depending on the amount
Meanwhile, rinse your rice in cold water until it runs almost-clear (it will never be 100% clear), and then drain and add to your rice cooker. To cook rice, the ratio of water to rice (pre-rinse) is 2 to 1, or you could do the "finger trick"; place a forefinger on the surface of rice and the water level should come up to the first line of your finger
Do not attempt to open the rice cooker immediately when the rice is done. Let rice sit in the machine for 10 to 15 minutes longer to finish cooking
To plate, scoop your rice into a bowl and ladle spicy chicken stew over it. Garnish stew with freshly cut scallions. Bon Appétit!