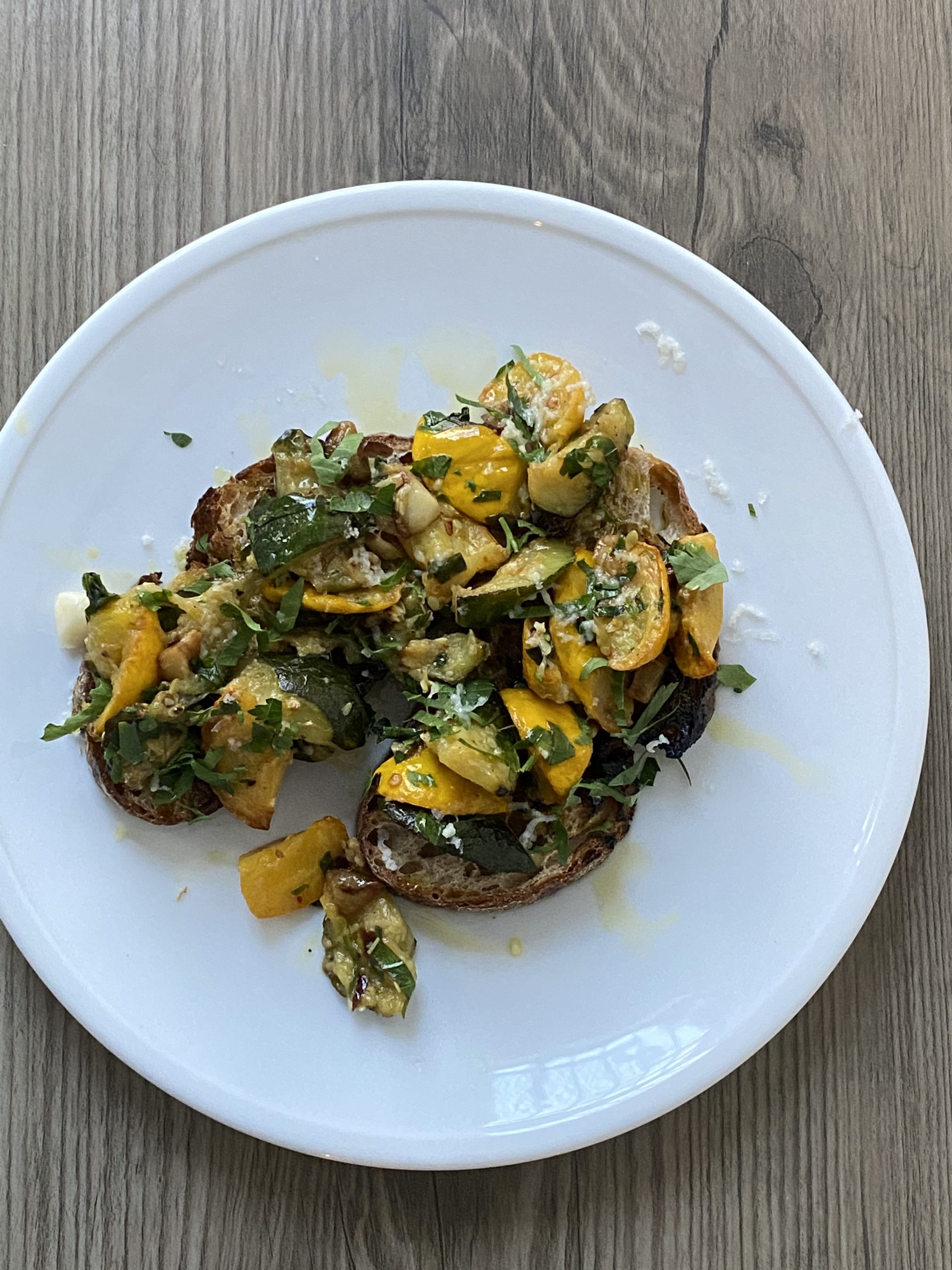 Zucchini in the summer is flavorful and juicy. Cook the zucchini until tender and smash it until nice and creamy, and then spread the zucchini on the grilled bread for a quick and healthy meal. Grate some Parmesan or your choice of cheese on top to make it more irresistible. You will be making this dish over and over!
For the latest Chef Reggie's Cooking Series:
Zucchini Bruschetta with Basil and Grilled Sourdough
Serves: enough zucchini to 4 pieces of toasts
Prep Time: 15 minutes
Total Time: 30 minutes
Ingredients:
3 tablespoons cooking oil
5 cloves fresh garlic plus 1 more for rubbing the grilled sourdough
2 pieces zucchini, cut to large chunks
1 teaspoons salt plus a pinch for the sourdough
1 teaspoon dried chili
1 tablespoon lime juice
3 tablespoons chopped Italian basil
3 tablespoons chopped parsley
1 tablespoons grated cheese, such as Parmesan, Aged Cheddar, or Pecorino
2 pieces of sourdough
2 tablespoons EVOO
Heat up a non-stick skillet on medium-high heat. Add the cooking oil and wait until it shimmers, and then add garlic chunks. Cook the garlic chunks until golden brown.
Add zucchini when the garlic is golden brown and sprinkle the dried chili flakes on top.
Cook the zucchini until tender and caramelized. Use a spatula and another tool with a flat surface to press on the spatula with zucchini underneath. Smash the zucchini until nice and creamy.
Add a healthy squeeze of lime juice and basil and stir to combine.
Set aside the zucchini and grill the sourdough. Grill the sourdough on the stovetop with a rack until nice and toasty. Alternatively, use the broiler in the oven or a toaster. Rub both sides of the bread with raw garlic, drizzle the olive oil on top and season with a pinch of salt.
Serve the bruschetta by placing a generous amount of zucchini on top of the bread. Finish the bruschetta by adding chopped parsley, freshly grated cheese, and more EVOO. Bon appétit!