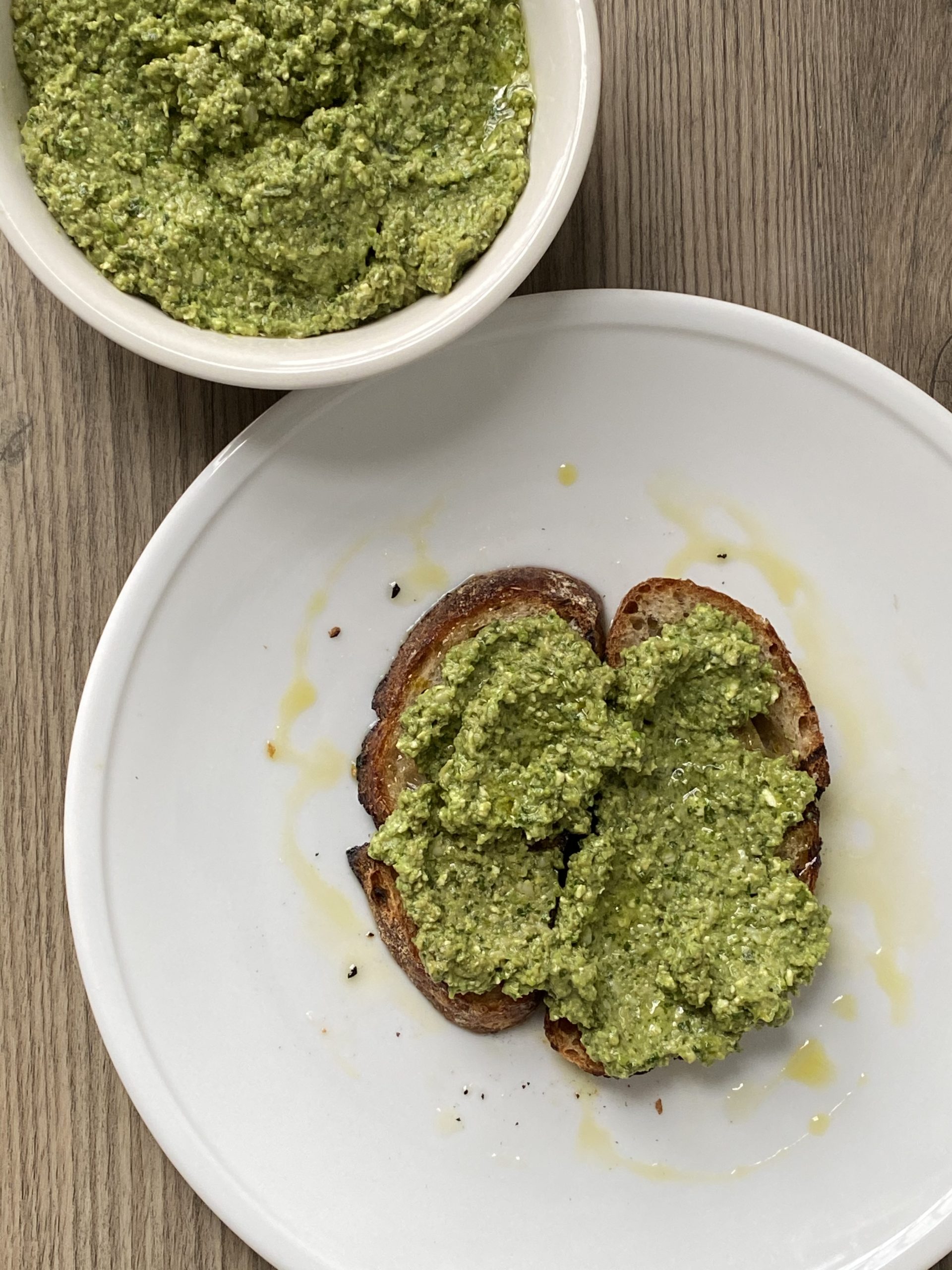 Fresh and seasonal peas are tender and juicy. Take advantage of peas' superb quality by blending them with basil and cheese to make a pesto, and then spread it on a piece of grilled sourdough. Tender and juicy peas don't last very long; peas get starchier and drier as the season goes on. To keep the peas fresh for later use, cook them quickly in boiling water and chill them immediately in cold or ice water. Store the peas in a ziplock bag and freeze them.
For the latest Chef Reggie's Cooking Series:
Pea Smash on Grilled Sourdough
Portion: serves 8 pieces of bread
Prep Time: 15 minutes
Total Time: 30 minutes
Ingredients:
3 cloves fresh garlic plus 1 more clove to rub the sourdough
1/4 cup blanched and skinless almonds
1 cup fresh peas, out of the shells
4 cups/1 bunch basil leaves
1/4 cup EVOO, plus more for the sourdough
1/4 cup grated Parmesan or Cheddar
1 tablespoon lime juice
1/2 teaspoon salt
2 slices sourdough or any crusty bread
Using a food processor, blitz up almonds and garlic, using the pulse setting on the machine, until they are crumbly.

Add peas and basil and blitz them up with garlic and almonds on pulse setting again until everything is homogenized. Add cheese, and repeat with the blending.

Turn the food processor on full speed and stream in EVOO. Blend the pea mixture until it is spreadable.

Scrape the pea smash into a bowl and stir in lime juice and more EVOO to adjust the consistency. Season with salt.

Set up a rack on the stovetop to make a grill. Alternatively, turn on the broiler in the oven. Grill or toast the sourdough until nice and toasty, and rub raw garlic on both sides of the bread. Drizzle some olive oil on the sourdough and sprinkle a pinch of salt on top. Spread the pea smash generously on the toast and serve. Bon appétit!