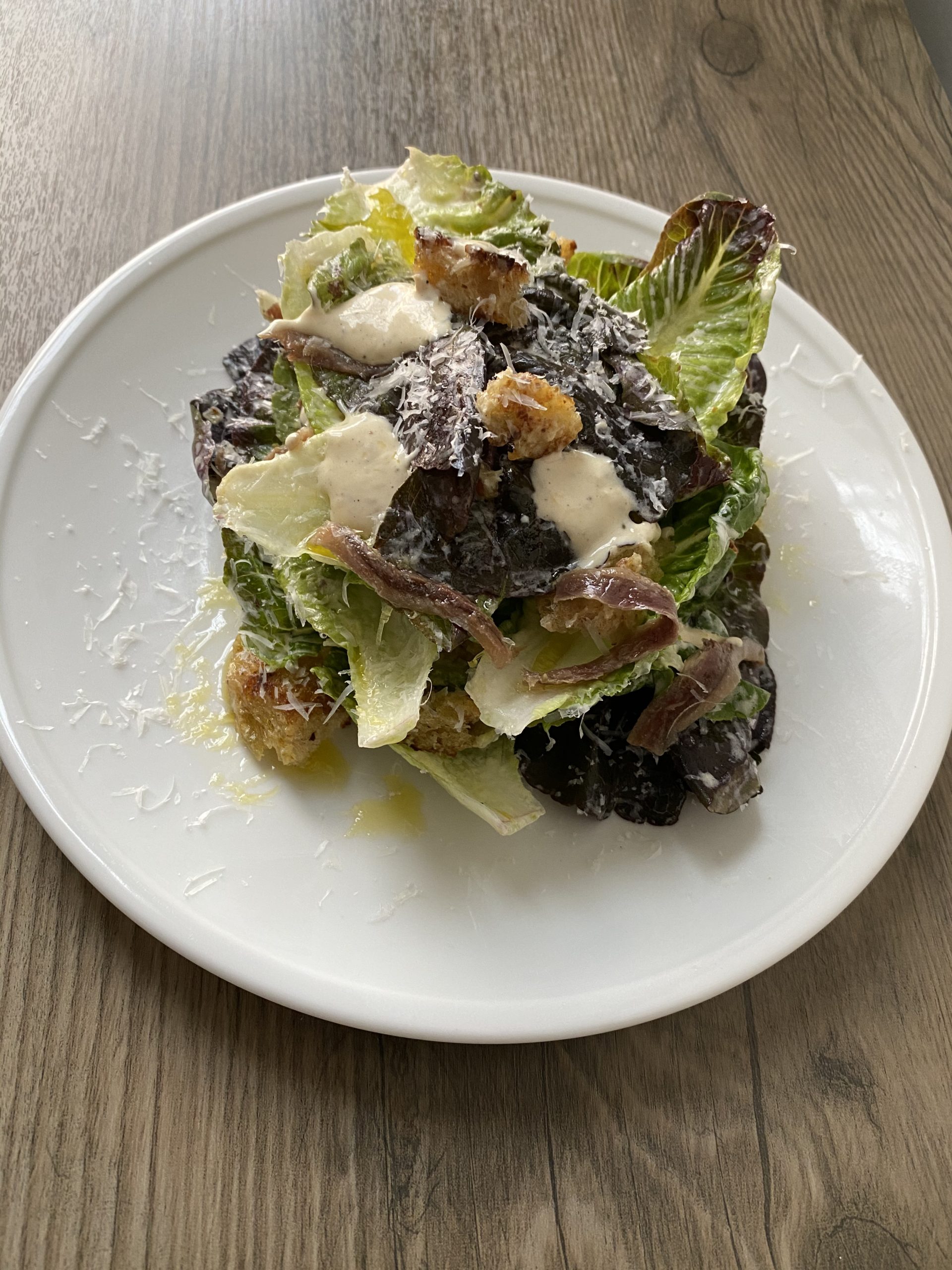 Caesar salad is simple and delicious. The perfect Caesar dressing is tangy, salty, and bright. The tanginess comes from the vinegar, the saltiness comes from the anchovies and Parmesan, and the brightness comes from the fresh lemon juice. Caesar salad is a salad in its simplest form: fresh romaine lettuce and crispy croutons. When the lettuce and croutons are covered in the perfect dressing, this salad is brilliant and delightful!
For the latest Chef Reggie's Cooking Series:
Caesar Salad with Whole Wheat Sourdough Croutons and Anchovies
Serves: Enough croutons and dressing for 6 to 8 salads
Ingredients:
For the Croutons
2 cups torn sourdough bread, into bite-size
2 tablespoons EVOO
Pinch of Salt
For the Dressing:
1 cup mayonnaise
1 tablespoon + 1 teaspoon dijon mustard
1 tablespoon Champaign vinegar
2 Tablespoons water
1/4 teaspoon ground black pepper
4 cloves fresh garlic
7 anchovies fillet
1/4 cup grated Parmesan
To complete:
1 head Romaine lettuce
2 tablespoons grated Parmesan
3 anchovy fillets
1 tablespoon EVOO
To make the croutons, tear up the sourdough (or the bread you choose to use) into bite-size and let the bread sit on the counter and dry out for an hour
Meanwhile, wash the Romaine lettuce and dry the leaves. Set them aside in the fridge until ready to use.
Next, make the dressing by first grate the garlic onto the chopping board. Add the anchovies to the garlic and chop them together until forming a paste.
In a bowl, whisk together mayonnaise, dijon mustard, Champaign vinegar, water, and ground black pepper.
Add the garlic-anchovy paste and grated Parmesan, and stir to combine.
When the sourdough croutons are nice and dry on the surface, toss them in olive oil and salt, and then toast them in a skillet on medium heat until golden brown. Cool to room temperature before using them in the salad.
To make the salad, dress the lettuce with extra virgin olive oil, lemon juice, salt, and Caesar dressing, and then rub the dressing into each leaf to make sure it is distributed evenly. Add the croutons and toss them with the lettuce and the dressing.
To plate, place the bigger leaves at the bottom of the plate, and then add the croutons. Repeat by layering the lettuce and the croutons, and place the smaller leaves towards the top. Add more grated Parmesan and anchovies fillets around the salad, and drizzle a little more olive oil to finish. Bon appétit!