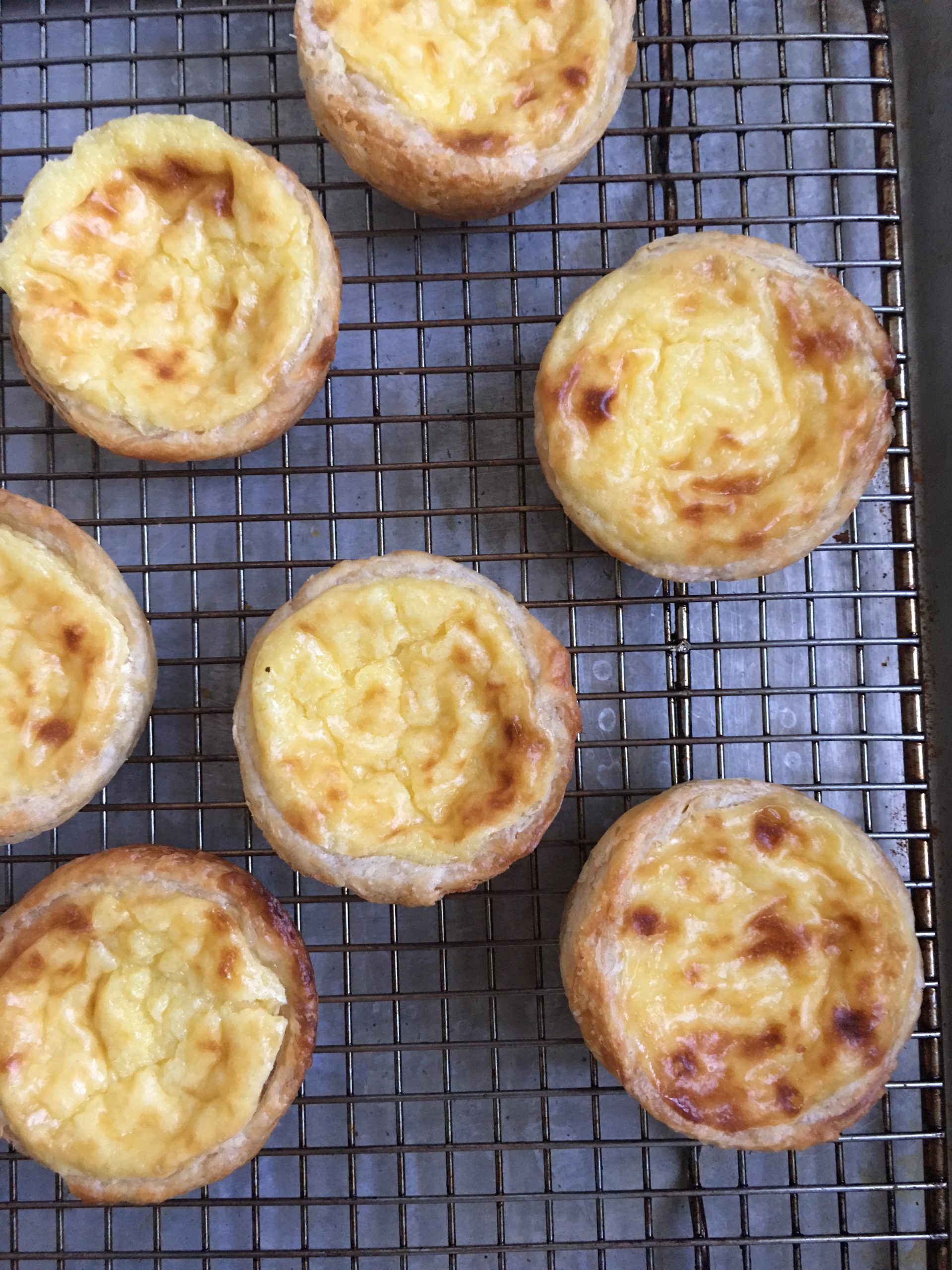 Portuguese Egg Tarts (aka. Pastel de Nata)
Serve: makes 6 tarts
Prep Time: 30 minutes (not including inactive time)
Total Time: 1 hour (not including inactive time)
Ingredients:
For the Puff Pastry:
1 + 1/2 stick butter, softened
2 cups all-purpose flour
1/4 teaspoon salt
2/3 cup water
For the fillings:
1 cup sugar
2/3 cup water
1 stick cinnamon stick
1 lemon zested
1 cup milk
1/2 cup all-purpose flour
1 tablespoon vanilla extract
6 yolks
To make the dough, combine flour, salt, and water in a mixing ball and form a dough. If using a stand mixer, use the dough hook and mix the three ingredients together on low speed. The dough will be wet and tacky.
Transfer the dough onto a well-floured surface. Use a floured rolling pin and roll the dough into a rectangular shape and 1/2" thick. Put the dough on a floured tray and cover with plastic, and let it rest in the fridge for 30 minutes.
When the dough is ready, roll it out to 1/4" thick rectangle, about 12 inch wide. Dusting more flour if needed. Spread half of the butter on the dough 1-inch away from the side closest to you. Fold the top portion of the dough over the butter and seal the sides. Roll the dough out again to 1/4" thick.
Repeat procedures on spreading the butter and folding the top over. Roll the dough to 1/8" thick rectangle, about 14-inch wide. Roll the dough into a log from the longer side. Chill the log in the fridge for 2 hours before using it.
Meanwhile, make the filling. In a small pot, combine sugar, water, cinnamon stick, and lemon zest and bring the liquid to a simmer. Turn off the stove and let cinnamon and lemon zest infuse the syrup for 5 minutes.
Meanwhile, whisk 1/4 cup of milk with flour together. Gently heat up the rest of the milk and pour over the flour mixture in a steady stream and whisk to combine. Pour the milk mixture back to the pot and return to the stove. Cook the milk mixture on low heat until thickened, and add vanilla extract.
At this time, strain the syrup and pour it into the milk mixture in a steady stream while whisking. Cool the milk mixture for 10 minutes and then whisk in the yolks. Strain the mixture and cover it with a piece of plastic directly on top. Set aside.
When the dough is chilled and firmed, divide it up to 12 portions. Place each portion inside of a muffin tin with cut-side up. Using a thumb, lightly dipped in water, and press it down on the dough and fit it into the cavity on all the sides. Put the muffin tin back in the fridge for another 30 minutes. Meanwhile, pre-heat oven to the highest setting.
When the dough is chilled and firmed, pour in the filling a little more than 3/4 of the way up and bake for 17 minutes in the oven, until the fillings are barely set and the top is beautifully caramelized.
Let tarts cool for a couple of minutes, un-mold and transfer them onto a rack. Let the egg tarts cool for 10 more minutes before serving. Bon appétit!