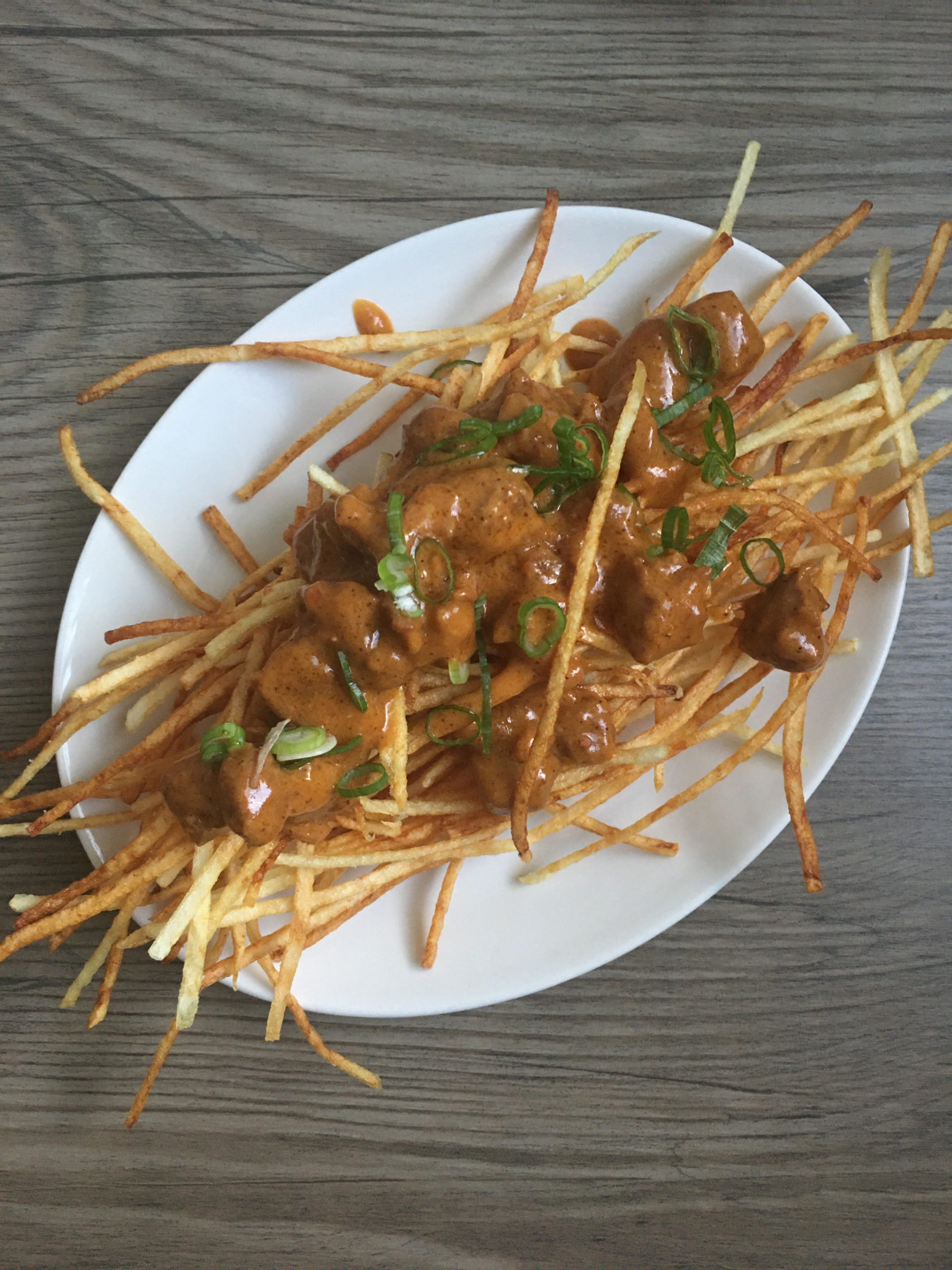 James, owner, chef, and barista at Watson's Counter in Seattle invited me to be on his Instagram live video. We have been talking about different ways to make poutine delicious, and he let me share my version of poutine. Poutine reminds me of a few dishes, welsh rarebit, disco fries, and sausage gravy…therefore, I marry all of them into this version.
Guest Appearance on Watson's Counter Instagram Live
Poutine/Disco Fries
Serves: 2 portions
Prep Time: 15 minutes
Total Time 30 minutes
Ingredients:
2 Idaho potatoes, peeled
2 tablespoons cooking oil
2 links Italian Hot Sausage
1/4 cup chopped onions
1 tablespoon butter
1 teaspoon paprika
1 teaspoon chili powder
pinch of salt
2 tablespoons AP flour
10 oz. stock
1/3 cup milk
1 tablespoon A1 steak sauce or Worcestershire
1 tablespoon Dijon mustard
1/2 cup shredded mozzarella
2 tablespoons chopped scallions, on a bias
2 tablespoons chopped parsley
2 tablespoons whole-grain mustard
Make the poutine sauce first. Sauté sausage until nice and caramelized and add onions. Cook until onions are nice and tender. 
Add butter and spices. Cook the spices until fragrant on medium heat. Be careful not to burn the butter. 
Sift the flour into the pot so you won't have any clumps in the sauce. Cook the flour for until nice and nutty in smell. Pour in the liquid and bring the sauce to a simmer. Sauce will thicken as it is heated. 
Add A1 Steak Sauce, dijon mustard, and shredded mozzarella, and stir to combine. Set the gravy aside.
Set up a shallow frier with a skillet. Pour oil halfway up and turn on the heat. If using a thermometer, heat the oil to 350F. If a thermometer is not available, put a small piece, half-inch thick, of raw potato into the oil and wait until it gets golden brown on the outside, and then the frier is ready for frying. 
Using a Japanese mandolin with medium teeth setting, slice peeled potatoes into thin strips. Always use a handguard when using a mandolin to avoid injury.  Rinse the shoestring fries with cold water to get rid of excess starch. 
Fry the shoestring fries until golden brown and crispy. Drain the oil in a paper towel lined mixing bowl and sprinkle with salt while tossing the fries. 
Plate the fries on a plate and drizzle with gravy, and then sprinkle on scallions, parsley, and whole grain mustard. Bon Appétit!