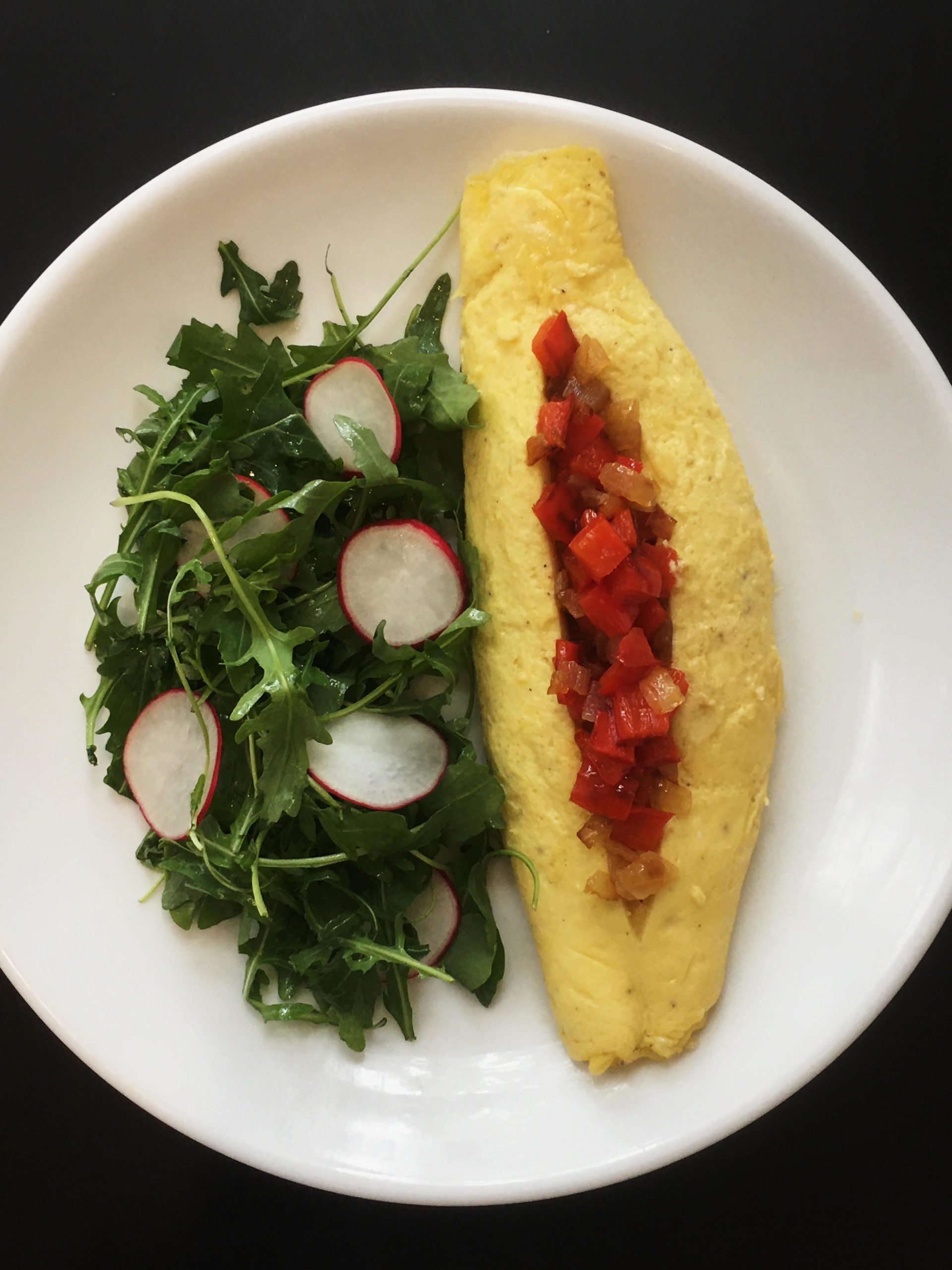 This is a French-style omelet, but any omelet would work perfectly for lunch. Making eggs is quick, and eggs are nutritious and filling. Serve the omelet with a side of green salad, keep the lunch light and healthy.
For the latest New Lifestyle Cooking Series: 
Omelet with Roasted Onions and Peppers
Serves: Makes 1 omelet
Prep Time: 10 Minutes
Total Time: 15 Minutes
Ingredients:
2 tablespoons cooking oil
1/4 cup diced onions, small dice
1/4 cup diced red bell pepper, small dice
4 eggs, beaten
1 tablespoon butter
1/2 teaspoon salt
pinch ground black pepper
1/4 cup grated cheddar
2 cups baby arugula
1 piece radishes, sliced thin
1 tablespoon lemon vinaigrette
Saute onions and peppers until tender, season with a pinch of salt, and set aside
Using a non-stick pan, melt the butter on medium heat until foamy. Pour in the eggs and using a fork to swirl around the eggs quickly and making tiny curds with eggs. When the eggs are halfway done, start gathering the sides and fold the side closest to you towards the front and make the omelet into a moon-shape. Turn off the heat. Sprinkle the cheese along the edge of the first fold. Fold the other side over the cheese and flip the omelet onto a plate, gap facing down. Slit the top of the omelet open and put the peppers and onions into the hole.
Dress arugula with lemon vinaigrette with a pinch of salt and plate it next to the omelet. Lay a few pieces of radishes over the arugula and serve. Bon Appétit!