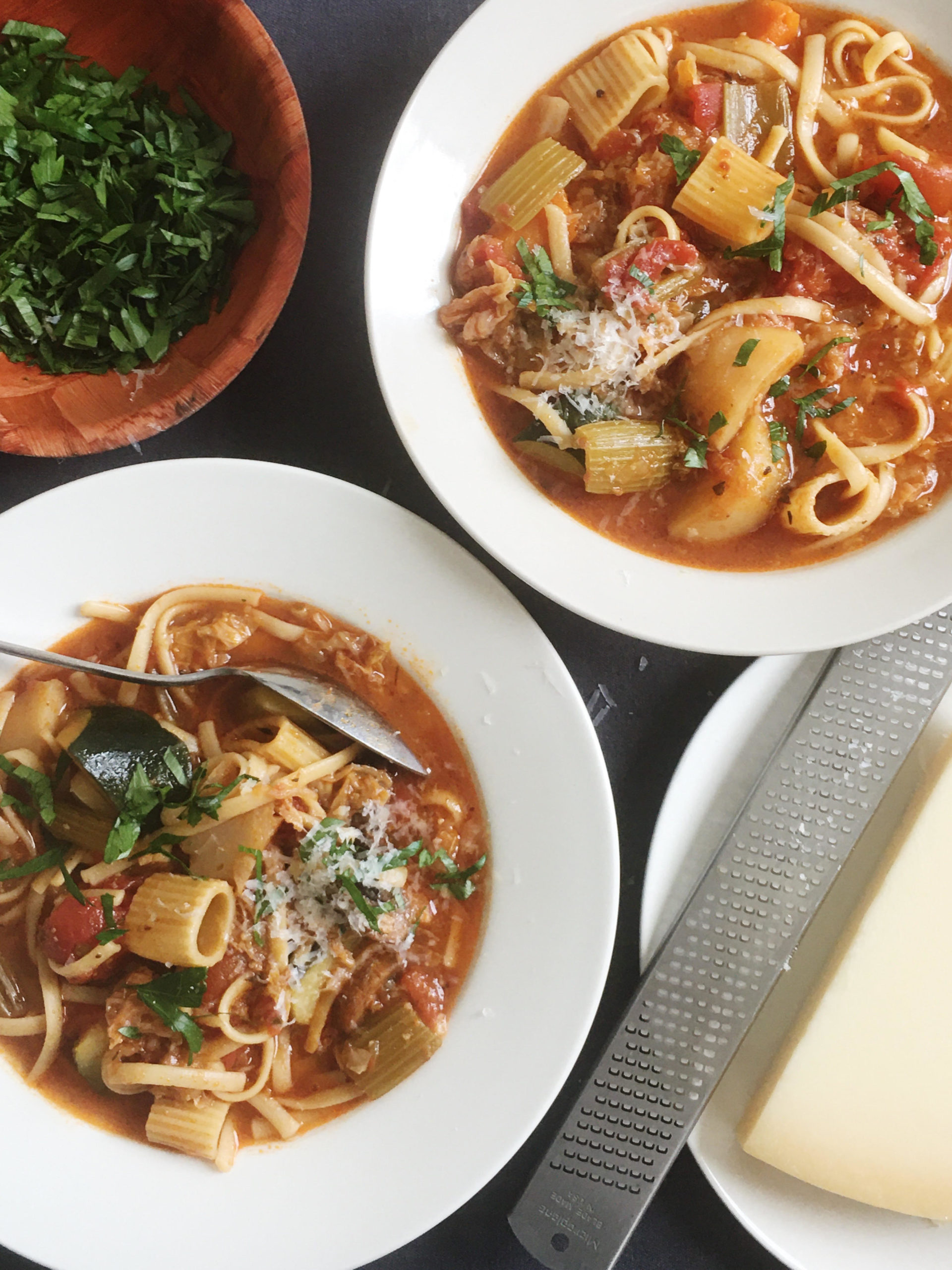 Minestrone is a simple and crowd-pleasing meal that could stretch for a few days for a family. Use up all the random bits and pieces of vegetables in the fridge and make a delicious and wholesome stew with dried pasta cooked right in it. Finish the soup with a sprinkle of grated Parmesan for extra flavor and richness.
For the latest New Lifestyle Cooking Series:
Minestrone with Parmesan
Serves: 6 to 8 portions
Prep Time: 10 Minutes
Total Time: 1 Hour 10 Minutes
Ingredients:
1 cup EVOO
2 cups quartered button mushroom
2 cups diced celery, large dice
2 cups diced carrots, large dice
2 cups diced onions, large dice
1 teaspoon salt
Half head of savoy cabbage, large dice
2 tablespoons ground fennel seeds
2 tablespoon dried oregano
1 tablespoon dried chilies
2 cups dice potatoes, large dice
2 tablespoons tomato paste
1 can/28 oz. whole peeled tomatoes
4 cups water
2 cups diced zucchini, large dice
5 oz. Dried Pasta (spaghetti, linguine, rigatoni)
Grated parmesan
Salt, season to taste
Heat up EVOO in a soup pot on medium-high heat. Cook the mushroom first until fragrant and colored. Add celery, carrots, and onions, and season with salt. Cook the veggies until a bit shriveled and colored.
Add cabbage and cook until wilted. Add ground fennel seeds, dried oregano, and dried chilies and toast until fragrant.
Add tomato paste and stir into the vegetables. Add canned tomatoes and water. Bring the pot to a boil and turn down to simmer. Simmer until the vegetables are almost tender, add in dry pasta and zucchini, and cook for 8 to 10 more minutes until pasta is done.
Serve the soup hot and grate Parmesan on top. Bon Appétit!