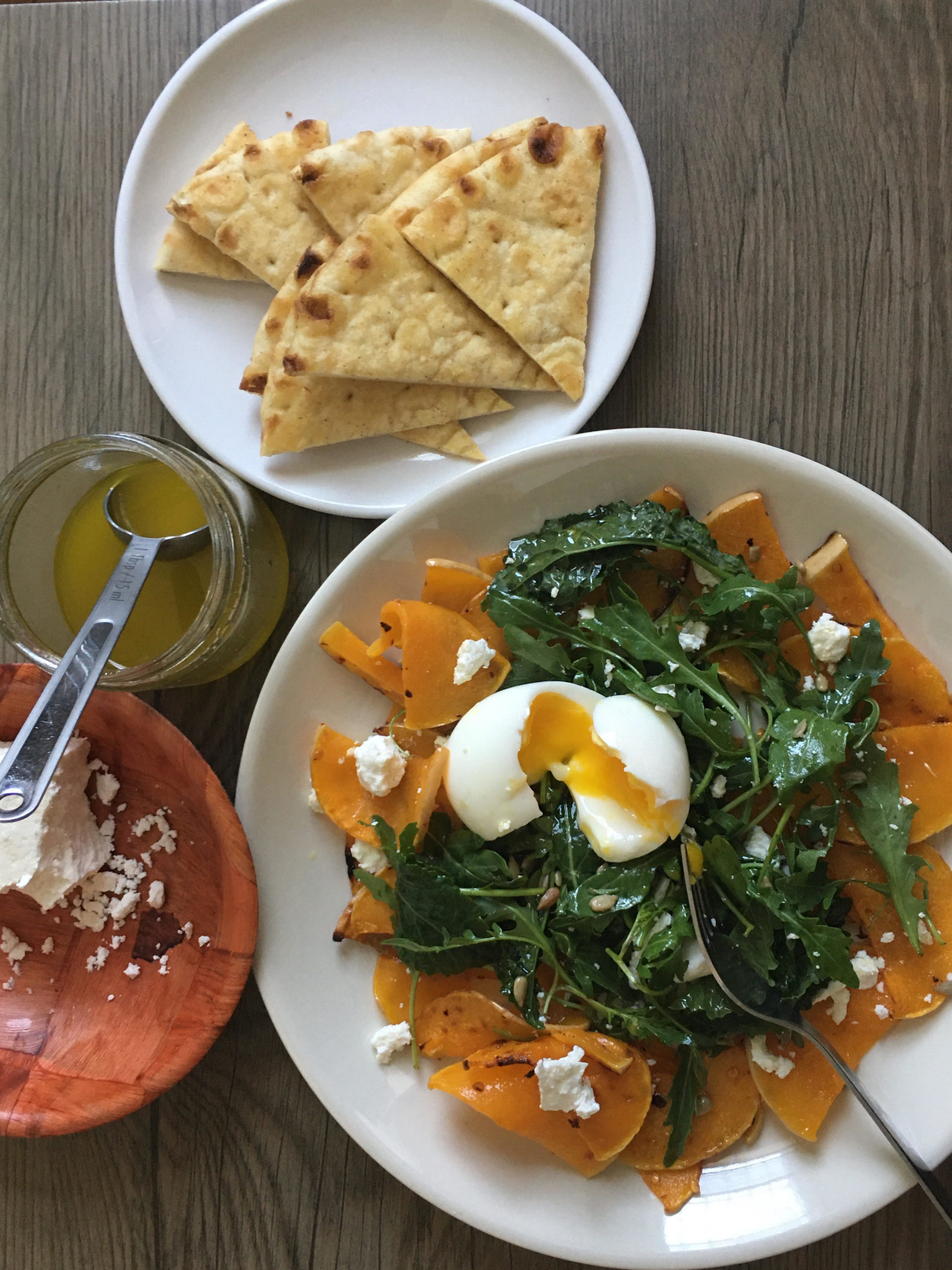 Roasted squash salad is a quick solid meal for lunch. Roasted squash and soft boiled eggs make the salad substantial. Use toasted flatbread as a vessel to mop up the yolk and vinaigrette that are left behind. This salad will keep you nice and light throughout the afternoon.
For the latest New Lifestyle Cooking Series:
Roasted Butternut Squash Salad w/ Arugula and Baby Kale
Serves: 4 portions
Prep Time: 10 Minutes
Total Time: 20 Minutes
Ingredients:
For Roasted Squash:
5 cups sliced butternut squash, 1/8-inch thick
3 tablespoons EVOO
1 teaspoon chili flakes
1 teaspoon salt
For the Lemon Vinaigrette:
3 tablespoons lemon juice (1 lemon juiced)
9 tablespoons EVOO (1/2 cup + 1 tablespoons)
1/2 teaspoon salt
For the salad (makes 1 portion)
Roasted butternut squash, from above
1 cup baby arugula
1 cup baby kale
1 soft boiled eggs
1 tablespoons toasted sunflower seeds
1/4 cup crumbled feta cheese
1 piece flatbread
Lemon vinaigrette, from above
Pre-heat oven at 500F and take out as many eggs as you need and let them sit out for 30 minutes at room temperature.
Toss sliced squash with EVOO, salt, and chili flakes. Roast squash in the oven for 7 minutes until the squash is tender but not too soft. Broil squash for 1 minute to get some char.
To make soft boiled eggs, bring a pot of water to a boil and cook the eggs for 6 minutes. Either submerge the eggs in ice water or run them under cold water for 10 seconds and keep them in cold water for 10 minutes until completely cooled, and then peel.
When squash is done cooking, cool to room temperature. Lower the oven to 325F. Brush a piece of flatbread with EVOO on both sides and toast them until warm. Cut flatbread into wedges.
To make the lemon vinaigrette, put everything in a jar, and close the lid and shake vigorously for 10 seconds.
To plate the salad, spread roasted squash around the outer part of the plates. Dress arugula and baby kale lightly with lemon vinaigrette and place them in the middle of the plates. Each plate gets a soft boil egg. Sprinkle toasted sunflower seeds and feta on top. Drizzle salads with more vinaigrette to finish. Serve flatbread on the side and use it to mop up any yolks or sauces that are left behind. Bon Appétit!