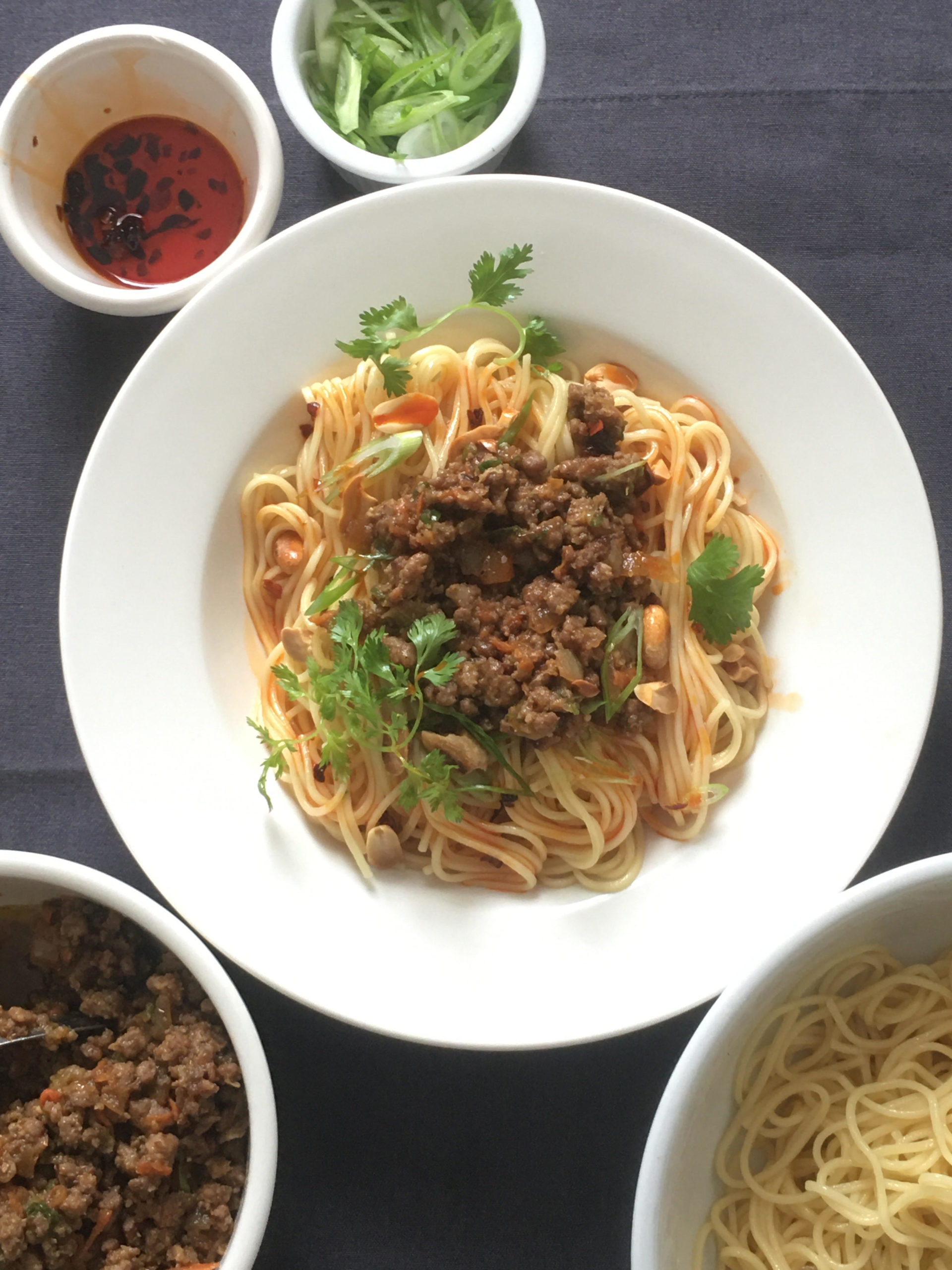 Dan dan noodles are delicious and easy to make. You don't need a full pantry of Asian ingredients to make this dish. Dan dan sauce is salty, sweet, vinegary, and nutty. Though soy sauce is a must, there isn't a specific vinegar to use, and tahini could be replaced with peanut butter in a pinch. For the pork sauce, you could make it spicy or mild. Adding a little Szechuan peppercorn brightens up the flavor and pays homage to the origin of this dish. Szechuan peppercorn lends a bit of floral flavor to the dish when used moderately. I like to grate fresh garlic and add raw scallions at the end to keep the sauce vibrant. Last but not least, drain and rinse the noodles after cooking to avoid clumping. Add the noodles back into the hot water if warm noodles are preferred.
For the latest New Lifestyle Cooking Series:
Dan Dan Noodles:
Serves: 4 portions
Prep Time: 15 minutes
Total Time:
Ingredients:
For the Dan Dan Sauce:
2 tablespoons soy sauce
1/2 teaspoon black vinegar (could substitute with distill white or rice wine vinegar)
1 teaspoon mirin
1/2 teaspoon sugar
1/2 tablespoon tahini
1/2 teaspoon sesame oil
pinch of MSG
For ground pork sauce:
4 tablespoons cooking oil
1/2 cup grated carrots
1/2 cup diced onions, small dice
6 cloves of fresh garlic, split into 2 parts
1 teaspoon ground fennel seeds
2 teaspoons ground Szechuan peppercorn
1# ground pork
2 tablespoons soy sauce
1 teaspoon mirin
1 teaspoon salt
1 tablespoon grated ginger
1 stalk scallion, sliced thin
More salt, soy sauce, and mirin to taste
For the whole dish (makes 1 portion):
3.5 oz. dried Asian wheat noodles
2 tablespoons ground pork sauce, from above
1 tablespoon Dan Dan sauce, from above
1 tablespoon crushed toasted peanuts
1 tablespoon sliced scallions
few sprigs cilantro
1 tablespoon chili oil (optional)
To make the dan dan sauce, whisk everything together and set aside.
To make ground pork sauce, marinate ground pork with 3 cloves grated garlic, soy sauce, salt, and grated ginger for 10 minutes.
When pork is ready, heat the oil on medium-high heat and sauté carrots and onions until slightly caramelized. Lower the heat, add ground fennel and Szechuan peppercorn, toast until fragrant, and then turn the heat back up and add the ground pork.
While cooking ground pork, make sure to break up the chunks.  Add a little water to keep to ground pork juicy.
When the pork is fully cooked. Turn off the heat and add scallions and grate the rest of the fresh garlic to combine.
To cook the noodles, follow the package's instructions. Strain and rinse the cooked noodles under cold running water until water runs clear. Drain again and toss the noodles in 1 tablespoon of cooking oil to keep them lubricated. If hot noodles are preferred, place the noodles back in the hot water for 30 seconds to warm up.
To serve, spoon dan dan sauce into a bowl, place noodles on top. Place pork sauce on top of the noodles and follow by garnishing the dish with peanuts, scallions, cilantro, and chili oil. Bon Appétit!