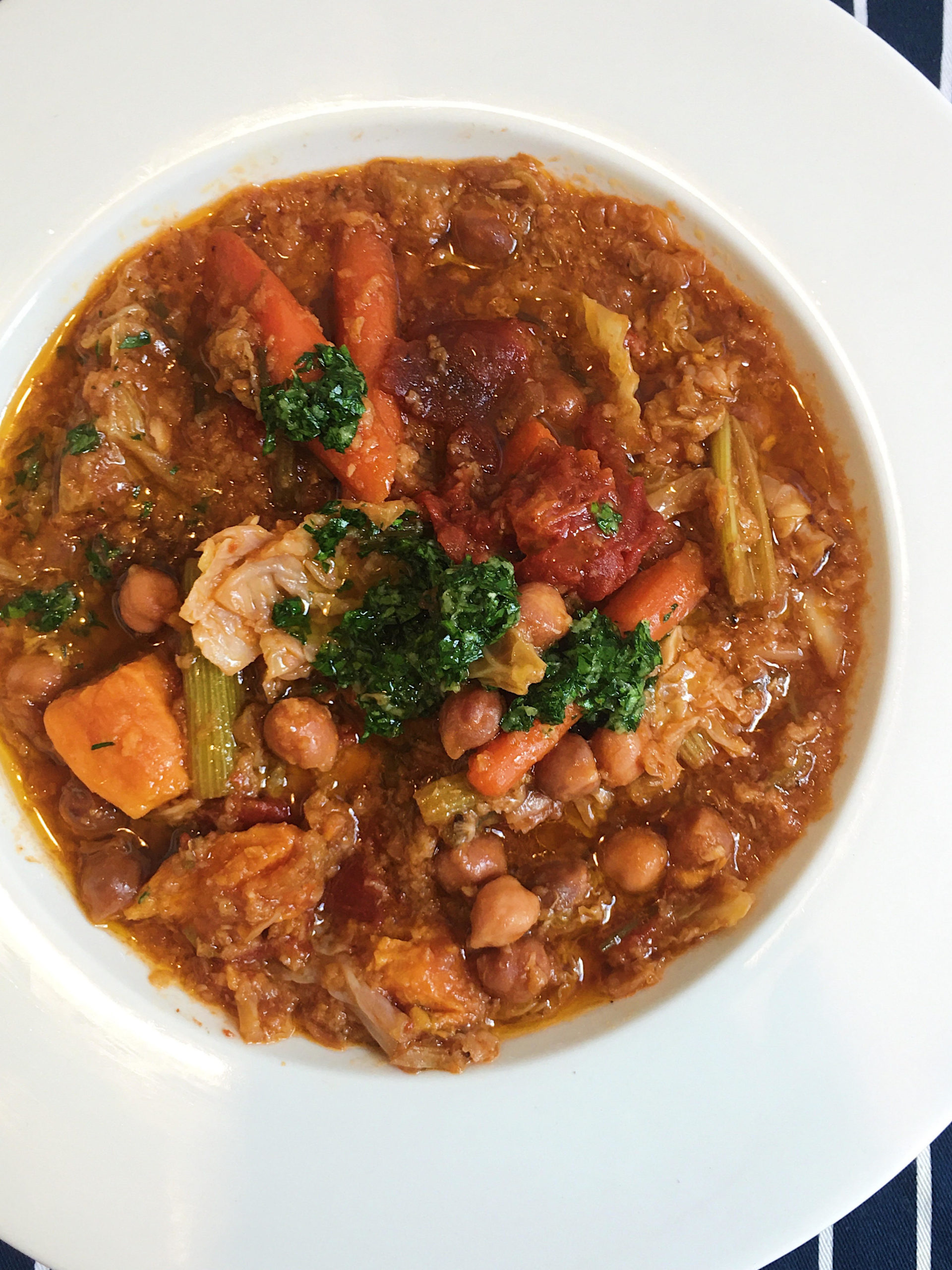 Ribollita is a delicious soup from the Tuscan region of Italy. The soup is made with loads of vegetables and white beans traditionally. I am using chickpeas for the nuttier flavor, and rather than using kale in a conventional recipe, I am substituting savoy cabbage because it's packed with umami when cooked in a tomato stew. The heart of the soup is the added breadcrumbs at the end. Though traditionally, stale bread is used, anything that could soak up and thicken the soup is welcome. Adding breadcrumbs gives the soup a nice and pillowy texture when sipping on the broth. Ribollita is a wonderful meal at the end of a long day.


For the latest New Lifestyle Cooking Series:
Ribollita
Serves: 4 portions
Prep Time: 15 minutes
Total Time: 1 Hour
Ingredients:
For the Stew:
1/2 cup EVOO
1 cup diced onions, medium dice
2 cups chopped carrots, 1 to 2 inch thick cuts on the bias
2 cups chopped celery, 2-inch long cut
1 head garlic, cut in chunks
1/4 cup chopped parsley stems, 1-inch long cut
1/2 head of savoy cabbage, cut into large chunks
2 teaspoon dried chili
1 tablespoon crushed black pepper
2 cups chopped sweet potatoes, large dice
4 cups water or liquid from cooking the chickpeas
2 tablespoons tomato paste
1 cup tomato sauce
2 cups cooked chickpeas (or cooked cannellini beans)
1/3 cup breadcrumbs (or panko)
For Pesto:
1 cup chopped parsley, finely chopped
4 tablespoons EVOO
3 cloves fresh garlic, grated
1/4 teaspoon salt
1 tablespoon water
1 tablespoon lemon juice
In a soup pot, heat up the olive oil at medium-high heat and cook onions, carrots, celery, garlic, and parsley stems until flavors combine. Add Cabbage and cook until wilted and tender. Add dried chilies, black pepper, sweet potatoes, and liquid. Cook until all the vegetables are tender.
Add tomato paste, tomato sauce, and cooked chickpeas. Simmer the pot until the stew has thickened and reduced about 1/3.
Meanwhile, make the pesto by grating garlic into a bowl and mix in with olive oil and a splash of water. Mix garlic mixture until creamy and fold in chopped parsley. Add lemon juice to help bring the sauce together. 
After the stew is reduced, add breadcrumbs and stir them in gently. Once the breadcrumbs become like little curds, the stew is done. Taste to season. Bon Appétit!