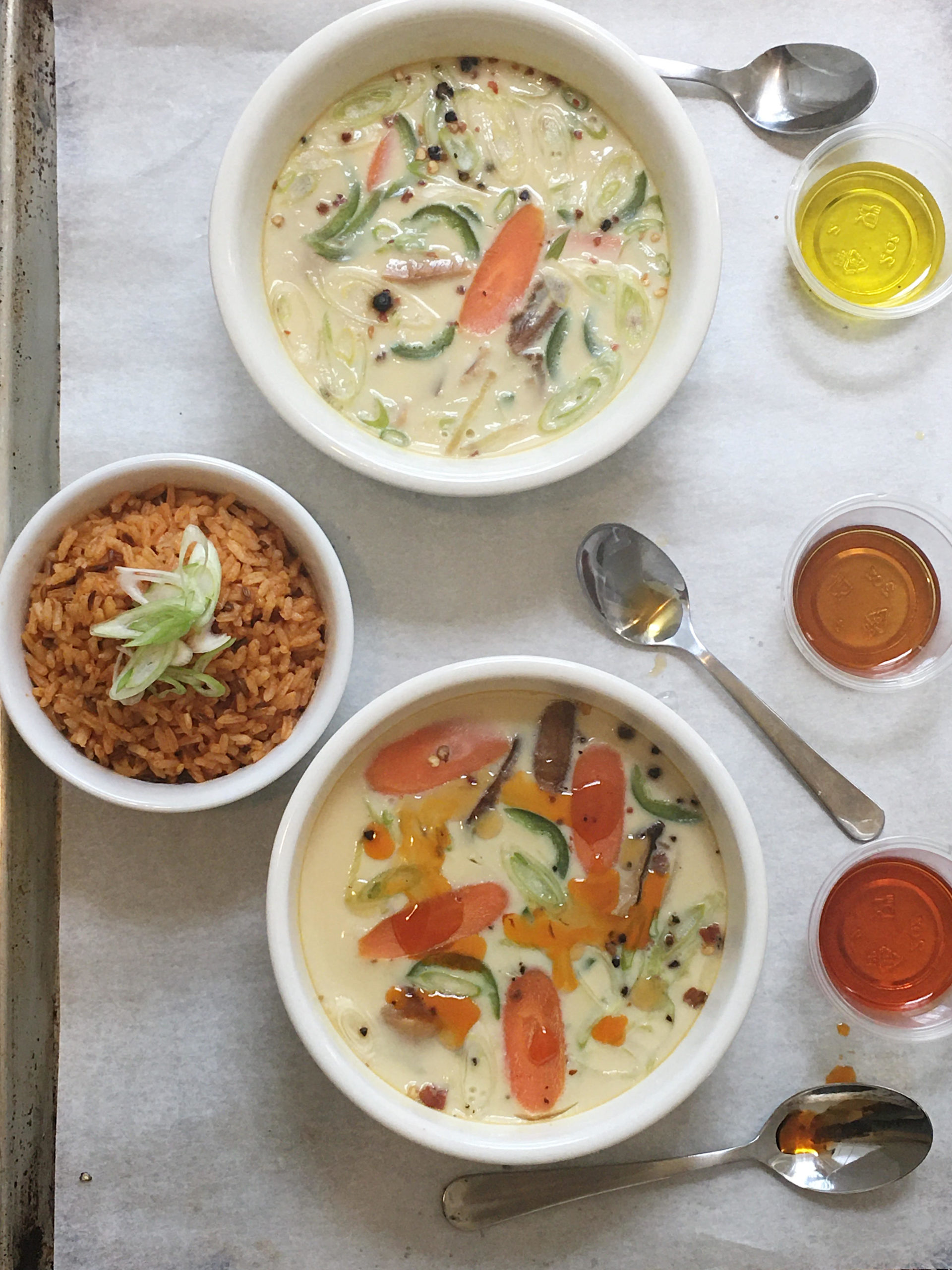 Chawanmushi is a savory egg-based pudding. Simply mix eggs with a flavored liquid and bake them in a water bath, you'd end up with a silken tofu-like custard that is smooth and comforting. In addition to the eggs, add thinly sliced carrots, scallions, ginger, and chilies, you'd have a delightful egg dish as the centerpiece of your meal. Steamed rice is a great complement to chawanmushi.
For the latest New Lifestyle Home Cooking Series:
Chawanmushi
Serves: 4 Portions

Prep Time: 10 minutes
Total Time: 1 hour 5 minutes
Ingredients:
4 eggs
2 + 2/3 cups dashi or chicken stock
4 teaspoon mirin
4 teaspoon soy sauce
1 teaspoon salt
pinch of MSG
1/4 cup thinly sliced carrots, on the bias
1/4 cup thinly sliced mushroom, either dried or fresh
2 stalks of scallions, sliced on the bias
1-inch knob of ginger, sliced to thin strips
Half a piece jalapeño, thinly sliced
Pre-heat oven to 350F
To make the egg mix, beat the eggs until foamy and loose and strain. Add mirin, soy sauce, salt, and MSG to the stock and mix well. And then mix in the beaten eggs.
Prep the veggies accordingly. Meanwhile, boil enough water that could fill a roasting tray halfway up.
Set up a roasting tray with a clean kitchen towel at the bottom. Place ramekins or soup bowls in the roasting tray, leaving some space in between. Evenly distribute veggies among the bowls and divide up the egg mixture equally as well.
Pour hot water into the roasting tray until it reaches halfway up. Cover the roasting tray with a piece of tin foil and put the tray in the oven. Depending on the size of your bowls or ramekins; a 6-inch wide and 2-inch deep bowl will take about 50 minutes to cook, while a 3.5-inch and 2-inch deep bowl will take about 25 minutes to cook
To test the doneness of chawanmushi, insert a skewer into the middle of the bowl and it should come out clean. Let rest for 5 minutes with the cover on and then dig in! Bon Appétit!