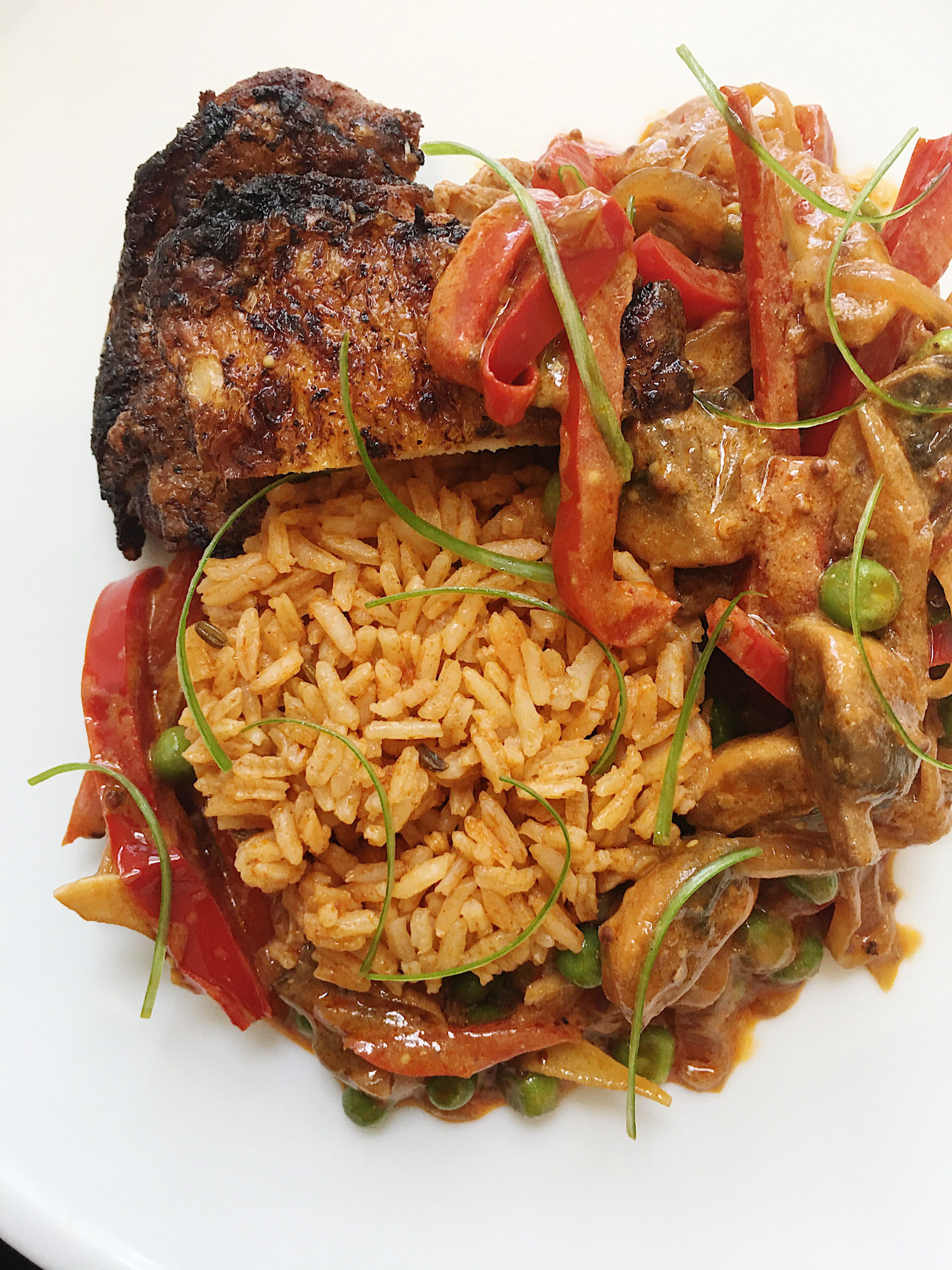 Stroganoff might sound foreign, but it is just a stir fry with added sour cream and mustard. Paprika, fennel seeds, and green cardamom are just a few spices that make this dish sign. Stroganoff could also be easily adapted as a vegetarian dish by switching out meat with more mushrooms; oyster mushroom would be a great substitute as it is meaty and packs with umami flavor. Add just enough sour cream to enrich the sauce and keep it light for a late spring dish.
For New Lifestyle Latest Cooking Series:
Chicken Stroganoff
Serves: 4 portions
Prep Time: 10 minutes
Total Time: 1 hour 15 minutes
Ingredients:
For Stroganoff:
4 pieces of chicken thighs, skin on
3 tablespoons cooking oil, for marinade
2 teaspoon paprika
1/2 teaspoon chili powder
4 cloves fresh garlic, grated
1 teaspoon salt
3 tablespoons cooking oil, for sautéing vegetables
2 cups quartered button mushroom
1 cup sliced onions, in strips
2 cups sliced red bell peppers, in strips
4 cloves garlic, silvered
1 tablespoon tomato paste
1/2 teaspoon paprika
1/2 cup water or chicken stock, 
3 tablespoon sour cream
1 tablespoon grain mustard
1/2 cup frozen green peas, defrosted
For Rice:
3 tablespoons cooking oil
1 tablespoon fennel seeds
3 cloves green cardamom 
2 tablespoon tomato paste
1 teaspoon paprika
1 + 1/2 cup long-grain rice
2 + 2/3 cups water
Make the chicken marinade by mixing oil, paprika, chili powder, and grated garlic. Rub the marinade over the chicken and let rest for at least 1 hour.
Meanwhile, prep the veggies and cook the rice.
To cook the rice, heat up a medium pot with oil in it on medium-low heat. Add fennel seeds and green cardamom and toast until fragrant. 
Add tomato paste and paprika and toast until fragrant.
Add rice and toast rice until nice and toasty (add more oil for toasting if you need to).
Add water and bring to a simmer. Cover and cook until all the water is absorbed. Leave the cover on for 10 more minutes before fluffing the rice with a fork.
Pre-heat oven at 350F for roasting chicken thighs.
Once the chicken is ready, add 1 tablespoon of oil per thigh into a skillet and cook the chicken on high heat. Sear the chicken skin side down until nice and golden brown. Flip the chicken over onto a baking tray and slide it into the oven and cook for 8 to 10 minutes until nice and juicy. 
Meanwhile, on high heat, using the same skillet and adding new oil, heat the oil until shimmering and add the mushrooms. Cook the mushrooms until golden brown, and then add onions, red peppers, and garlic and cook until caramelized. 
Add tomato paste and paprika and cook until fragrant and sticky. Add water or stock to deglaze the pan. Reduce the liquid by a quarter and turn off the heat.
Add sour cream and grain mustard and stir them in. Fold in peas to finish.
To serve, ladle stroganoff over rice and serve the chicken on the side. Bon Appétit!