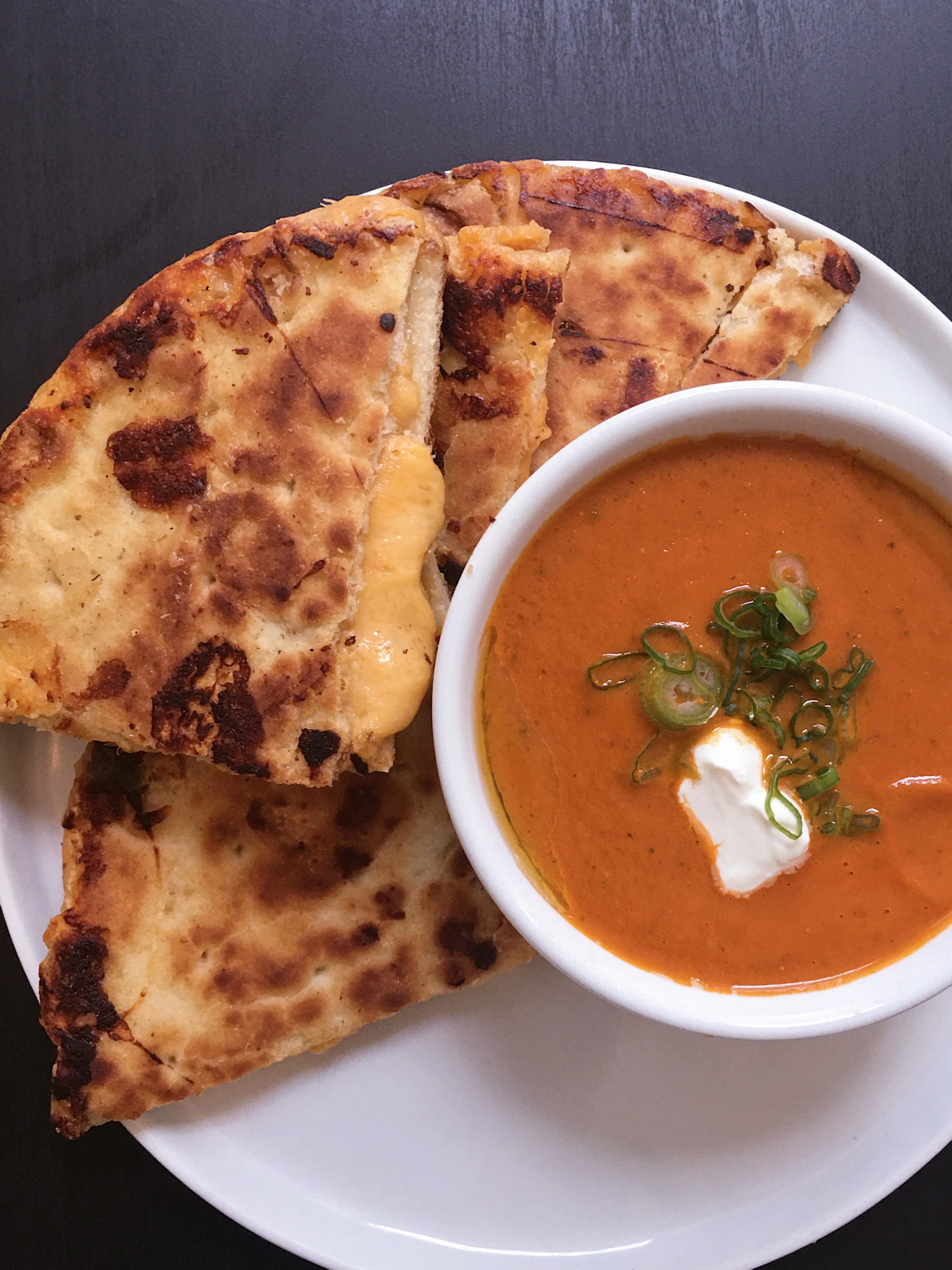 An American classic combo here for the family and kids. Tomato soup is light and healthy; it is mainly made with tomatoes and veggies, with a tiny pad of butter to finish. A grilled cheese with flatbread gives a fun twist to a classic version; this modern grilled cheese has three types of cheese to help achieve the essence of a perfect grilled cheese: stretch and gooey.
For the latest Happy Lifestyle Home Cooking Series:
Grilled Cheese & Tomato Soup
Serves: 4 portions

Prep Time: 10 minutes
Total Time: 40 minutes
Ingredients: 
For tomato Soup:
3 tablespoons cooking oil
1/2 cup grated red onion
5 cloves fresh garlic, grated
1 cup grated carrots
1 tablespoon tomato paste
1 tablespoon dried oregano
1 tablespoon fresh thyme leaves
1 can (28 oz.) whole peeled tomatoes
1 chicken bouillon cube, Knorr brand (optional)
1 cup water
1 tablespoon butter
1 tablespoon AP flour
1 tablespoon sliced scallions, for garnish
1 tablespoon of sour cream, optional for garnish
For Grilled Cheese
4 slices flatbread (or any bread you have on hand)
1/2 cup grated mozzarella
1/2 cup grated cheddar
4 slices American yellow cheese
Take out 1 tablespoon of butter and leave it to soften at room temperature
Heat up a medium pot on medium-high heat. Add oil and cook red onions, garlic, carrots until tender and fragrant
Add tomato paste and cook until fragrant
Add dried oregano and fresh thyme and cook until fragrant
Add whole peeled tomatoes, water, and chicken bouillon, otherwise, add 2 teaspoons of salt to season. Bring the soup up to a simmer and cook for 20 minutes until the tomatoes are soft to mash.
Blend the tomato soup in a blender until smooth. Meanwhile using a fork, mix softened butter with 1 tablespoon of flour until forming a paste. Pour the soup back into a pot and add the butter mixture and whisk to combine. Bring the soup back to a simmer and keep whisking for 1 minute. Adjust seasoning and set it aside.
To make grilled cheese, lay half of the mozzarella and cheddar cheese onto two pieces of flatbread and follow by adding American cheese. Add the other half of the mozzarella and cheddar on top of American cheese. Cover the cheeses with the other two pieces of flatbread. 
Fit a piece of parchment paper in a skillet and brush it with oil. Put one grilled cheese sandwich on top and cook until nice and crispy at the bottom. Flip the sandwich over and cook the other side until brown and crispy as well. Do the same with the second sandwich. Cut grilled cheese into wedges like pizza, and serve with hot tomato soup. Garnish the soup with scallions and sour cream. Bon Appétit!