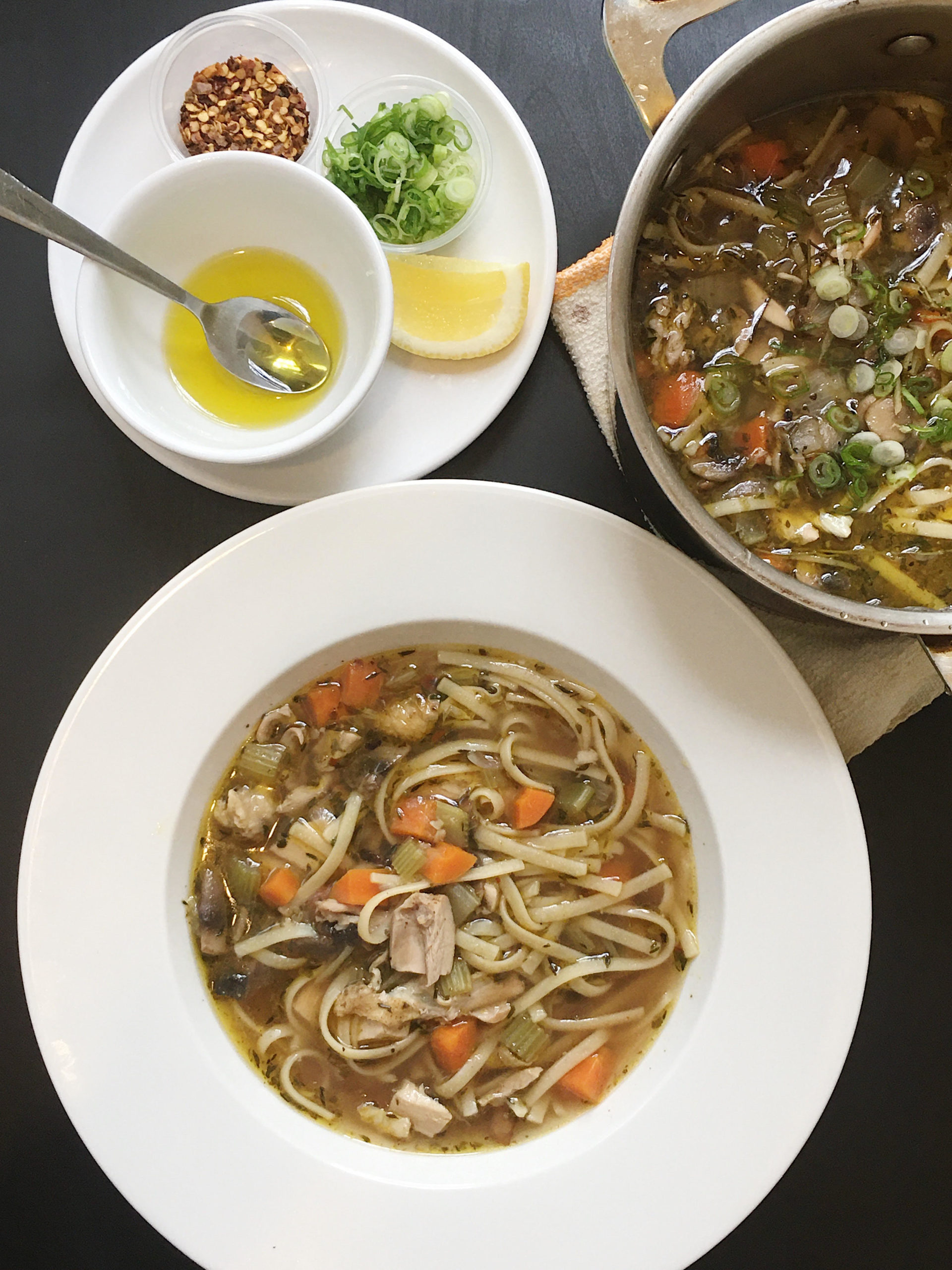 When time is not on your side, make chicken noodle soup. Once the veggies are chopped, the cooking steps are straight forward. Cook the veggies to concentrate the sweetness, toast the spices to release the flavors, and then add the liquid and chicken to make the broth. Bring the pot to a simmer and cook until all the ingredients are nice and tender. A pot of chicken noodle soup is the ultimate comfort food on any given day.
For the latest New Lifestyle Cooking Series:
Chicken Noodle Soup
Serves: 4 portion
Prep Time: 10 minutes
Total Time: 40 minutes
Ingredients:
3 tablespoons cooking oil
1 cup sliced mushroom 
1 cup medium diced carrots
1 cup medium diced onions
1 cup medium diced celery
4 cloves garlic, silvered
1 1-inch piece ginger, cut into thin strips
1 tablespoon dried oregano
A few sprigs of thyme
1 bay leaf
1 tablespoon crushed black peppercorn
1 tablespoon dried chili flakes
1 tablespoon onion powder
1 tablespoon garlic powder
1 chicken bouillon cube, Knorr brand (optional)
1 cup chicken stock
1 + 1/2 cup water
1 + 1/2 cup diced chicken, either cooked or raw
2 portions linguine, portions are according to the package
1 tablespoon chopped scallions, for garnish
1 teaspoon EVOO
1 wedge of lemon
Heat up a medium-size pot on high heat, add cooking oil and sauté mushrooms until slightly browned, and then add carrots, onions, celery, and garlic. Cook the veggies until almost tender.
Add ginger, dried oregano, thyme, and bay leaf and cook until fragrant.
Add black peppercorn, chili flakes, onion powder, garlic powder, stock, and water. Add chicken if using raw. Bring the pot to a boil and turn down to simmer. Simmer until chicken is cooked and the veggies are tender (if using cooked chicken, add it last after the broth is made).
Meanwhile, have a pot of water boiling, snap linguine into 3 parts and cook 10 minutes until tender. Drain the pasta and add to the soup. Check the chicken and adjust the seasonings. Serve hot with a squeeze of lemon juice, drizzles of EVOO, and chopped scallions. Bon Appétit!