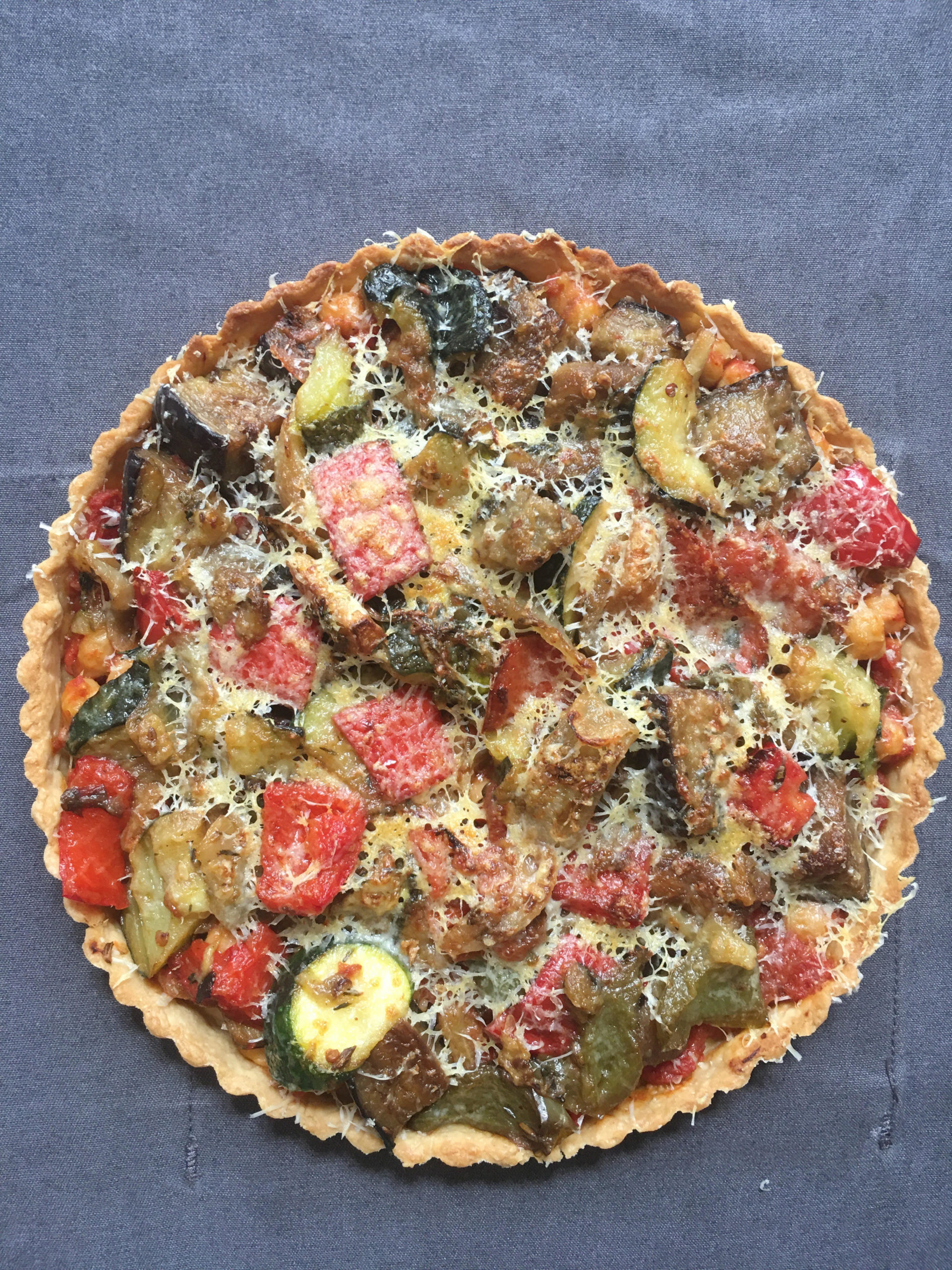 I enjoy eating ratatouille because it's hearty, yet guilt-free; it is made entirely with vegetables. There are a few ways to serve ratatouille. It's delicious and vibrant by itself, and it's also wonderful baked into a tart. Though making it into a tartlet is not conventional, I enjoy the textural contrast of the tart shell with the soft veggies.
For the latest New Lifestyle Home Cooking Series:
Ratatouille Tartlet
Serve: 4 Portions
Prep Time: 15 minutes
Total Time:1 hour 15 minutes
Ingredients:
3/4 cup plus 1/4 cup EVOO, keep them separated
2 cups sliced onions, thin wedges
5 cloves whole garlic
4 cups medium diced eggplant
3 pieces Tomatoes, cut into wedges
3 cups medium diced bell peppers (mixed of green and red peppers)
5 cups medium diced zucchini
1 tablespoon fennel seeds
1/2 teaspoon dried chilies
1 tablespoon fresh thyme leaves
1/2 cup cooked chickpeas
1 cup tomato sauce
1/2 cup grated Parmesan
1 tart shell for a 10-inch pie pan, blind baked according to the instructions on the package
1 pound (comes in 1 bag) dried beans for weighing down the tart shell in blind baking
Divide up 3/4 cup of EVOO to cook onions and garlic, eggplant, tomatoes, bell peppers, and zucchini separately in a skillet. Make sure they get a nice caramelization on the outside. 
After cooking the veggies, toast fennel seeds and dried chilies until fragrant with the rest of 1/4 cup EVOO. Turn off the heat and add thyme. Set this aromatic oil aside.
Put veggies and aromatic oil back in the skillet. Bring up the veggies to a simmer and put a lid on. Leave a tiny gap for steam to escape. 
Meanwhile, blind bake your tart shell. Pre-heat your oven as instructed by the tart shell package. Dock the tart shell at the bottom and on the side. Cover the tart shell with a piece of parchment paper or tin foil, and then add dried beans on top. Bake the tart shell according to the package instruction. When tart shell is ready, leave to cool. Turn oven to broiler setting
Once the veggies are nice and soft, drain off the excess oil and reserve. 
Heat up tomato sauce and scoop the sauce into the tart shell and spread it around like pizza. Scoop ratatouille onto tomato sauce and fill in the entire tart. Sprinkle chickpeas on top. 
Sprinkle the grated Parmesan over the tartlet and melt the cheese under broiler until nice and crispy. 
Let tart rest of 5 minutes before cutting it. Bon Appétit!