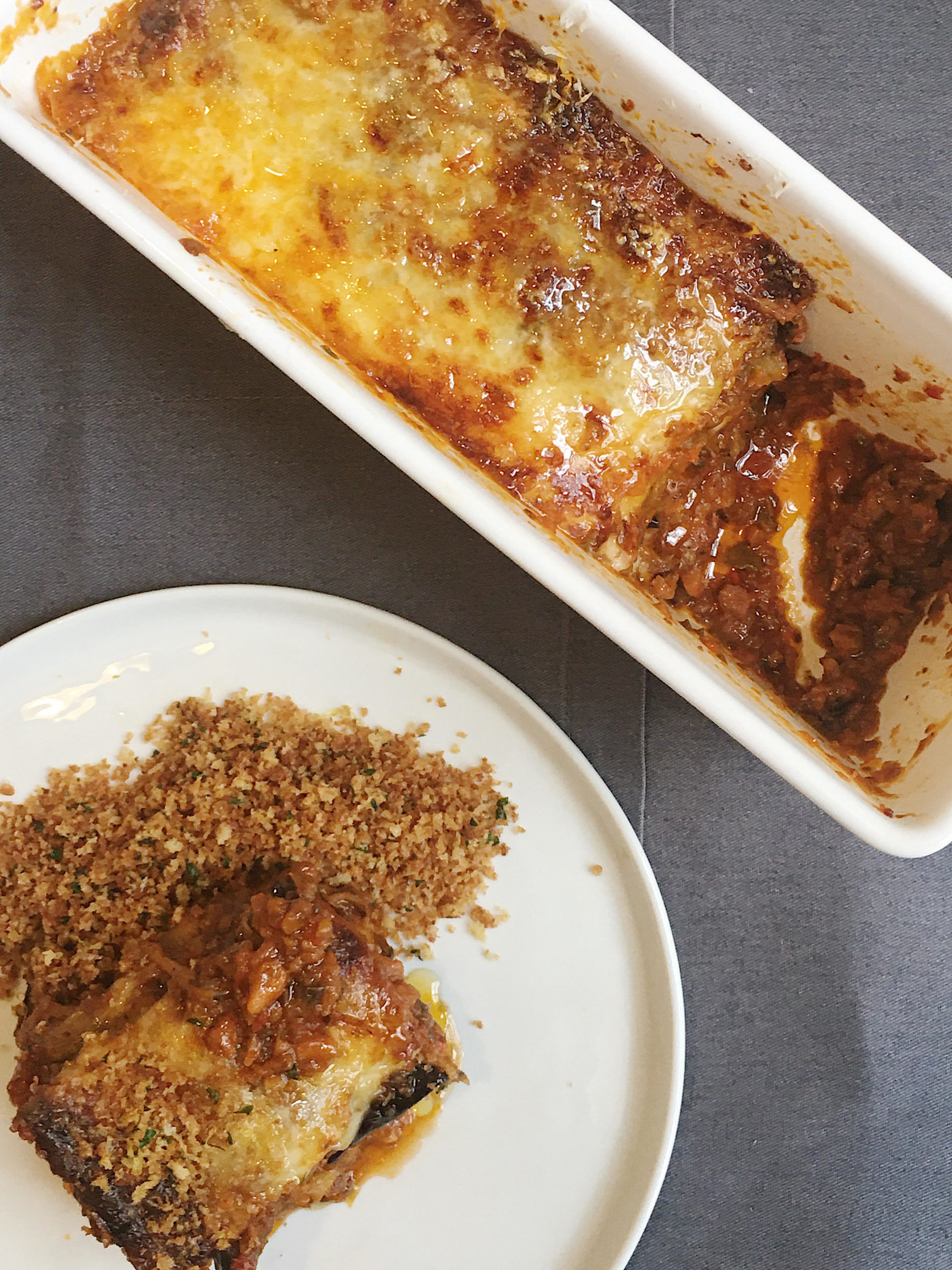 Eggplant Parmesan is a crowd-pleaser. My version of eggplant Parmesan doesn't require frying breaded eggplant. I roast eggplant and then I make the breadcrumbs separately to sprinkle on. The result of this version is delightful. The tomato sauce is made with an amalgam of random vegetables, such as carrots, onions, peppers, mushrooms, and celery, and the result is excellent. I recommend making this recipe if you need to downsize your vegetable inventory. 
For the latest New Lifestyle Home Cooking Series:
Eggplant Parmesan
Serving: 4 portions
Prep Time: 20 minutes
Total Time: 2 Hours
Ingredients:
For Soffrito and Tomato Sauce:
1 cup canola oil
2 cups finely chopped celery
2 cups finely chopped carrots
2 cups finely chopped onions
2 cups finely chopped mushroom
1/2 cup finely chopped red peppers
1/2 cup finely chopped green peppers
2 tablespoons tomato paste
2 cups canned tomato sauce
For Breadcrumbs*:
3 cups Japanese Panko
1/3 cup EVOO
2 teaspoons salt
1/2 cup finely chopped parsley
2 lemon zest
*This step is optional; you could use store-bought Italian bread crumb for this dish.
For Assembling Eggplant Parmesan:
2 cups tomato sauce, from the recipe above
2 medium sized eggplant, sliced and roasted
4 cups shredded mozzarella 
1/4 cup grated Parmesan
Pre-heat oven at 450F
Slice eggplant to 1/2-inch thick and sprinkle salt on top and set aside for 1 hour. 
Meanwhile, make soffrito and tomato sauce. Cut vegetables to a fine size. Heat up a pot on high heat and add oil. When the oil is smoking, add vegetables and stir immediately. 
Cook the vegetables on high heat to evaporate the water content. Stir occasionally to avoid burning. Once most of the water is evaporated, season soffrito to taste.
To complete the tomato sauce, add tomato paste to the vegetable pot and roast it until fragrant and caramelized, and then add tomato sauce to combine. Bring sauce to a simmer and season to taste. The final sauce should be thick.
Going back to the eggplant. Dry eggplant surfaces with paper towels and brush them with EVOO or any cooking oil. Roast eggplant in 450F oven for 20 minutes, or until nice and soft. Turn oven down to 400F after.
To make breadcrumbs, toast panko with EVOO until light golden brown. Add parsley and stir it in. Parsley should start to sizzle in the breadcrumbs. Keep tossing the breadcrumbs until they are a little more brown and toasty. 
To assemble eggplant parmesan, layer in tomato sauce, shredded mozzarella, and eggplant, and repeat the steps until you finish the eggplant. My casserole is 10 x 3 x 3.5 inch in dimension, and it could fit 3 layers.
Bake eggplant Parmesan in 400F oven for 15 minutes until cheese is melted on top and the sides are bubbly and golden brown. Turn on broiler and sprinkle grated Parmesan cheese on top of the eggplant dish.
Melt Parmesan cheese under broiler until bubbly and golden brown. Let eggplant Parmesan rest for 10 to 15 minutes before cutting in. Sprinkle the top with breadcrumbs and Bon Appétit!