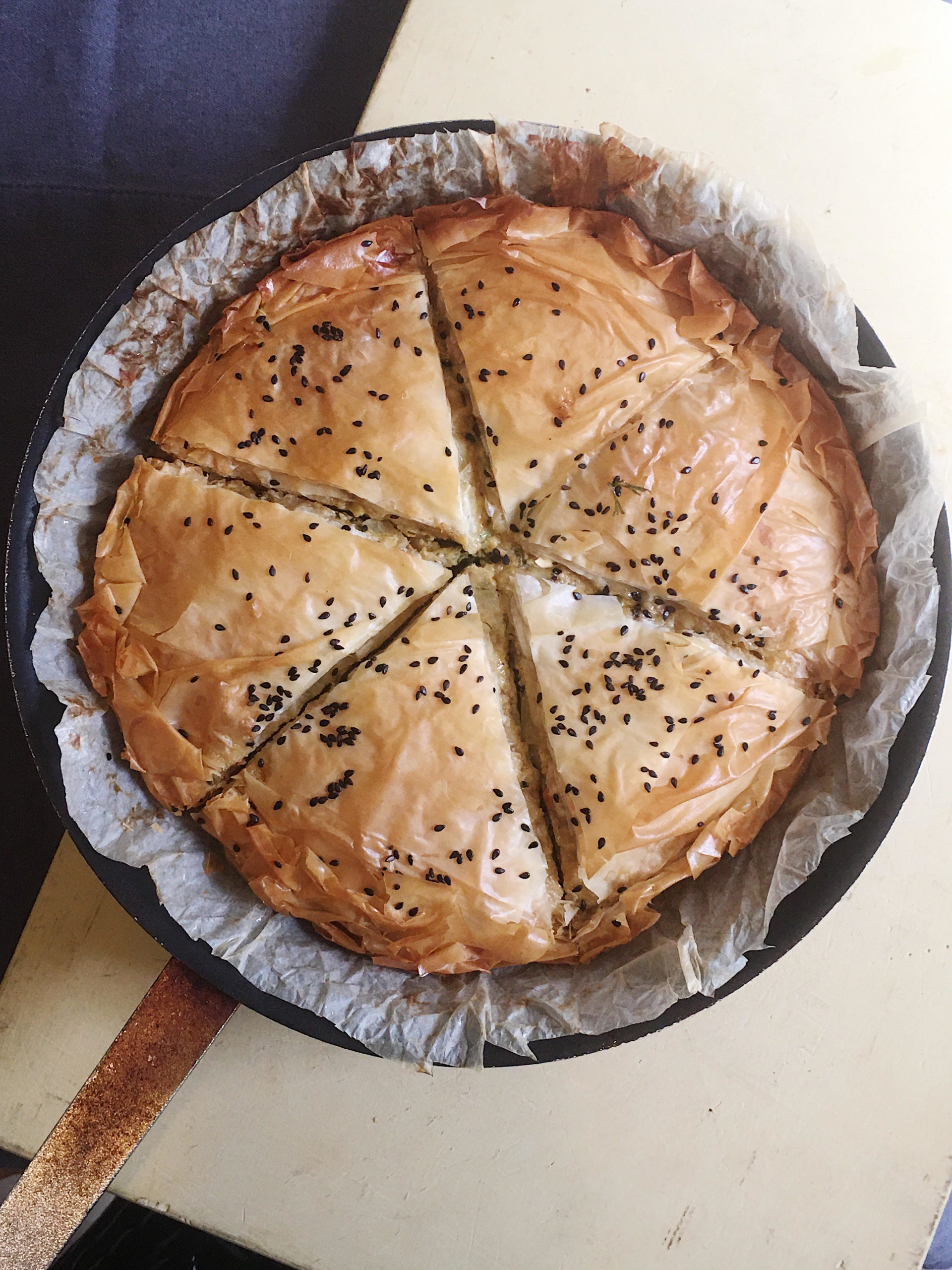 This recipe is inspired by Greek Spanakopita, which spinach and feta cheese are baked inside of phyllo sheet. phyllo sheets are thin and become crispy when baked; each bite of the pie is crunchy and sumptuous. The choice of ingredients for this pie is abundant. Make sure to cook your veggies first for the fillings. While a Greek-style pie has feta cheese, substitute feta cheese with other cheeses such as cheddar, mozzarella, or queso fresco will bring just as much pleasure. The best part about making this dish is that it looks and tastes amazing while keeping the work to minimal.
For the latest New Lifestyle Home Cooking Series:
Greek-Style Garden Vegetable Pie
Serves: 4 portions
Prep Time: 30 Minutes
Total Time: 1 Hour
Ingredients:
1/4 cup canola oil (or any cooking oil)
2 cups medium diced onions
2 cups medium diced carrots
2 cups chopped button mushroom
2 cups medium diced zucchini
1 teaspoon ground black pepper
1 1/2 teaspoon salt
1/2 cup chopped dill
1/2 cup chopped mint
1 cup chopped scallions
1/2 cup shredded cheddar
1/2 cup shredded mozzarella
1 cup crumbled feta cheese
1 egg
10 pieces phyllo pastries, only open when ready to assemble the pie
EVOO for brushing the phyllo sheets
1 teaspoon black sesame seeds (optional)
Defrost phyllo sheets at least 3 hours before using it. (the best way to plan for this recipe is to defrost phyllo sheets overnight in the fridge)
Heat up a skillet on high heat, sauté mushroom first until nicely colored, and then add zucchini. It's important to cook these two veggies first to get rid of the excess water content. 
Add onions and carrots once mushroom and zucchini are nicely caramelized. Cook until all the veggies are softened. Tip all the ingredients into mixing bowl and mix in the chopped herbs and cheeses. Set it aside, and pre-heat oven at 400F
Open phyllo sheets package and keep them under damp towels; phyllo sheets dried out quickly if not covered. 
Wet a piece of parchment paper under cold running water and wring out as much water as possible. 
Lay out the parchment paper flat on a counter and brush it with EVOO. Lay phyllo sheets over the parchment paper and lightly brush each piece of phyllo with EVOO. Lay out 6 pieces and overlap them. Transfer the phyllo sheets into a skillet. Fill the skillet with your fillings and wrap up the pie by folding over the sides of the phyllo sheets. Brush the top with more EVOO
Cover the top with the rest of the phyllo sheets. After laying out each piece, crumble up the sides and brush with EVOO. Sprinkle on some black sesame seeds. Use a sharp knife to portion the pie into wedges like a pizza. 
Trim off excess parchment paper and heat up the skillet on medium heat. Once the sides of the phyllo pastries are getting crispy and golden brown, slide the skillet into the oven and bake for 20 minutes.
Once the top is golden brown and crispy, take the pie out of the oven and let it rest for 10 minutes. Cut the pie along the cuts made previously and serve it with more feta cheese on the side. Bon Appétit!