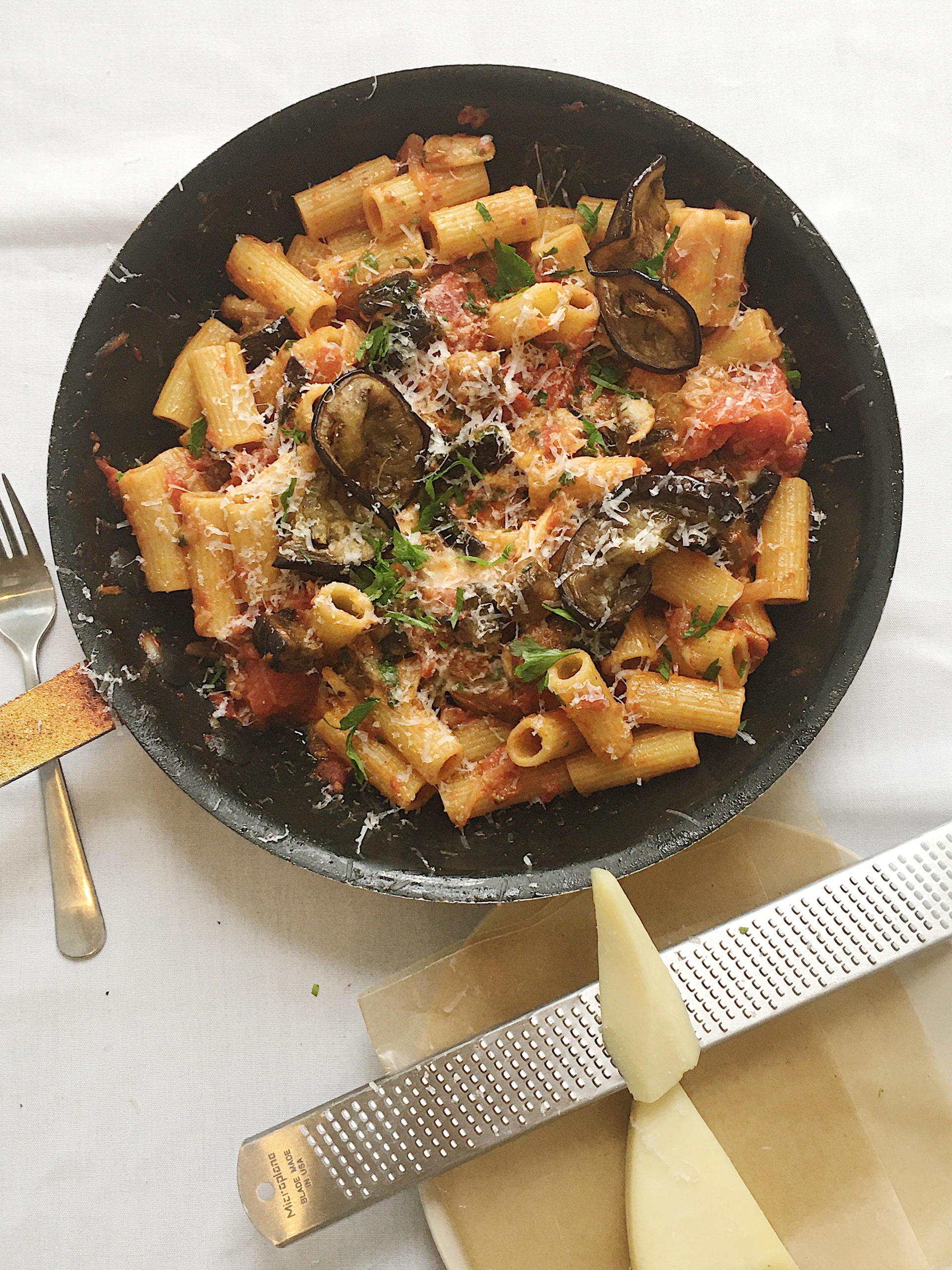 Pasta alla Norma reminds me so much about Chinese Stewed Eggplant with Black Beans. An excellent "Norma" (as we simply call it in the restaurant) has a rich and umami-packed tomato sauce while the Chinese dish gets its flavor from stewing eggplant with fermented black beans. Both eggplant dishes are comforting and delicious. Though "Norma" is vegetarian, eggplant and cheese add substance and great taste. While savoring the pasta, I reminisced about the past when I devoured bowls of rice and hefty scoops of Chinese Stewed Eggplant.
For the latest New Lifestyle Home Cooking Series:
Pasta alla Norma
Serving Portions: 4
Prep Time: 20 minutes
Total Time: 50 minutes
Ingredients:
For Tomato Sauce:
4 tablespoons EVOO or canola oil
1 can (28 oz.) whole peeled tomatoes
1 head garlic, sliced
1/2 piece red onions, sliced
1 teaspoon salt
1/2 tablespoon dried chili
1/2 cup water
For Roasted Eggplant:
4 cups diced eggplant
1/4 cup EVOO or canola oil
1/2 teaspoon salt
1/2 teaspoon chili
2 tablespoons of EVOO or canola oil for greasing the roasting tray
To complete the dish:
2 tablespoons EVOO or canola oil
3 cups rigatoni 
2 cups roasted eggplant
2 cups tomato sauce
2/3 cup shredded mozzarella
4 cloves garlic, sliced
1/4 cup chopped parsley
To make the tomato sauce, cook red onions and garlic in EVOO over medium heat until soft. Add dried chilies to toast until fragrant. Add canned tomatoes, salt, and water, and bring it to a simmer. Use the back of a wooden spoon or a rubber spatula to break up the tomatoes. Cook the tomato sauce until thickened.
Pre-heat oven to 400F and set a roasting tray in the oven during pre-heat.
Toss diced eggplant with oil, salt, and chilies. Once the oven is ready, add 2 tablespoons of oil to the roasting tray and swirl around to coat. Add eggplant immediately and put the tray back in the oven. Roast eggplant until soft and juicy, about 12 to 15 minutes.
Meanwhile, bring a pot of water to boil to cook pasta. Season water with salt until it tastes like the sea. Once the tomato sauce and eggplant are ready, add your pasta to the boiling water and set a timer for 8 minutes.*
To complete Pasta alla Normal, cook sliced garlic with oil in a skillet until fragrant and soft. Add tomatoes sauce and eggplant and stir to combine. Drain the pasta and reserve cooking liquid. Add pasta to the sauce and toss to combine. Add tiny scoops of pasta water to help with sauce consistency. Once the pasta is nice and saucy, add shredded mozzarella and chopped parsley. Keep tossing the pan to mix everything. Add more pasta water to adjust if necessary.
To serve, scoop pasta into a bowl and grate Parmesan over it, and sprinkle some more chopped parsley to garnish. Bon Appétit!
*In my experience, dried pasta (penne, rigatoni, spaghetti) takes about 8 to 10 minutes to cook, regardless of the brand, depending on your preference of the final texture.