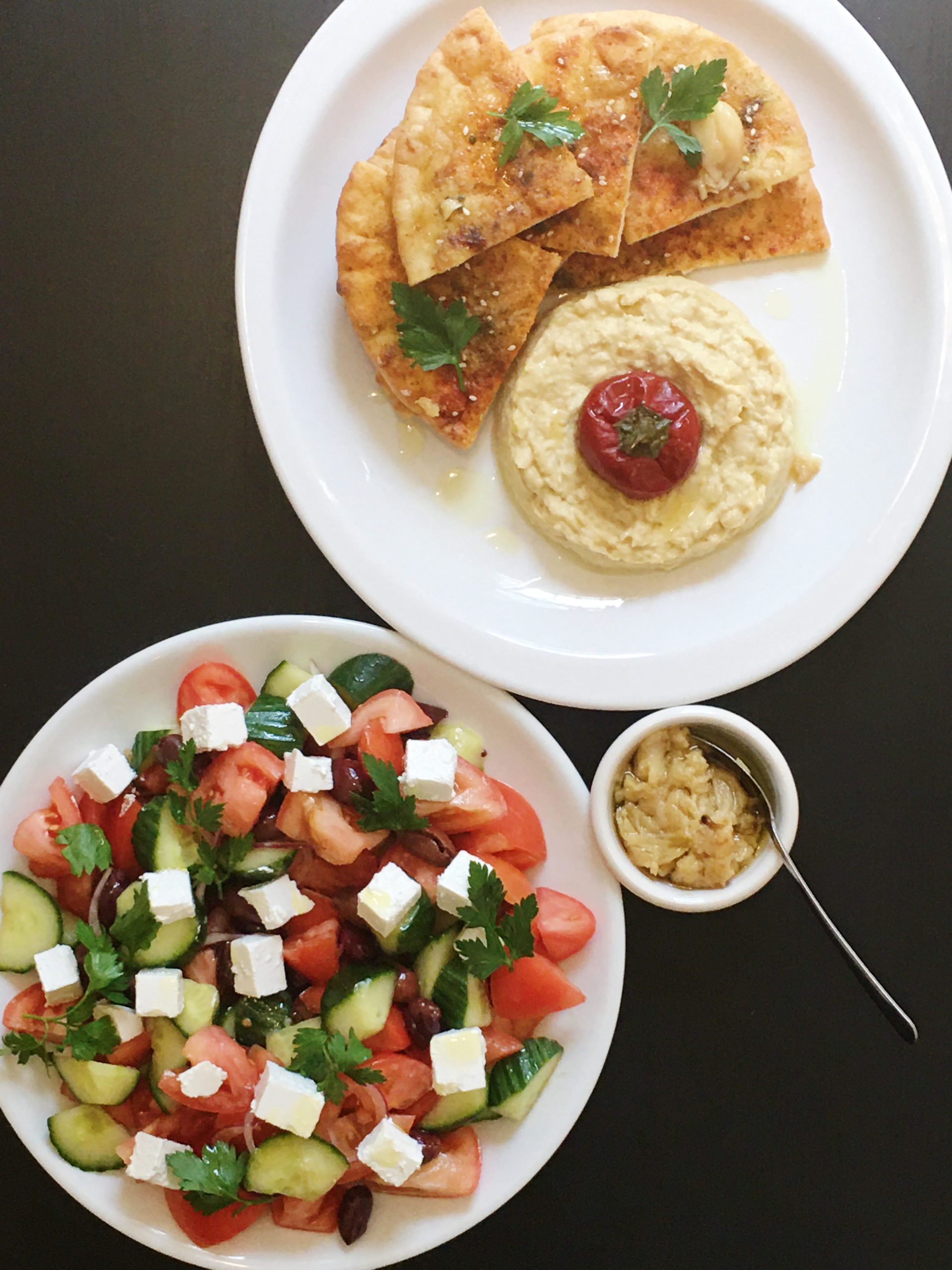 Greek salad, hummus, and pita bread is one of my favorite combos when I want to make a simple, light, and healthy meal. Greek salad is packed with salinity from the feta cheese, brininess from the olives, and freshness from the cucumbers, tomatoes, and red onions. Pita bread is amazing on its own with olive oil and salt. But here, pita bread is a vessel to scoop up delicious hummus and wipe up the leftover dressing at the bottom of the salad. My Mediterranean meal is perfect for anyone who is looking for an alternative to eat more vegetables and still get his or her share of proteins.
For the latest New Lifestyle Cooking Series:
Greek Salad, Spiced Pita Bread and Hummus
Portions: 4
Prep Time: 30 Minutes
Total Time 50 Minutes
Ingredients:
For Roasted Garlic:
3 heads garlic
3 tablespoons EVOO
For Hummus:
2 + 1/4 cups cooked chickpeas, drain and reserve liquid
1 cup EVOO
4 tablespoons tahini
4 tablespoons drained chickpea liquid
2 cloves garlic
2 lemons zested
3 tablespoon lemon juice
1/2 teaspoon salt
For Spiced Pita
4 pieces pita bread, store-bought is fine
1/4 cup roasted garlic (from the recipe above)
4 teaspoon EVOO
1 teaspoon paprika
1 teaspoon Za'atar
1 teaspoon salt
For Greek Salad:
2 cups diced cucumber, bite-size
3 + 1/2 cups diced tomatoes, bite-size
1 teaspoon salt, for seasoning cucumbers and tomatoes
1/4 cup sliced red onions
1/2 cup diced feta cheese, crumbled is fine
1/2 cup Kalamata olive, kept whole or hand-torn into pieces
1/4 cup parsley leaves
2 tablespoons lemon juice
1 tablespoon juice from cucumbers and tomatoes
2 tablespoons sherry vinegar
2/3 cup EVOO
Salt to taste
Pre-heat oven to 350F
Drizzle unpeeled garlic with EVOO and cover them in tin foil. Bake the garlic in the oven for 40 to 50 minutes until fragrant and softened to the touch.
Once the garlic is done, peel or squeeze each clove into a bowl and mix in some EVOO. Use a fork to mash up the garlic roughly and set aside. 
To make hummus, use a food processor and blend everything while steaming in EVOO until nice and smooth. Season to taste. If not using a machine of any sort, put cooked chickpeas in a ziplock bag (32 oz. size or bigger) and bash them with a rolling pin. Add seasoning and all the liquids into the bag and keep bashing until it is nice and creamy. The result of using a ziplock bag will be chunkier.
To prepare the Greek salad, thinly slice red onions on a mandolin or with a knife. Soak sliced onions in cold water and store in the fridge for 30 minutes to get rid of the harsh taste.
Meanwhile, cut tomatoes and cucumbers and season with 1 teaspoon of salt and set aside for 30 minutes.
To assemble the salad, drain red onions and tomatoes and cucumbers. Save the liquid from tomatoes and cucumbers (you will end up with about 1 tablespoon) and mix it with lemon juice and sherry vinegar. To complete the dressing, add EVOO to the vinegar mix and whisk everything to combine, and season to taste.
Mix tomatoes, cucumbers, 1/4 cup of red onions, and olives. Toss the ingredients with 3 tablespoons of dressing. Add more dressing to adjust the taste.
To serve, brush pita bread with a thin layer of roasted garlic and its oil and sprinkle on seasonings, evenly divided into 4 pieces. Bake pita bread in the oven for 13 minutes. Cut pita bread to as many pieces as you wish. Create a pile of pita bread on a plate and scoop some hummus on the side. Drizzle olive oil to finish. Separately, scoop Greek salad onto a plate or into a bowl, top off the salad with feta cheese and parsley. Serve roasted garlic on the side. Bon Appétit!